Diagnostic tool for restarting iPhones
Having an iPhone that restarts unexpectedly can be very annoying. Especially if your iPhone is in a bootloop, it can make you distraught. Apple is now investigating this with a new diagnostic tool, MacRumors reports. The new 'System Stability' diagnostic tool is part of Apple Service Toolkit 2. Hopefully this will solve your problem even faster.
The tool can be used with an iPhone 11 or newer. When a customer comes into the store with such a device, the tool can read the analytical log files to see how often unexpected restarts have occurred in the past 14 days. If so, Apple recommends a hardware repair. So the tool doesn't solve the problem right away, but it works a lot faster than the current method, which involved manually viewing the analysis files to see how often an unexpected reboot has occurred.
There is also a new support document with tips on what to do if you keep seeing the Apple logo or a spinning gear. This includes brief tips such as installing the latest software update, checking battery health, and what to do if apps keep crashing. That's different from constantly rebooting your iPhone.
See also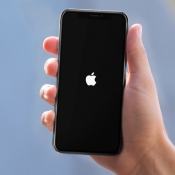 Is your iPhone frozen or keeps restarting with Apple logo? This helps!
Is your iPhone or iPad stuck in a boot loop? Do you keep seeing the Apple logo and your device keeps restarting? Follow our tips if your iPhone or iPad keeps restarting.