European smartphone market shrank by 11 percent
The iPhone SE 2022 has been available for a few months now and appears to be doing well in European countries. The device has enabled Apple to show good growth figures in Europe: the market share rose in the second quarter from 21% to 24% compared to a year ago. According to the Counterpoint researchers, this is mainly due to Apple's cheapest smartphone with 5G. In the US, the iPhone SE wouldn't have fared so well, but Europeans are running away with it. Apple itself doesn't provide exact sales figures, so we'll have to rely on third-party statistics.
The overall European market shrank by 11% compared to last year and by 13% compared to the previous quarter. In the second quarter of 2022, 40 million smartphones are expected to have been sold, the lowest number in the past two years.


Russia fell away
Still, Samsung and Apple managed to sell more devices. That can be explained. Samsung did relatively poorly last year due to the closure of factories in Vietnam and is now seeing the numbers pick up again. Apple grew both in percentage and in numbers, thanks to the iPhone SE. But both companies also took a hit from last quarter as they both pulled out of Russia.
Xiaomi and other Chinese brands benefited from this: not only in Russia, but also in Eastern Europe, the customer is more often reaching for a Chinese smartphone. Also in the top 5 are OPPO (which was hit by supply problems in China) and realme (a relatively new brand that is growing strongly in Europe).
Centerpoint notes that a lot has changed in Europe over the past year and especially in the last quarter. The rest of the year will not look so sunny for the smartphone makers. Many countries in Europe are dealing with a recession and political tensions in countries such as Italy. and France are also not good for consumer confidence.


iPhone SE already heavily discounted
The iPhone SE with 5G has been available since March and costs 529 euros from Apple. Those who are smart will buy elsewhere, however, where you have lost two hundred euros (!) less (this deal has already ended). The device has a 4.7-inch screen, a brand new A15 Bionic chip and a 12 megapixel camera with various smart functions. You can also throw it into the water thanks to the IP67 rating. Still, it's not the smallest iPhone with 5G, because that honor goes to the iPhone 12 mini and iPhone 13 mini. However, you will spend around 600 to 700 euros for that.
See also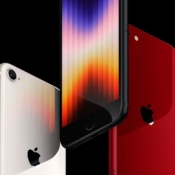 iPhone SE 2022: this is the latest entry-level model
The iPhone SE of 2022 is now available . This entry-level model is for people who are looking for a cheap and reliable device that you can enjoy for a long time. On this page, we'll tell you all about what's new and improved with the iPhone SE 3!