Apple Music has been available in Google Nest speakers since December 2020, but it was only available in select countries at the time, including the US, Canada, France, Germany and the UK. In the Netherlands, you were therefore limited to other suitable services, such as Spotify. As an Apple Music user, if you wanted to play music on a Google Nest speaker, you always had to do that from your iPhone via a manual Bluetooth connection. But that is no longer necessary, because Google recently activated Apple Music for the Google Assistant in the Netherlands, iCulture can confirm in response to a reader tip. You can therefore use Apple Music in the Netherlands on the Google Nest speakers and more.
Google Assistant with Apple Music in the Netherlands: for Google Nest and more
It is not entirely clear since when the Google Assistant in the Netherlands can handle Apple Music. At the end of June, the Netherlands was not yet listed as a supporting country at Apple. At Google itself, Apple Music is not yet listed in the Dutch overview, but we have been able to verify that the services can be linked and that you can start music via the Google Assistant in Dutch.
Linking the Apple Music to the Google Assistant can be done in a few ways. If you use a Google Nest speaker or display, do the following:
Open the Google Home app on your iPhone, iPad or Android device with the Apple Music app.
Go to Settings > Music.
Under the More Music Services heading, you'll find an option to link Apple Music. Tap this.
Confirm that you want to link the account and tap Continue.
An Apple Music screen will appear. Tap Allow to allow Apple Music to connect to the Google Assistant.
Your account is now linked. Make sure Apple Music is checked to set it as the default music service.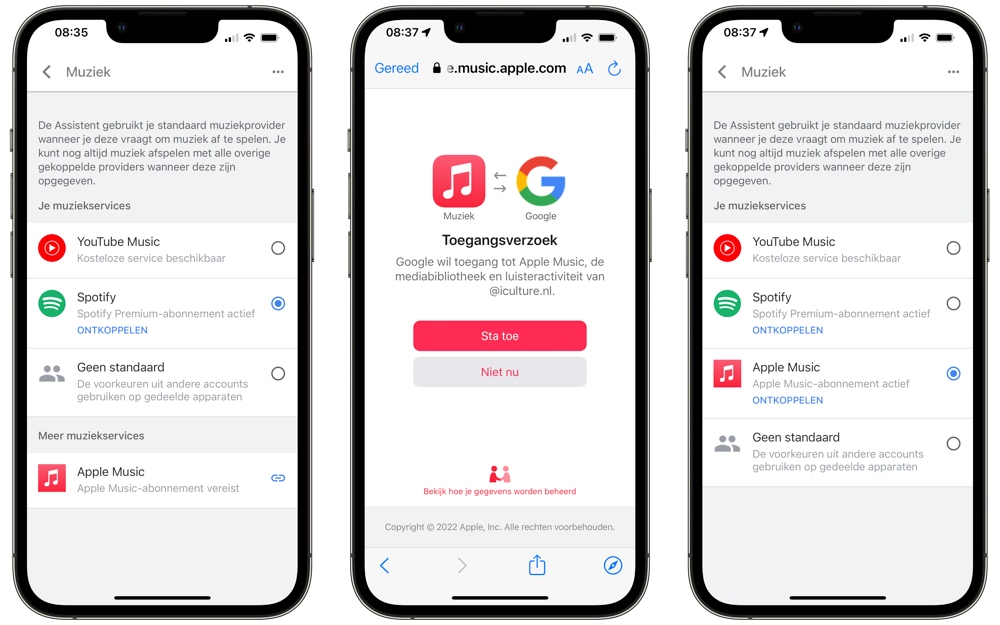 You can also use the Google Assistant app on the iPhone and iPad to play Apple Music on the iPhone itself from there. You then use the Google Assistant in the app of the same name to control music. In addition, you can use Apple Music in combination with other speakers that have the Google Assistant built-in (such as Sonos), although we have not been able to test all combinations. With this addition, there is also an alternative to the HomePod if you are an Apple Music user.
Google Assistant Voice Commands for Apple Music
You can give all kinds of voice commands to play music. For example, say "Play my songs" to play your liked music from your library. You can also ask for a specific playlist or the latest song from your favorite artist. If you're listening to a playlist you like, you can also add it to your library by saying "Save this playlist". At Google you will find more voice commands that you can use with Apple Music.
The advantage of the Google Assistant is that it is available on many more devices. The Google Nest speakers are also often very affordable. You can get a Google Nest mini for less than four bucks.
Mini, black
Mini, white
Audio, black
Audio, white
Hub, black
Hub, white
p>
Courtesy of iCulture reader Thom!