She became famous as "Lieutenant Uhura" in the cult series "Star Trek". She actually wanted to leave – if it hadn't been for Martin Luther King.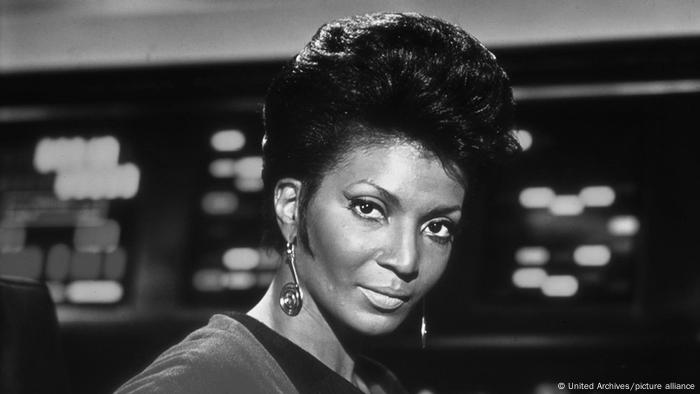 As a young woman, Nichelle Nichols played Lieutenant Nyota Uhura
US actress Nichelle Nichols passed away at the age of 89. Her family announced this on Sunday (July 31) on Facebook. She died of natural causes, her son wrote.
Nichelle Nichols' dream wasn't really to appear on the television screen or the big screen, she wanted to be on the Broadway stage.
< p>And yet today her name is indelibly linked to the cult series "Star Trek: Raumschiff Enterprise", which first flickered across US screens in 1966.
In it, Nichelle Nichols played Lieutenant Nyota Uhura, the only black crew member on the bridge of the starship USS Enterprise, led by Captain James T. Kirk and his second officer, Lieutenant Spock. In the 1960s, major roles for black or Asian actors were few and far between. Black actresses liked being cast as housemaids, but Stark Trek universe creator Gene Roddenberry didn't give a damn – despite NBC executives asking him to rewrite the role. Uhura remained Lieutenant.
Celebrity Fans: From Martin Luther King to Barack Obama
Nichols initially wanted to leave the series after the first season because she had been offered a role on Broadway. It was none other than Martin Luther King, the figurehead of the civil rights movement in the United States, who changed her mind, Nichelle Nichols told the "Television Academy Foundation" in a 2011 interview. At a fundraising gala, he told her how important her appearance on "Star Trek: Starship Enterprise" was: "For the first time you see black people the way they were meant to be seen, every day: as intelligent, beautiful, dignified people who can even travel into space."
So Nichols continued with "Star Trek". The trust of Martin Luther King was to pay off: In her role as Nyota Uhura, Nichols kissed the womanizer Captain Kirk, played by William Shatner, in 1968 in "Starship Enterprise". It was the first kiss between a black woman and a white man ever shown on US television. In the conservative southern states, this was considered too offensive – the kiss could not be broadcast there.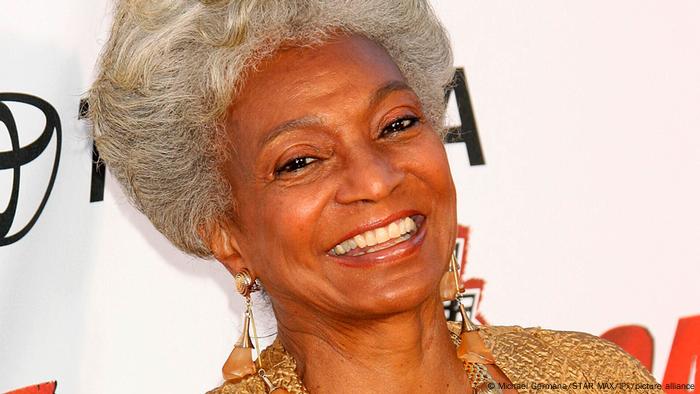 Nichelle Nichols in a public appearance in 2006
After the end of the television series, she also starred in six subsequent feature films about the crew of the spaceship Enterprise. From today's perspective, her performances, especially in the films, do not seem very progressive: she is often marginalized, has little dialogue and is hardly allowed to take part in the action that the male heroes indulge in. It must have seemed different in the USA in the 1960s. Martin Luther King is said to have told her that "Starship Enterprise" is the only series that his children are allowed to stay up late for so that the family can watch it together.
Other American children should be able to do the same . Many years later, US President Barack Obama confessed to Nichelle Nichols, whom he received at the White House in 2012, that he had a crush on Lieutenant Uhura as a young man, the actress reported on Twitter.
Star Trek Day: Starship Enterprise turns 55


The Enterprise took off in 1966

Initially, the spaceship Enterprise had a rather bumpy start in the USA. That changes with increasing interest in the Apollo program and the successful moon landing in 1969. Suddenly space is closer, science fiction is hip. More and more TV stations broadcast the series, from 1972 also in Germany. The community of Star Trek fans (Trekkies) is growing.

Star Trek Day: Starship Enterprise turns 55


The Eternal Captain

The Enterprise explored endless expanses, endless fame was bestowed upon her Captain James Tiberius Kirk: William Shatner is still one of the most important characters of the "Star Trek" saga. This year he celebrated his 90th birthday, befitting his status in Ticonderoga north of New York – the filming location of "Spaceship Enterprise".

Star Trek Day: Starship Enterprise turns 55


The Ur-Enterprise

The first model to fly through the endless expanses has the designation "U.S.S. Enterprise NCC-1701". Built in 2245, in service with Captain Kirk from 2264 to 2269. Kirk finally has to destroy it so that it doesn't fall into enemy hands. All later models are adapted to this. In an emergency, all ships can detach the "saucer section" from the ship's hull.

Star Trek Day: Starship Enterprise turns 55


Beam me up, Scotty!

When Scotty stands in the transporter room, manipulating giant sliders and hearing the shrill squeaking noise of the beaming in his ears, the body that has just been broken down into its molecules on an alien planet may not come back in one piece. If all goes well, they all materialize back into their original form. As above.

Star Trek Day: Starship Enterprise turns 55


Multicultural Bridge

For the first time, all racial and gender boundaries are being transcended on US entertainment television. A Scot, a Russian and a Japanese work on the bridge together with Americans. Plus two women. The peak: one of them is black. And as an officer, she also has something to say. Actress Nichelle Nichols as Lt. Uhura is the first black woman with such a strong role.

Star Trek Day: Starship Enterprise turns 55


Spock is Legend

The pointy-eared Vulcan Spock is an alien with human features. He is the first officer and science officer aboard the Enterprise alongside Captain James T. Kirk. His favorite word: "fascinating". The Vulcan greeting (photo) is still great party fun today – not everyone can do it. The actor Leonard Nimoy († 2015) never got rid of the role of Mr. Spock.

Star Trek Day: Starship Enterprise turns 55


Namesakes… a search image

In 1976 NASA technicians named the prototype of their future space shuttle "Enterprise". Of course, on the day of the big press presentation, the entire officer ranks of the Star Trek Enterprise are present. Well, not quite, one is missing – who could it be? Has he ever inspected the shuttle's bridge?

Star Trek Day: Starship Enterprise turns 55


Kirk's transposed letters: "He took too much LDS"

In 1984, "Star Trek IV – Back to the Present" was the first really successful movie. The Enterprise lands from the future in the mid-1980s. The now aging crew is making fun of itself. Scotty tries to talk with a computer mouse, Spock has to hide his ears and dress up as a late hippie who got stuck on a trip.

Star Trek Day: Starship Enterprise turns 55


The Next Generation

1987 begins the continuation of the Enterprise story. It's set a hundred years later. Meanwhile, the crew around Captain Jean-Luc Picard (left) consists of numerous extraterrestrials, including the Klingon Worf and the ship psychologist Troi from the planet Betazed. But the cult figure is Data (right), a friendly android with deadly precision and at the same time all too human features.

Star Trek Day: Starship Enterprise turns 55


"nuqneH – qapla": Worf's native language

"Klingon" was invented in 1984 by linguist Marc Okrand. It's a truly speakable and writable language that was put into the mouths of the warlike Klingons of the planet Kronos and sounds harsh as a result. Still, there are Shakespeare plays in Klingon. There was also a DW page in Klingon once. Some Trekkies are still learning this language to this day.

Star Trek Day : Starship Enterprise turns 55


(T)starship Surprise

Parodies can't be missing in the history of Star Trek – and there are more than enough of them. The best-known German parody shows comedian Michael Bully Herbig as Mr. Spuck with his crew in the space taxi. Also there are Captain Kork and Schrotty. The film also contains references to the "Star Wars" films with characters such as Jens Maul and Queen Metapha.

Star Trek Day: Starship Enterprise turns 55


The story is not over

In 2016, the ninth film "Star Trek – Beyond" was released in cinemas. Kirk, Spock & Co. have long been filled with young actors, the rest is taken care of by the latest animation technology. It may not be nostalgic, but the Enterprise's cult value is such that it will no doubt be sent on many more missions to explore new worlds, new life and new civilizations.

Star Trek Day: Starship Enterprise turns 55


Star Trek 2017: Double the girl power

The Netflix series "Star Trek: Discovery" stars Michelle Yeoh (left) as Captain Philippa Georgiou and Sonequa Martin-Green (right) as First Officer Michael Burnham. Star Trek has long been a pioneer in diversity, with Asian and African American actors and women in leading roles. In 2017, women finally took over.

Star Trek Day: Starship Enterprise turns 55


Jean-Luc Picard wants to know again

Jean-Luc Picard has been traveling in space again since 2019. In the "Picard" series, he has long since retired from a southern French winery, until a mysterious young woman from the Provençal sun pulls him straight into another galactic adventure. Old acquaintances like Commander Riker (Jonathan Frakes, above) are also there.
Nichols demanded equality in space travel
After her appearance in "Spaceship Enterprise", Nichelle Nichols dedicated herself to the advancement of women and members of minorities at the US space agency NASA. Thanks to the increased commitment Nichols demanded from NASA, Dr. Sally Ride, the first American female astronaut, and Colonel Guion Bluford, the first black astronaut. Nichelle Nichols was also honored with a star on the Hollywood Walk of Fame and a Golden Camera.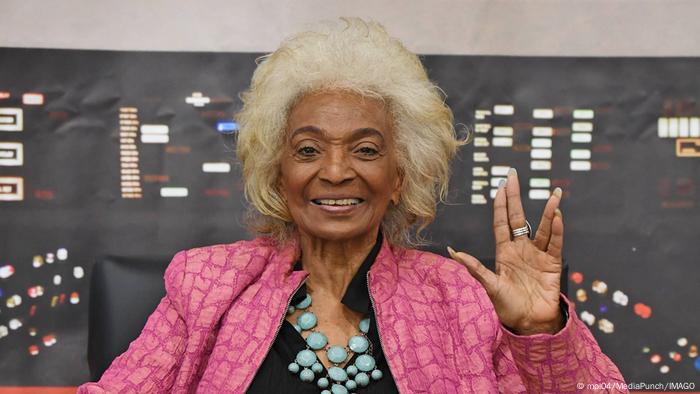 This gesture from the "Star Trek" series means: "Live long and prosper."
In 2018, Nichols was diagnosed with dementia. Now the pop culture pioneer of equality has passed away. Her Star Trek co-actor George Takei hailed her role as a groundbreaking trailblazer, writing on Twitter: "My heart is heavy today and my eyes are shining [with tears] like the stars where you rest now mine dearest friend."