Extreme Security with iPhone Lockdown Mode
This extreme security feature is coming to the iPad and Mac in addition to the iPhone. In addition, Apple will donate more than $10 million to organizations that conduct cybersecurity research and related interest groups. Meanwhile, Apple also has a lawsuit pending against NSO Group, the maker of the infamous Pegasus spyware. The now newly announced 'iPhone Lockdown Mode' is testing in the betas currently in circulation for iOS 16, iPadOS 16, and macOS Ventura.
iPhone Isolation Mode in iOS 16
The iPhone Lockdown Mode is optional and is not intended for the average person, but for the small percentage of users who are targeted by spyware such as Pegasus. This spyware typically targets activists, journalists, and individuals who are displeasing to certain governments. If you enable it, the functionality of your device is severely limited, so that there is less chance of attacks and use of exploits.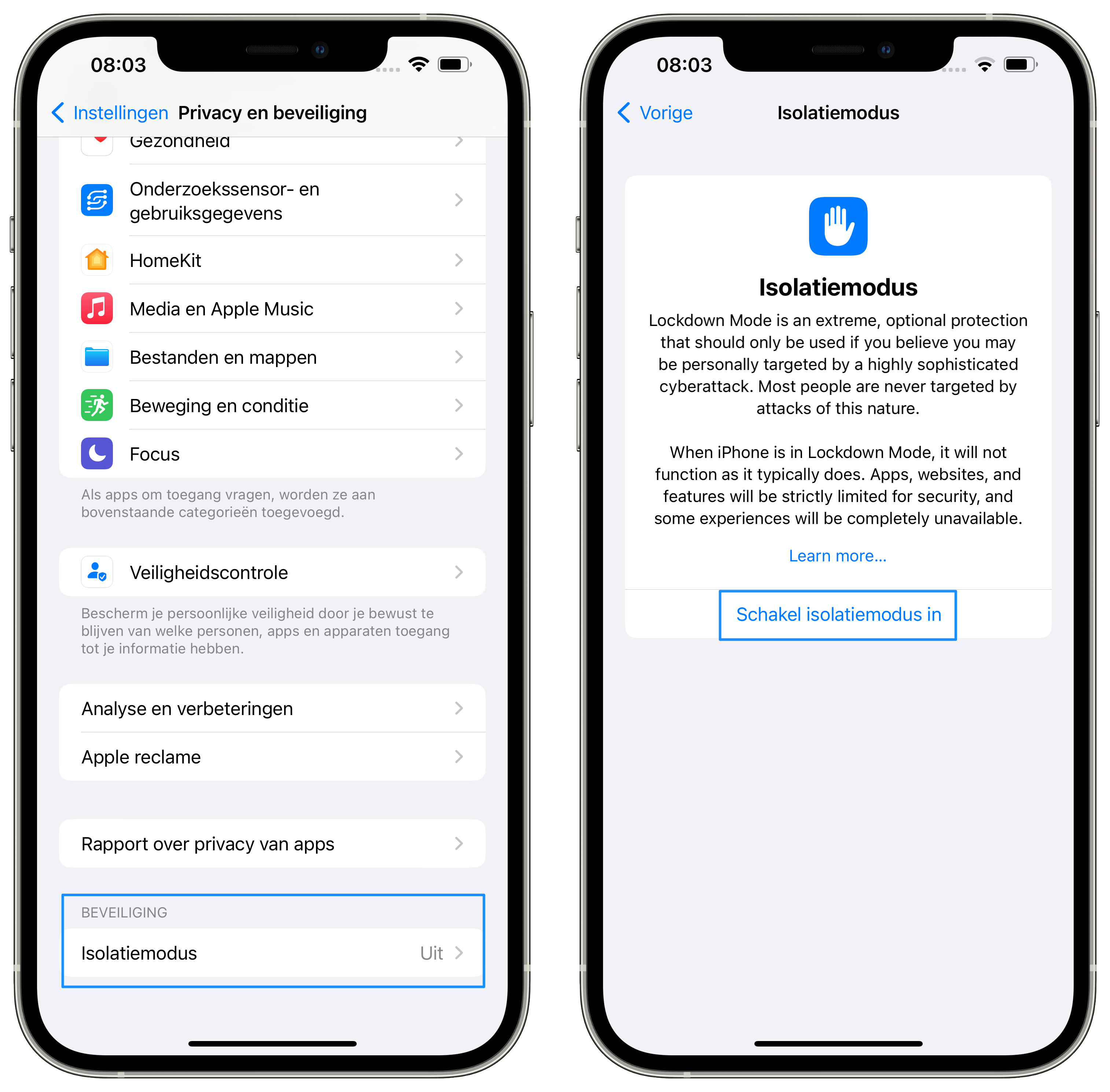 Apple describes it as follows in its press release released today:
At launch, Lockdown Mode includes the following protections:

Messages: Most message attachment types other than images are blocked. Some features, like link previews, are disabled.
Web browsing: Certain complex web technologies, like just-in-time (JIT) JavaScript compilation, are disabled unless the user excludes a trusted site from Lockdown Mode.
Apple services: Incoming invitations and service requests, including FaceTime calls, are blocked if the user has not previously sent the initiator a call or request.
Wired connections with a computer or accessory are blocked when iPhone is locked.
Configuration profiles cannot be installed, and the device cannot enroll into mobile device management (MDM), while Lockdown Mode is turned on.
To enable the feature in the upcoming beta&rsquo ;s you need to do the following:
Open the Settings app in iOS 16 or iPadOS 16.
Go to Privacy & Security.
Scroll down and tap Lockdown Mode. You can now view more information or enable Lockdown Mode.
Enable it and your device will be restarted.
In the same way, you can enable Lockdown Mode switch off again. Apple indicates that Lockdown Mode will be further strengthened over time to counter new attacks and better protect you. In addition, Apple will give out rewards if researchers and others help find vulnerabilities in Lockdown Mode, up to a maximum of $2 million. According to Apple, this is the highest bonus awarded in the tech world.
Apple's press release can be found here.