After five years, the Californian band is back on tour. On July 5th they will stop in Cologne. We look back on their turbulent band history.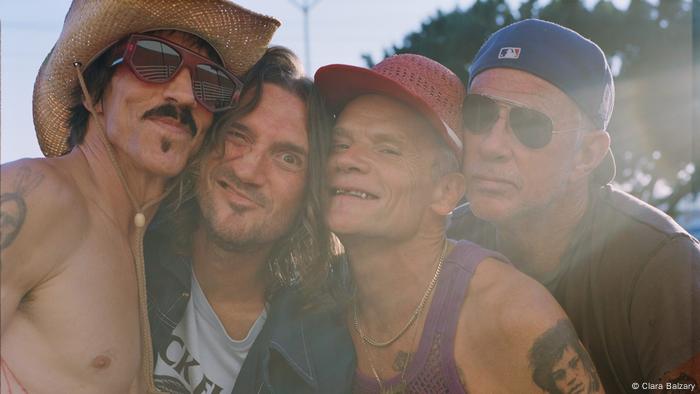 Reunited: Anthony Kiedis , John Frusciante, Flea and Chad Smith
When the Red Hot Chili Peppers started making music in the early 1980s, hardly anyone would have bet on them – too weird, too unconventional, too excessive, according to some music critics at the time. But the Californian band around childhood friends Anthony Kiedis and Michael "Flea" Balzary is tough: they have put up with blows of fate, overcome the death of a band member, drug excesses and quarrels and have rocked their way into the 21st century with great success.
With "Unlimited Love" April 1st marks her 12th. Studio album released – long awaited by fans and critics, because not only guitarist John Frusciante rejoined the band after a break of almost 15 years, also producer Rick Rubin, who helped the Beastie Boys and Run-DMC to great success, among others , is back – for the sixth time. Among other things, he produced the album "Blood Sugar Sex Magik", which helped the "Peppers" achieve their international breakthrough in the early 90s.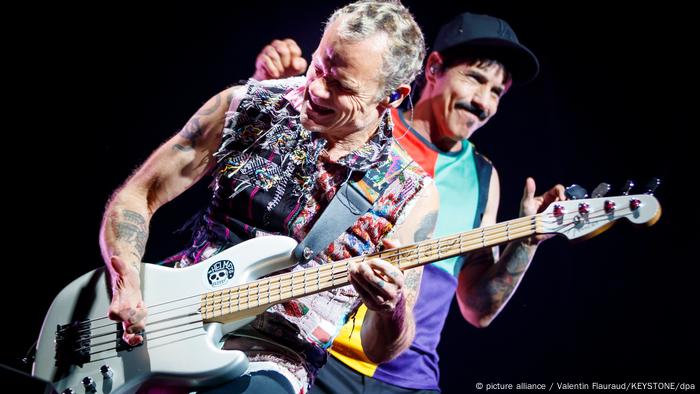 Founding members of the "Peppers": bassist Flea and singer Anthony Kiedis
"Funky Monks"
The Red Hot Chili Peppers have been on a world tour since June and prove that almost 40 years after their founding, they still make the stage tremble with their mix of punk, funk, metal and a good pinch of "Magik". Speaking of stage shows : One of the band's trademarks is their scantily clad performances. Whether at the Super Bowl 2014 or when they were inducted into the Rock'n'Roll Hall of Fame in 2012 – the shirts have to go. The rest are now dressed.
That was not always so. Up until the early 2000s, the Peppers liked to wear nothing but gym socks around their privates. This "tradition" begins in 1983 with one of their first concerts: At that time the band played in the Kit Kat Club, a famous strip club in Hollywood, and in order to adapt to the dress code, so to speak, everything but the socks had to be removed. The word spread quickly and from then on many people came not only because of the music, but also because of the revealing show.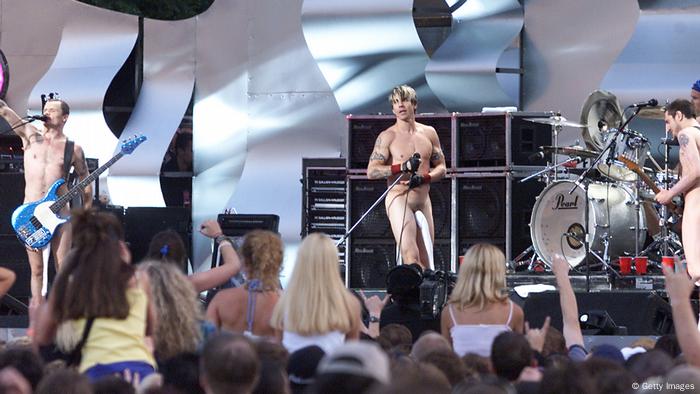 Long socks around the "best parts" of the band
The band is getting better known, the gigs bigger and the trips heavier. Drugs are part of the band's early years. While bassist Flea is content with marijuana and stays away from heroin in the long run, singer Anthony Kiedis and former guitarist Hillel Slovak are very attached to the harder drugs.
Even as a young teenager, the singer began to smoke weed regularly – he was offered his first joint by his own father. Born in Michigan, Kiedis grew up in Los Angeles from the age of eleven with his father, a less successful actor. Artist friends go in and out there, there is a lot of partying and consumption – alcohol, drugs, but also women. When Kiedis was 12, his father made his 18-year-old girlfriend available to him as a sexual partner.
"Me & My Friends"
Kiedis met his future bandmates at Fairfax High School in the late '70s. Kiedis is particularly close friends with Flea and Hillel Slovak.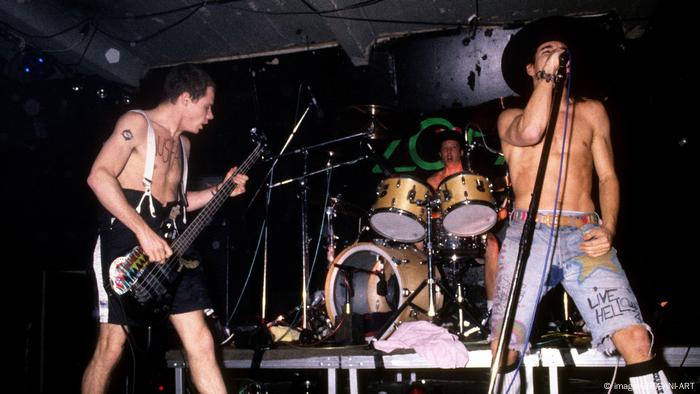 The band performs at Year 1988: Jack Irons is still on the drums in the founding years
Flea was born in Melbourne, Australia and moved to California with his single mother and siblings in the late 1960s. His stepfather is a jazz musician and often lets young Flea listen to jam sessions. Flea is a talented trumpet player and loves jazz. Flea came to play the bass thanks to his friend Hillel Slovak, who is a passionate guitarist and taught Flea to play the bass at the age of 16. Slovak comes from a Jewish family who moved to Los Angeles from Israel. His first guitar is a bar mitzvah gift.
"Out in L.A."
Kiedis, Flea and Slovak graduate from high school in 1980. From the outset, Flea and Slovak pursued the desire to become musicians. One day Kiedis joins them on stage at a small gig and improvises a rap on a poem he wrote: "Out in L.A.". With Jack Irons on drums, the Red Hot Chili Peppers were born.
But the original line-up will not stay together for long: while the Peppers are on the up musically from the mid-1980s, two band members are heading towards the abyss: Kiedis' heroin consumption has become more and more violent over the years. It goes so far that Michael Beinhorn, the producer of their 87 album "The Uplift Mofo Party Plan", kicks him out of the band, as he reveals in an interview with "Produce like a Pro": "I even got him out of the band, which isn't really my position, but I was like, 'You know, you don't respect the rest of your band. It can't go on like this. This project is going to fall apart. Get out'." Kiedis pulls himself for returned to Michigan for several weeks before Beinhorn allowed him to return to the band.
"Fight like a Brave"
Kiedis first dealt with his fight against heroin in his song "Fight like a Brave", which appears on "The Uplift Mofo Party Plan". The drug addiction will accompany him for many years to come before he manages to stay clean after several withdrawals. Today, Kiedis is a true health fanatic who eats vegan and abstains completely from alcohol and drugs.
On the other hand, guitarist Hillel Slovak lost the fight against drugs early on. When the band went on tour with "The Uplift Mofo Party Plan" in 1988, things looked good at first: Kiedis and Slovak managed to stay clean during the tour. But back in the US, they both fall back into bad habits. On June 25, 1988, Hillel Slovak died of a heroin overdose. He will only be 26 years old.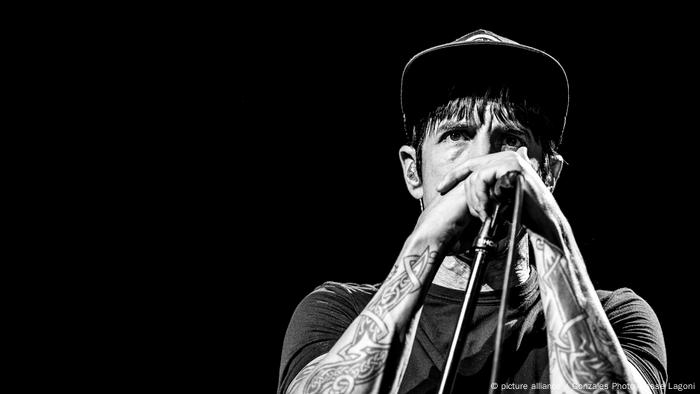 Singer Anthony Kiedis describes his drug problems in his autobiography, among other things "Scar Tissue" processed
Out of grief over the death of his friend, drummer Jack Irons leaves the band, but Flea and Kiedis want to continue. A new guitarist is quickly found: John Frusciante, who is only 18, is a big fan of the band and knows all of their songs. On the drums, Chad Smith prevails over more than 30 applicants. The Peppers have their greatest commercial successes in this formation.
"Under the Bridge"
The album "Mother's Milk" followed in 1989, followed by "Blood Sugar Sex Magik" in 1991, which helped the Red Hot Chili Peppers achieve international mega fame. The band's rather atypical "Under the Bridge" reached #2 on the US Billboard pop charts. The song only ended up on the album by accident, as Anthony Kiedis describes in his autobiography "Scar Tissue". While leafing through Kiedis' notebook during rehearsals, producer Rick Rubin stumbles upon a poem in which Kiedis is processing his drug experiences. Rubin convinces Kiedis to turn the poem into a proper song. It becomes the band's biggest hit ever.
While Kiedis, Flea and Smith are enjoying the fame, Frusciante is not feeling well. "John used to say, 'We're too popular. I don't need this success,'" recalls singer Anthony Kiedis on Scar Tissue. Frusciante left the band in 1992, he also struggled with drug problems in the following years, but returned to the Peppers in 1998. Things aren't going so well with Frusciante's successor, Dave Navarro. The band only recorded one album with him in six years: "One hot minute".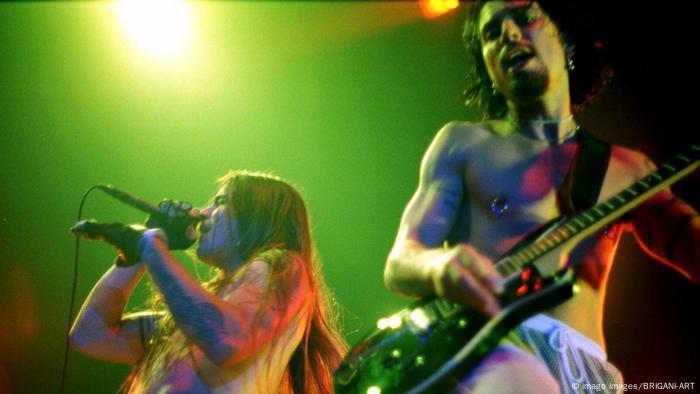 The band only recorded one album with Dave Navarro (r.)
With Frusciante back on board, the Red Hot Chili Peppers are recording the highly successful Millennium albums "Californication", "By the Way" and "Stadium Arcadium". In 2009, Frusciante left again to tackle solo projects. Josh Klinghoffer replaced him on guitar and recorded "I'm with You" with the band.
The formation will remain in existence for ten years. In 2019, the Peppers separated from Klinghoffer in order to team up with John Frusciante again: "It just works better with him," said the band in an interview with the music magazine "Rolling Stone". "Artistically – and being able to communicate with the same [musical] language – it was easier with John," explains bassist Flea. "Being in the same room together again and just letting things take their course… that was really exciting."
During the pandemic, the four musicians retreat to their home studios and write songs. A total of 100 are created, a selection of 17 can be heard on the new album. "Black Summer" is the first single released.
The Red Hot Chili Peppers have several reasons to celebrate in 2022: their reunion with John Frusciante and producer Rock Rubin, their new album and a whole fresh star on the Hollywood Walk of Fame. To be continued…