With the TS-h1290FX, QNAP has introduced the first NAS in a desktop case that relies purely on flash memory and uses an AMD Epyc (Rome) with Zen 2 architecture as the processor . Both 25 GbE and 2.5 GbE are integrated for the network connection. The functions can be further expanded via four PCIe slots.
Three variants with 7302P and 7232P
QNAP will launch the TS-h1290FX in three configurations. As the TS-h1290FX-7302P-256G, it relies on an AMD Epyc 7302P with 16 cores and 32 threads with a turbo clock of up to 3.3 GHz and 256 gigabytes of DDR4-ECC-RDIMM. The main memory is implemented with eight 32 gigabyte modules and can be expanded by the user to up to 1 terabyte.
As the TS-h1290FX-7302P-128G, the NAS is also based on the AMD Epyc 7302P with 16 cores, but eight 16-gigabyte modules for a total of 128 GB DDR4-ECC-RDIMM are installed in the main memory. The TS-h1290FX-7232P-64G model, on the other hand, relies on the AMD Epyc 7232P with eight cores and 16 threads, which clocks at up to 3.2 GHz in Turbo. When it comes to RAM, the smallest model has eight modules, each with 8 gigabytes, i.e. 64 GB DDR4-ECC-RDIMM.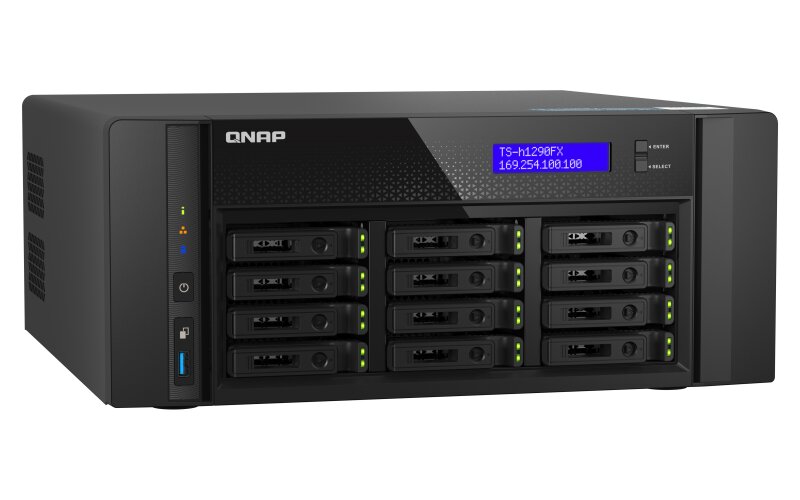 Twelve SSD slots, lots of network and 4 × PCIe
Each model offers twelve 2.5-inch drive bays for U.2 NVMe SSDs or SATA SSDs, four PCIE Gen4 slots (3 × x16, 1 × x8), two 25 Gigabit SFP28 network ports, two 2, 5 Gigabit RJ45 LAN ports three USB-A ports (USB 3.2 Gen 1 5Gbps). In addition to other PCIe network cards, a graphics card can also be installed in the NAS for acceleration. The system is cooled by two 92 mm fans on the back, the Epyc processor itself is equipped with a passive cooler. An internal 750 watt power supply provides the power supply. The 157.2 × 368 × 362 mm NAS weighs around 9 kg.
QuTS hero with ZFS
QNAP sees the main purpose of the powerful NAS in real-time video editing and the virtualization. The operating system used is QuTS hero, which is ZFS-based unlike QNAP's QTS, which is designed for consumers and small businesses.
Available from 6,000
For Alternate, the QNAP TS-h1290FX-7302P-128G is for around 8,500 euros available*. The QNAP TS-h1290FX-7232P-64G is listed for around 5,900 euros*. There is no listing for the QNAP TS-h1290FX-7302P-256G yet.
(*) The links marked with an asterisk are affiliate links . In the case of an order via such a link, ComputerBase participates in the sales proceeds without increasing the price for the customer.