Netatmo Carbon Monoxide Detector Netatmo for your mobile home
We previously wrote a review of the Netatmo Smart Carbon Monoxide Detector with HomeKit (approx. €90 at most stores). This is a nice addition to the smoke detectors that have been mandatory in the Netherlands since 1 July. A CO meter detects the deadly carbon monoxide, which can be formed with incomplete combustion or with a malfunctioning heating device. It is invisible and odorless and can strike unnoticed while you sleep. A CO detector can also be life-saving in the caravan or motorhome. If you want to install one, this one from Netatmo is suitable because the carbon monoxide detector is certified for use in recreational vehicles.
The detector monitors whether the concentration of carbon monoxide does not become too high. You could install an ordinary carbon monoxide meter that costs around 20-30 euros, but if you prefer a smart one, you have to take one thing into account: an internet connection is required. If the campsite has WiFi with a good range, it is arranged immediately. If not, you will have to provide the internet connection yourself. This can be, for example, an old iPhone with a SIM card in it or a so-called Mifi router where you insert a local SIM card. Only then can you also use the smart functions, such as receive notifications remotely and include them in automations in HomeKit.

< img src="/wp-content/uploads/6732d9e941c8d27ae82eea2e42f47447.jpg" />
Of course you can make your motorhome smart in many more ways, for example with an AirPlay speaker for music, a HomeKit security camera to keep an eye on things and window and door sensors against burglary and to be able to check whether you have closed everything properly.
Also see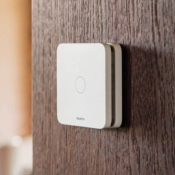 Review:
Netatmo has released a new carbon monoxide detector that protects you from suffocation for 10 years. It also works with HomeKit and in this review we tell about our experiences.