German captain Alexandra Popp was also seriously injured before the European Women's Soccer Championships in England. But the 31-year-old fights back in time. And she will play her first EM – in her favorite position.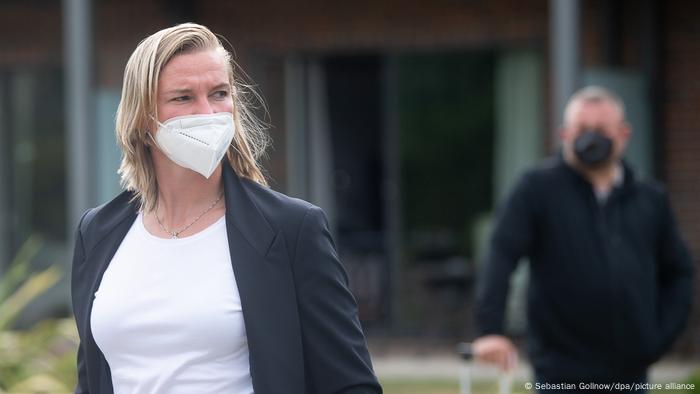 The German national player Alexandra Popp made it to the European Championships in England – despite many setbacks
When the players of the German national soccer team got off the plane at London's Luton Airport, one of them could hardly believe it: at the age of 31 and after 114 international matches for the DFB-Elf, captain Alexandra Popp is in the third attempt for the first time European Championship adventure started.
The VfL Wolfsburg player missed the 2013 and 2017 European Championships due to injury. And this time it seemed to go the same way again, but the most experienced player in the DFB squad fought back resolutely – despite several setbacks. "I want to play the EM. I haven't played a damn EM yet," she said in the ARD documentary "The Captain's Comeback" clear again.
World Cup and European Championship titles are still missing
Olympic champion from Rio 2016, plus two Champions League titles with VfL Wolfsburg, seven German championship titles and eleven DFB Cup wins: Alexandra Popp has a lot to offer in her football career won pretty much everything there is to win. She also became European champion – albeit with the DFB U17 youth team in 2008.
She has played world championships with the women's national team, but not yet a European championship: in 2013, despite an ankle injury, she played for Wolfsburg in the Champions League final. In her first VfL year she celebrated the treble of Champions League, championship and DFB Cup, but had to miss the European Championship due to injury. Looking back, she would still do it that way again, she says today.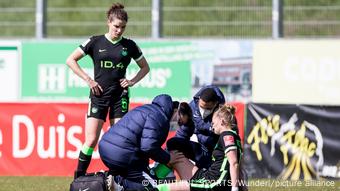 One year before the EM in England gives Popp her most serious injury
In 2017 she injured her left knee – again before the European Championship. And in April 2021 she sustained her most serious injury to date: a cartilage tear on her right kneecap. A lengthy and painful affair that can mean the end of a career for many athletes.
Tearful comeback
But the massive offensive artist decided to use her last chance for a European Championship and fought her way day by day – for ten months. In March she made her starting eleven comeback at VfL Wolfsburg, played every game until the end of the season and was a double winner with VfL Wolfsburg.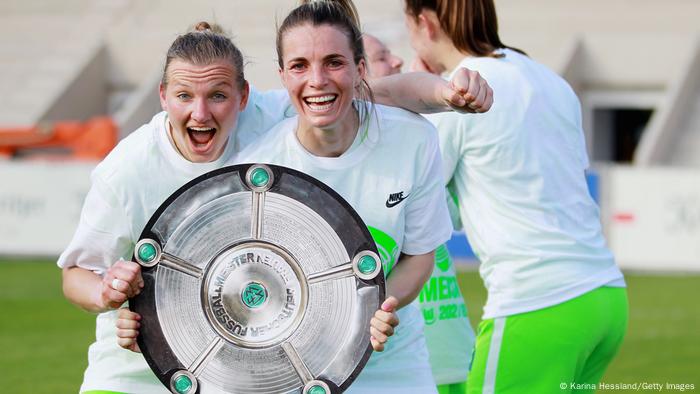 After her injury comeback, Alexandra Popp (left) wins the championship and the DFB Cup with VfL Wolfsburg
So she was also in the national team in the 3-0 win over Portugal came on as a substitute in April, she was finally allowed to wear the captain's armband again – an emotional and tearful moment that teammates and the audience celebrated.
Support from the national coach
Forward has always been Popp's favorite position. She scored ten goals in six games at the 2010 U20 World Cup. Popp made her international debut at 18 and was the youngest in the squad at the 2011 World Cup in her own country. But after moving to VfL two years later, she had to give way to the more experienced and better players up front. Coach Ralf Kellermann used her more defensively: sometimes as a left-back, sometimes as a six, sometimes on the ten.
Defense and midfield instead of attack: things don't always go the way you want. But Popp, who also trained as a zoo animal keeper in Wolfsburg, has always emerged stronger from family and professional crises. That shapes and makes you more robust, more humble. Federal coach Martina Voss-Tecklenburg knows that. She has known Popp since 2008 from her first football stint at FCR Duisburg – back then she still had a bit of flab on her hip.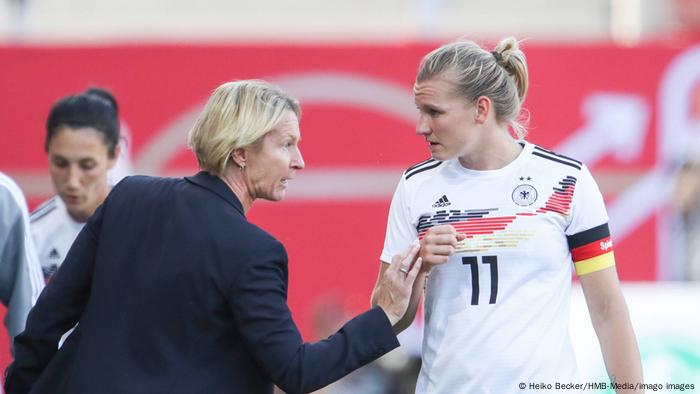 Federal coach Martina Voss-Tecklenburg knows Alexandra Popp from their time together in Duisburg
Well, on the&nbsp ; long way back to the DFB team, the national coach accompanied her captain. And although Popp, to make matters worse, was still infected with the corona virus three weeks before the start of the tournament, Voss-Tecklenburg strengthened her and called her into the European Championship squad. "Poppi" always gives everything, she is a type of leader who sometimes addresses unpleasant things, says Voss-Tecklenburg of ARD. "I'm convinced that you can only win tournaments with guys."
And because she knows exactly how much Popp this EM means, she wants to tease a little more out of it: She lets Popp play in the storm. "She has the striker gene. And that also makes a difference with the opponents." Either way, there seems to be a happy ending for Alexandra Popp – maybe even with a final in Wembley.