In the pandemic, Paxlovid was considered a beacon of hope, which Federal Minister of Health Lauterbach believes should be prescribed more frequently. But for general practitioners, the use is a difficult trade-off.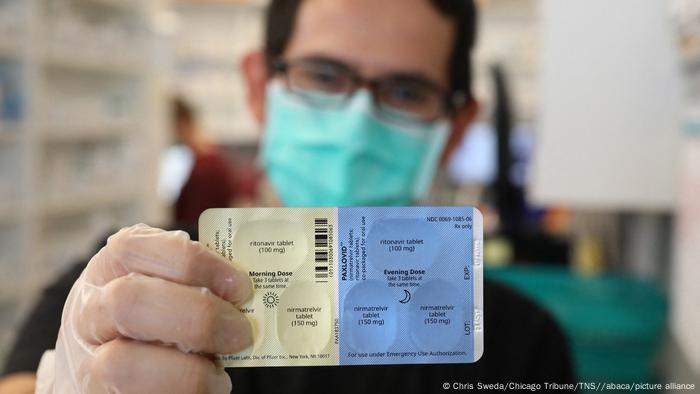 Six tablets daily reduce the Nearly 90 percent chance of hospitalization
In January 2022, the European Medicines Agency (EMA) gave the green light to the antiviral drug.
The US government's COVID pill Manufacturer Pfizer is considered a beacon of hope, which according to the EMA is intended to reduce the risk of very serious illnesses by 89 percent, especially in people with previous illnesses. Paxlovid is now approved in 65 countries.
Nevertheless, the corona drug produced in Freiburg, southern Germany, is hardly ever prescribed by general practitioners in Germany. Although the pill is very effective, the federally ordered supplies are not being called. One million doses have been stored, of which only about 10,000 doses have been prescribed so far.
Therefore, the Federal Minister of Health wants to exert more targeted influence on family doctors "to use this far too rare COVID life-saving more regularly", tweeted Karl Lauterbach:
Why is Paxlovid hardly used in Germany?
There is little doubt about the effectiveness of Paxlovid: If you take the six tablets a day for a corona infection – four with the active ingredient nirmatrelvir and two with the active ingredient ritonavir – the likelihood of being admitted to hospital decreases by almost 90 percent.
A major advantage of Paxlovid is that the antiviral drug is the first corona drug that can be taken orally at home in tablet form. The similarly acting Remdesivir, on the other hand, has to be administered as an infusion by the doctor.
Watch video 04:02
Antiviral drugs against COVID-19
In addition to Paxlovid and Remdesivir, there are two other therapeutic drugs , which fight the viruses in the early stages. The active ingredient nirmatrelvir inhibits a SARS-CoV-2 protein and thus prevents the coronavirus from penetrating human cells.
Limited applications
However, it is important that these antiviral agents are used as soon as possible after the infection has become known. They are prescribed by general practitioners.
But patients would have to inform their general practitioners immediately in the event of an infection, and the physicians in turn would have to weigh up whether the drug is actually suitable for the patient in question. Because according to the EMA, Paxlovid should be used primarily in high-risk patients, i.e. not in people without previous illnesses, for example.
A study published in April 2022 in the "New England Journal of Medicine" also caused uncertainty, according to which Paxlovid was significantly weaker in people without risk factors.
According to Prof. Martin Scherer from the University Hospital Hamburg-Eppendorf, the study shows quite the opposite, that Paxlovid works very effectively – just as intended in high-risk patients: "In the study, only about 0.8 percent of the COVID patients had to be hospitalized if they took the drug on time. In the placebo group, on the other hand, it was over six percent. Paxlovid can therefore prevent a large number of admissions to hospital and also many deaths," said the President of the German Society for General Medicine and Family Medicine (DEGAM) to the Newspaper "Die Welt".
Less severe courses by Omikron
With the occurrence of the omicron variant, there are generally less severe courses compared to infections with the delta variant. However, there are other reasons why general practitioners are reluctant to prescribe Paxlovid: The strong interactions with other medications.
"There are, for example, the antiarrhythmic drugs that are used to treat cardiac arrhythmias. Or many psychotropic drugs, lipid-lowering drugs, blood thinners and drugs to treat heart failure. And erection-enhancing drugs such as Viagra or Cialis should not be combined with Paxlovid," says the General practitioner Martin Scherer. "And that's exactly what forces the doctor to weigh things up. He has to think carefully about whether it's worth stopping one or more of these drugs in order to be able to prescribe Paxlovid."
GP needs to weigh things up
< p>Since the antiviral drug has to be taken very early after an infection, i.e. as soon as the symptoms begin, and the interactions with other drugs are considerable, the general practitioner must weigh up the benefits and risks very quickly. "Although Paxlovid is a very effective drug, it is not exactly easy for the doctor to use in everyday practice."
Especially with a view to a possible new wave of infections in autumn, high-risk patients in particular should know that that there are very effective and uncomplicated medications such as Paxlovid, and you should discuss with your family doctor whether this antiviral is an option for you in the event of an infection.