Apple Watch Series 8: larger screen
Apple is working on a model with a larger screen, both analysts say. In October last year, Young already suggested that the Apple Watch Series 8 would come in three sizes. Now Young has more information: The screen is said to measure 1.99-inches diagonally. Analyst Jeff Pu independently reports that Apple supplier Luxshare will be the sole manufacturer for this year's high-end 2-inch Apple Watch model. Both analysts are probably talking about the same model.
A 1.99-inch Apple Watch screen would again be just slightly larger than the 1.901-inch screen of the 45mm Apple Watch Series 7. It would be an increase of mean 5 percent. For the sake of completeness, the 41mm Apple Watch Series 7 has a screen diagonal of 1.691 inches.
See also


Rumor: 'Apple Watch Series 8 may come in three sizes'
Since the very first version, Apple has released the Apple Watch in two sizes, but that will change next year. Will the Apple Watch Series 8 really come in three sizes?
With the current generation, Apple also made the screen a little bigger. A visibly larger jump of 20% more screen surface was made. The 5% that is now being talked about is therefore only a limited increase.

This could be a redesign for the Apple Watch Series 8 that has been speculated about for some time. Apple would also like to opt for flat sides. Its top is flat, while the sides are also flattened. However, Young and Pu have no further information about the design of the housing. Another option is that this is the special 'rugged' version of the Apple Watch, also known as Explorer Edition. It is rumored to be presented simultaneously with the Apple Watch Series 8 and is aimed at athletes and people who have to work under extreme conditions.
See also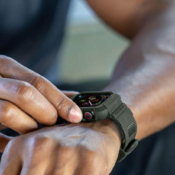 Apple Watch Explorer Edition: you want to know
For more than a year there has been talk about an extra robust Apple Watch, which is sometimes called the Apple Watch Explorer Edition could be called. What rumors have there been about this Apple Watch and when is it likely to arrive? On this page we answer as many questions as possible.