Many women's teams have entered the fight for equal pay. The German players want to take a different path. Rather, their focus is on level playing field.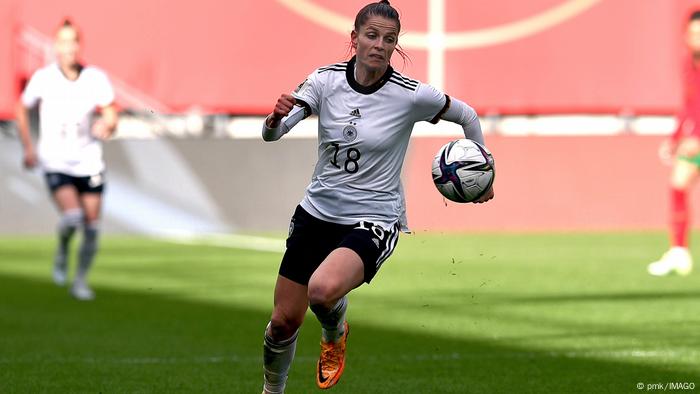 National player Tabea Waßmuth is looking for a "middle ground"
While the call for equal pay – the equal pay – often sounds like an automatism, the German women's national soccer team is more concerned with the demand for equal playing conditions. And they are wary of simply following the male model, where salaries of 100,000 euros per week are commonplace.
"When you talk about equal pay, it always sounds like you're saying that women should earn just as much as men. I ask myself: Is that what we want at all?" Germany international Laura Freigang told DW . "I don't even know if I want the women's game to go in that direction and reach the same dimensions as the men's."
However, this question will in no way deter the German players from their fight for equality. Rather, they have recognized the problems of men's football. And they're not shy about addressing perceived weaknesses. "The buzz in men's soccer is pretty crazy," says National player Tabea Waßmuth. "Maybe we can find a middle way."
Freigang believes that women's football can be an alternative to money-driven men's football bit like that," says Freigang. "The question is whether you can somehow bring in structures that can contain it."
Same standards
There have been important changes in women's football recently. Spain, England, Norway and the United States of America are among the countries that have equal pay agreements between their men's and women's teams.
Feels well looked after at the DFB: Lena Lattwein
The DFB women have decided to focus on the general conditions of their sport and not just on the salaries. This is how the gap between women and men should get smaller. They stay in hotels of the same standard as the men. And they have their own staff who accompany them to games and tournaments – including physiotherapists, medical staff and a chef. "A lot has happened in recent years. We're well taken care of. Nobody can complain and demand more," national player Lena Lattwein told DW.
The German women also share a base camp with the DFB men's team – in the small German town of Herzogenaurach. There they prepared for Euro 2022. For Freigang, the main thing is to create a more professional environment for future generations. "If I demand equal pay, it would affect me first and foremost. Those of us who are already at the top would benefit and get more." , says Freigang. "But that's not the main thing. We want to professionalize the sport so that all players can start at the same level and have the same chances."
But despite the great progress at national level, it remains one key problem: the big differences in performance in the Bundesliga.
Big differences in the Bundesliga
Unlike in the men's top division, there are many women players who cannot live off their football earnings alone. "There are big differences in the Bundesliga. Some have to work part-time, otherwise they can't make a living contest," says Waßmuth, who plays in Wolfsburg.
There are also big differences in the functional buildings and sports facilities of the individual clubs, for example in the training fields and the changing rooms. Many clubs do not have full-time employees or physiotherapists. "It's these little things that need to be changed in order to improve equal opportunities," says Waßmuth.
While Bayern and Wolfsburg are the exceptions with their financial resources, clubs like Frankfurt and Hoffenheim are slowly raising their level. But the gap to the other clubs remains enormous. "I can only speak of Hoffenheim and Wolfsburg, I was looked after very well there," says Lattwein. "But there are also players who work eight hours a day and then go to training. Those are the things we want to change."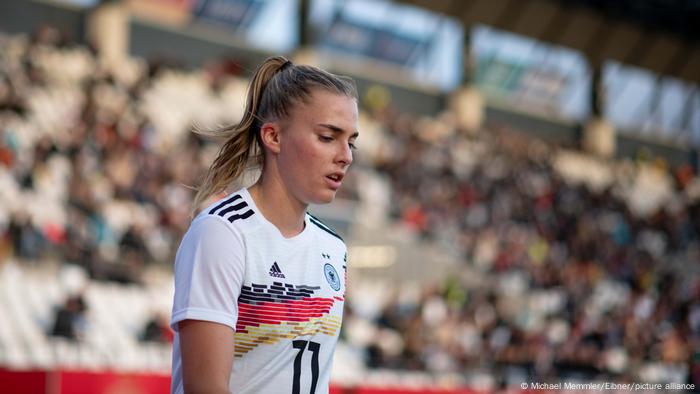 Laura Freigang: "All players should have the same chances"
There is still a lot to do to achieve parity between the Bundesliga clubs. But a full professionalization of the entire league would give many players the opportunity to just focus on football. "The girls should be at the same level in all clubs when it comes to the same playing conditions. That's more important to me than closing the gap to the men," says Lattwein. "I believe that is possible."
More attractive kick-off times
The German internationals are also keen to see women's football take a bigger role in the media and in advertising. Last season's Champions League showed that public interest is there. The competition drew a record attendance. When Barcelona Femeni hosted VfL Wolfsburg in the first leg of the semi-finals at the Camp Nou stadium, the team broke their own attendance record for a women's game. Almost 92,000 fans watched the home team win 5-1.
"I understand that the men earn more money, but one could try to make the women more visible," says Waßmuth. "We have to work on the kick-off times. To show the games at more attractive times." It is important to promote women's football games better. For example, by drawing the public's attention to top games and explosive derbies in order to arouse interest. Kick-off times at 2pm or 4pm on a weekday are not conducive to the growth of the game.
For the Germany national team, addressing these issues is vital when it comes to taking women's football to the next level to lift. This also explains why most players don't put equal pay high on their list when it comes to fighting for parity.
Translated by Jörg Strohschein