Here in Germany, the age of mobile telephony began in 1958 with permanently installed car telephones and the A-Netz, the first mobile radio system in the Federal Republic of Germany, which was operated by the Deutsche Bundespost until 1977 . But what was your very first mobile phone?
Table of contents
1 30 years of GSM (D-Netz) in Germany
Since when do you make mobile calls?
Suitcase, bones, mobile phone or smartphone?
Which manufacturer did you start with?
Which one ComputerBase readers had models first?
Participation is expressly encouraged

The last twenty Sunday questions
30 years of GSM (D-Netz) in Germany
While the A network, which was first introduced in 1955 as a train radio service and then by the Deutsche Bundespost from 1958 as a public mobile land radio service (öbL) and was used in particular for the first car telephones, took over from 1972 the B network – first referred to as 1G – which replaced the A network from 1977. In 1985 the C network – or also Funktelefonnetz-C – followed Telekom.
Based on the C-450 standard, the C network was the last analogue generation of mobile communications in Germany. As early as July 1, 1992, the D-Netz began regular operation with the 2G and GSM standards and, like the E-Netz, which was launched in 1994, is still in operation today.
The first "mobile phones" apart from car telephony appeared in Germany around 1985, but they were far from meeting the later established standards of "handheld phones", but were housed in cases and boxes that had a telephone receiver and a dial or a keypad decreed.
How long have you been on the phone?
When did the ComputerBase readers really make mobile calls for the first time and are there really old hands among you who have already made calls in the analogue A, B or C networks?
What was the first mobile network that you used?
A net
B net
C-Net
D-Net
E-Net
Abstention (show result)
Please log in to vote!
Suitcase, bone, cellphone or smartphone?
The first generation of truly portable cellphones is today Colloquially also referred to as "bones" and in some cases still had extendable antennas and, compared to the mobile phones and smartphones that followed later, almost huge dimensions.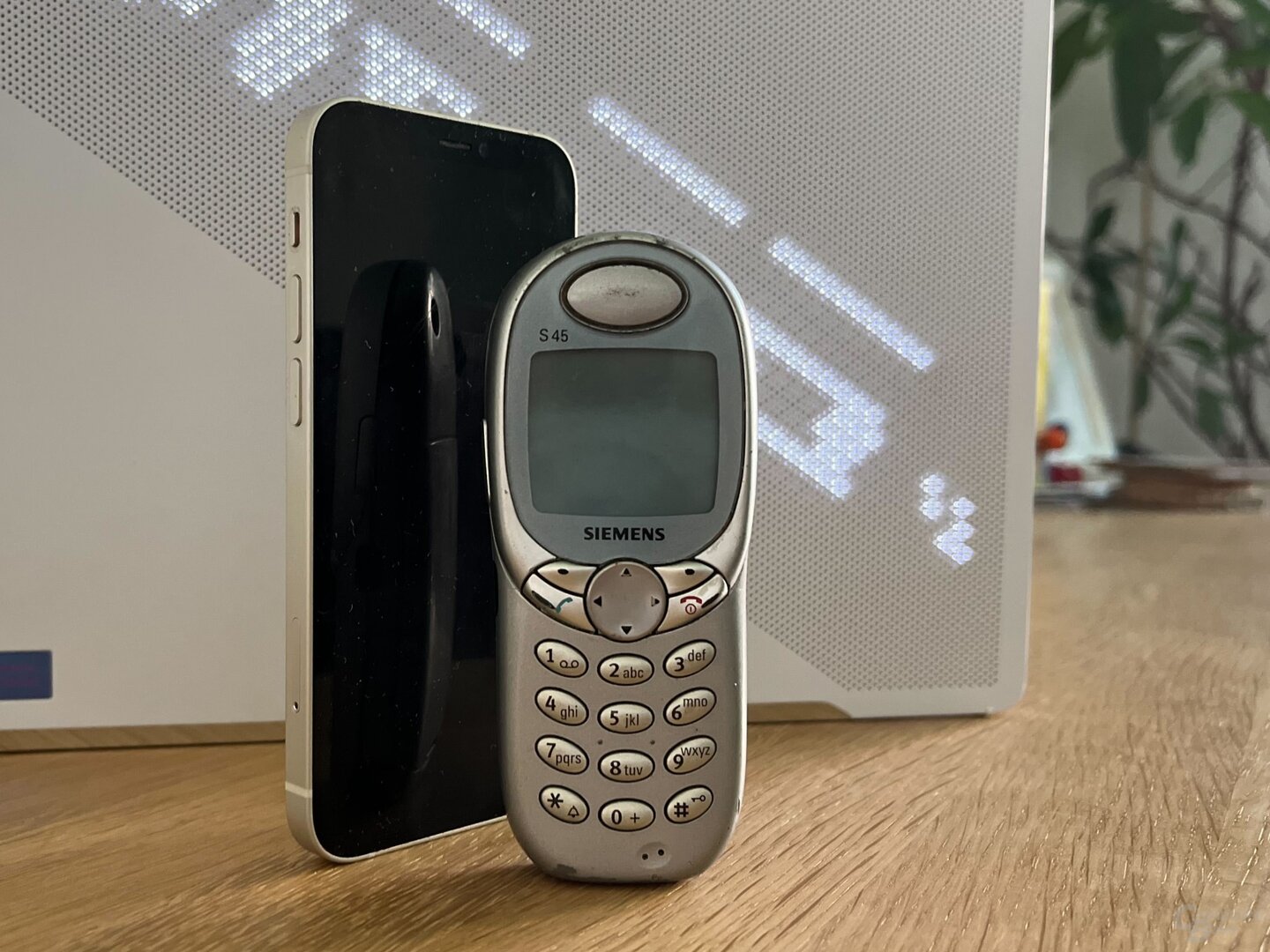 The first commercial mobile phone was the Motorola DynaTAC 8000X, developed since 1973, which was presented in 1983 and measured 33 × 4.5 × 8.9 cm weighed almost 800 grams and was sold for around 4,000 US dollars at the time.
How did the readers of ComputerBase make the first phone call? Even with a first-generation car phone, with a "mobile" suitcase phone or a "bone"? Or with a classic mobile phone or a smartphone?
How did you first make a mobile phone call?
With an early car phone
With a large suitcase phone
With a mobile phone ("bones")
With a classic mobile phone
With a smartphone
Abstain (Show result)
Please log in to vote!
While smartphone manufacturers such as Apple, Samsung, Google, Huawei and OnePlus are vying for the attention of buyers today, the mobile phone era was dominated in particular by Nokia, Alcatel, BlackBerry, Sony, Ericsson, Motorola and Siemens.
In the early days of mobile phones, companies such as Bell – today AT&T – and Motorola were the leaders and successful in the market.
Which manufacturer did you start with?
Nokia, Blackberry, Samsung or Apple? With which manufacturer did the community members make their first cell phone calls?
With which manufacturer did you get started with mobile telephony?
HTC
Apple
Alcatel
Xiaomi
Siemens
Samsung
BlackBerry
Motorola
Ericsson
OnePlus
Huawei
Google
Nokia
Sony
Bell
LG
…another manufacturer
Abstention (show result)
Please log in to vote!
Which models did ComputerBase readers have first?
ComputerBase readers who are still who can remember their first mobile phone, mobile phone or smartphone, may feel called upon to publish the exact model and other impressions in the comments.
Some serve as inspiration of the first mobile phones from the ComputerBase editorial team and other team members.
Jan: Siemens S45 (2001)
Volker: Nokia 6110 (1997)
Sven: Alcatel One Touch Easy (1999)
Mahir: Sony Ericsson K720i (2005)
Christian: Siemens S35 (2000)
Nicolas: Nokia 3210 (1999)
Fabian: iPhone 4 (2012)
Participation is expressly desired
The editors would appreciate well-founded and detailed reasons for your decisions in the comments on the current Sunday question. If you have completely different favorites in one of the genres, please write it in the comments.
Readers who have not yet participated in the last Sunday Questions are welcome to do so. Exciting discussions are still going on in the ComputerBase forum, especially on the last surveys.
The last twenty Sunday-questions
CCleaner, TuneUp & Co.: Real system optimizers or just snake oil?
Sunday question: Should ComputerBase offer merchandise again?
Nutella, DDR5 and Retro: Sunday questions from the ComputerBase community
Duel of the game series: FIFA or Pro Evolution? Street Fighter or Tekken?
Sunday question: Which game console do you remember best?
Sunday question: How do you feel about crypto, tokens and blockchain?
Sunday question: JEDEC, XMP profile or rather real overclocking?
Sunday question: Which manufacturer offers good tools and which bad tools?
Sunday question: How do you see the current development of games?
WWW, Web 2.0 and Web3: How and when did you first go online yourself?
Sunday question: Do you optimize your gaming PCs with the help of OC and UV?
Sunday question: VR Gaming was, is and will remain something for the niche, right?
Sunday question: What is the name of your RGB boss?
Sunday question: Who else do Napster, KazaA, eDonkey and eMule say anything about ?
Sunday question: Have you ever owned a graphics card with a dual GPU?
Sunday question: Which Sunday question would you like to have?
Sunday question: Is open source an alternative for you?
Sunday question: Windows Defender offers sufficient protection, doesn't it?

< li>Sunday question: Which architecture was more groundbreaking: Zen or Core?

Sunday question: PlayStation, Xbox or Nintendo?
Sunday question: The future is games from the cloud! Or maybe not?
Sunday question: Windows 11 or still Windows 10 and why?
Sunday question: Can Intel Arc already compete with AMD and Nvidia?
Sunday question : Ryzen 7000 or 13th Gen Core, who will win?
Have ideas for an interesting Sunday question? The editors are always happy to receive suggestions and submissions.
Was this article interesting, helpful or both? The editors are happy about any support from ComputerBase Pro and disabled ad blockers. More about ads on ComputerBase.