Show jumper Janne Friederike Meyer-Zimmermann shows top performances in the saddle at the CHIO Aachen. At the same time, she is fighting for more equal opportunities for women in equestrian sport off the course.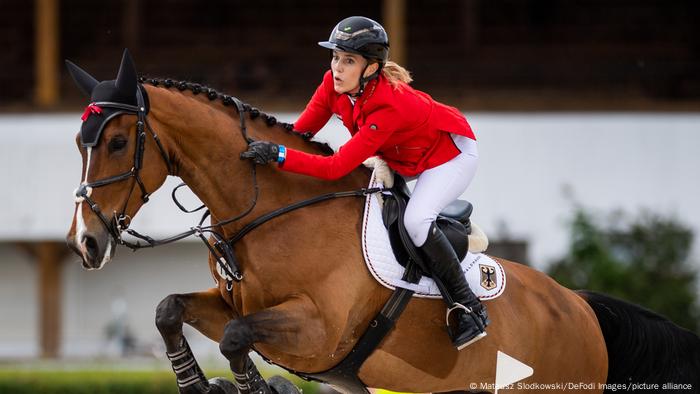 Janne Friederike Meyer Zimmermann
Show jumper Janne Friederike Meyer-Zimmermann became a mother at the end of January and is already achieving top results again. She just won the Nations Cup with Germany at the CHIO Aachen. However, the return to the sport two months after the birth of her son Friedrich did not go smoothly. Normally, according to the rules of the World Equestrian Federation FEI, female riders have to take a break of at least six months when pregnant.
Sufferers one good meant rule
They then keep 50 percent of the world ranking points that they collected in the corresponding period in the previous year. Normally, the points expire after a year. The regulation is intended to enable female riders to return to the level at which they were before after pregnancy. The world ranking points help decide which tournaments you can take part in – the higher the ranking, the higher the quality of the tests.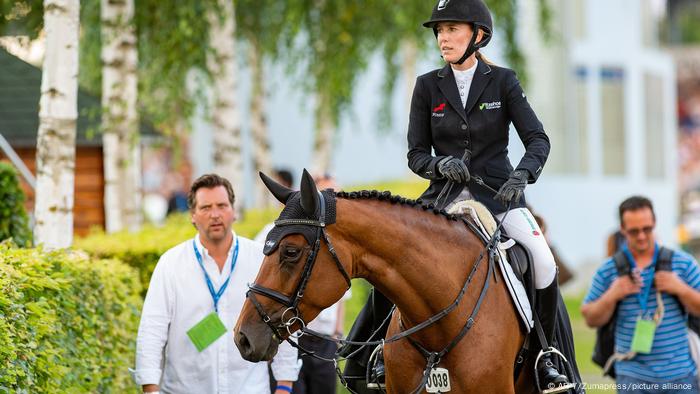 Meyer-Zimmermann runs an equestrian center near Hamburg with husband Christoph (l.), a successful horse dealer.
But because Meyer-Zimmermann was already taking part in a tournament in Oliva in Spain after a five-and-a-half-month break, the World Association struck out all her points that were older than a year, and she then slipped in the world rankings from 107th to 270th place ;Meyer-Zimmermann sees herself as the victim of a regulation that she is now fighting to have repealed. In an interview with DW, she talks about an initiative she launched for more equal opportunities in equestrian sports and her personal sporting goals. returns half a month earlier from maternity leave to competitive sport than previously announced?
Janne Friederike Meyer-Zimmermann: I'm quite sure that nobody will suffer as a result. I also don't think the rule was originally introduced to punish anyone, it was created with the positive idea that at least 50 percent of the ranking points are secured.
The FEI rule became maternity leave introduced when Meredith Michaels-Beerbaum was pregnant with her daughter in 2009. It applies to the equestrian disciplines of jumping, dressage and eventing. Why did it take so long for your example to show something was wrong?
It probably wasn't such a big problem in the past because there weren't that many big tournaments where you could collect world ranking points week after week.
Would you credit the intention of the regulation that, as a kind of Protective ban was well intentioned?
It is always said that it is about maternity leave. Unfortunately, that's not the point at all, it's the complete opposite. Because if points are withdrawn from me, I have to do even more to get them back. Then I ride even more than less.
What do you require?
I think that every woman should be able to decide for herself and flexibly how much time she needs after the birth of her child. If you want to take a longer break, for example because it was a difficult birth or you don't feel physically fit enough, then that's more than fine. On the other hand, it should also be possible if you are at home in top-class sport and want to get back to your job as an entrepreneur.
As a consequence, they founded "Equal Equest", an initiative for equal opportunities in equestrian sport, which is also supported by other frontrunners such as dressage Olympic champion Jessica von Bredow-Werndl and Meredith Michaels-Beerbaum. The aim of the initiative is to change the rule. What is your proposed solution?
In principle, we just want that there is no more loss of points when re-entering earlier and more flexibility in the time limit of the break. Don't be locked into six to twelve months. We have also made the suggestion that riders from countries that are not big equestrian nations and where not many tournaments are held should be given wildcards based on the world ranking they held before their pregnancy break.
View this post on Instagram
It's simply about creating equal opportunities. Nobody wants anything for free, neither money nor points.
What kind of feedback do you get from other female riders and especially from your male colleagues?
Incredibly positive. I have yet to meet a male colleague who rejects this. On the contrary, many say: 'We didn't know that at all.' I can understand that, because as a woman I didn't know it before either. That's why it's important to us to educate. We received great support from the German federation, the FN, and there was a lot of talk about it here at the tournament in Aachen. I think that in this way the somewhat rigid structures of the FEI can be softened.
Proposals for changes can be submitted to the world association up to July 6th, which could vote on them at its general assembly in November. What do you think the chances are that the rule will actually be changed?
I see the chances as relatively high. I would be very happy for the next generation if it works, even if it doesn't happen overnight. We will certainly be able to submit the application via the FN. But of course that still doesn't mean that it will actually be processed and come through. But once it's on the table and people are talking about it, the first step has been taken. First comes enlightenment, then comes adaptation.
The results you have achieved since giving birth are great. Is that because you were annoyed about the point deduction and went into the exams according to the motto 'now more than ever'?
Of course it was an incentive for me to show that I had good reason to start earlier started. I felt fit, my team continued to train the horses excellently throughout the winter. In addition, in Messi I now have a young horse that I have carefully built up over the past five years. He is a very special horse with special potential and I am counting on him for the future.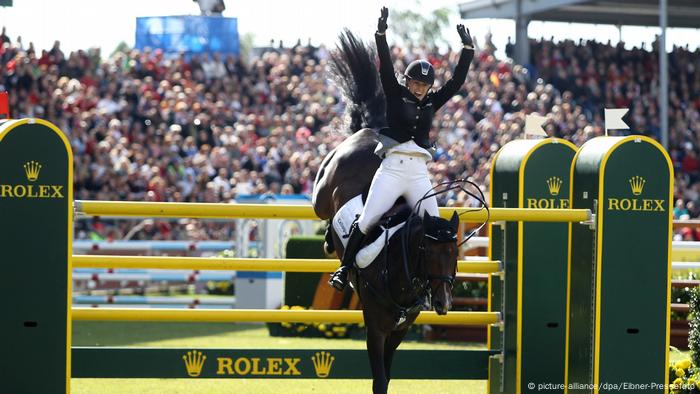 Iconic celebration at the last jump: Janne Friederike Meyer wins the Grand Prix of Aachen 2011
How how high do you see the chances of attending the World Cup in Herning with Messi in August?
At the beginning of the season it was more of a dream, my goals were smaller. I wanted to be good at the derby in Hamburg so that I could get a starting permit for Aachen. So far all goals have been fulfilled, but Herning is still a step too far away. Now the Grand Prix in Aachen is coming up. Messi has never gone through such a difficult test. I trust him that he will do well and that we can show that we are safe at this level. If that succeeds, we also have a chance to recommend ourselves to the team in Herning.
You have already won the Grand Prix in Aachen in 2011 with Lambrasco, called "Mops". At that time you already let go of the reins over the last jump and galloped to the finish with free hands and jubilation. What do you think the celebrations would be like this time?
(laughs) Definitely different, because if I cheered for Messi like that, he would gallop with me all the way to Hamburg. He's super sensitive. You have to make sure that you stay calm. But I think I'd gallop to the finish with a pretty big grin.
Show jumper Janne Friederike Meyer-Zimmermann, born on January 12, 1981, is a multiple German champion, European team champion from 2011 and team world champion from 2010. She celebrated her greatest individual success by winning the Grand Prix of Aachen at the CHIO 2011 on Lambrasco. Meyer-Zimmermann, who runs her own riding stables just outside Hamburg, has had a son since the end of January 2022.
Famous winners of the CHIO in Aachen


Hans Günter Winkler and Piero d'Inzeo

Here two exceptional riders shake hands, who can celebrate a total of seven victories at the Aachen Grand Prix: Hans Günter Winkler (l. ) triumphed three times (1954, 1957, 1969). He achieved his second victory on the back of the miracle mare Halla. The Italian Piero D'Inzeo (r.) can even celebrate four times at the most important show jumping competition in the world (1952, 1959, 1961, 1965).

Famous winners of the CHIO in Aachen


Nick Skelton

The only one who, like D'Inzeo, has four The Brit Nick Skelton can win big prizes in Aachen. Remarkable: After his first three successes (1982, 1987, 1988) it took 25 years until his fourth title. In between is a fall in 2001 in which Skelton sustained a double fracture of the top cervical vertebra. Against the advice of the doctors, he continues his career.

Famous winners of the CHIO in Aachen


Fritz Thiedemann

Along with Hans Günter Winkler, Fritz Thiedemann is Germany's best show jumper of the post-war period. His successes are closely linked to his best horse, Meteor, originally a farm horse. In 1955, Thiedemann and Meteor triumphed together at the Grand Prix. Thiedemann achieved two further successes in Aachen with other horses (1951 and 1953).

Famous winners of the CHIO in Aachen


Alwin Schockemöhle

Alwin Schockemöhle also rode three different horses to his three victories in Aachen (1962, 1968 and 1969). After his active time, Schockemöhle worked as a trainer, including as head of the team for the German show jumpers. With Thomas Fruehmann, Gert Wiltfang and Franke Sloothaak, he discovers and promotes three riders who can later also win the Grand Prix in Aachen.

Famous winners of the CHIO in Aachen


Paul Schockemöhle

Alwin Schockemöhle's youngest brother Paul follows in his footsteps in 1974 in Aachen. Two more Grand Prix titles followed in 1979 and 1984. Paul Schockemöhle celebrated his last success in Aachen on his parade horse Deister, also known as "The jumping safe" because of his many successes. Today, Schockemöhle works successfully as a breeder, horse dealer and freight forwarder.

Famous winners of the CHIO in Aachen


Nelson Pessoa

In addition to his impressive seven victories in the German Derby in Hamburg, Nelson Pessoa also won the Aachen Grand Prix twice. In 1964 he is the first South American to do this. The second triumph followed in 1972. In 1994, Nelson Pessoa's son Rodrigo imitated his father and also entered the list of winners of the Grand Prix of Aachen.

Famous winners of the CHIO in Aachen


Ludger Beerbaum

Ludger Beerbaum, one of the most successful German riders, is three times at the top of the podium at the Aachen Grand Prix. With Goldfever he managed two wins in a row in 2002 and 2003. In 1996 he won with his best horse, the mare Ratina Z, who is still considered one of the most successful show jumpers of all time.

Famous winners of the CHIO in Aachen


Jean-Claude Van Geenberghe

Jean-Claude Van Geenberghe had his heyday in the 90s. In 1993 and 1995 the Belgian was the best in Aachen. Later, Van Geenberghe changes nations and starts for Ukraine. In 2009, at the age of only 46, he died in mysterious circumstances during a riding event in Donetsk. He gets off the horse with heartache, is prescribed painkillers and rest and dies a short time later.

Famous winners of the CHIO in Aachen


Janne Friederike Meyer

In 2011, Janne Friederike Meyer is only the fifth woman to succeed at the Aachen Grand Prix. However, no rider rides to victory as spectacularly as the then 30-year-old: Already over the last jump, Meyer raises his arms confident of victory and lands hands-free. Her gelding Cellagon Lambrasco gallops her across the finish line to her greatest victory.

Famous winners of the CHIO in Aachen


Scott Brash

Scott Brash secures the Grand Prix of Aachen and the big jackpot of a luxury watch brand at the CHIO 2015. The Scotsman prevails on Hello Sanctos in the jump-off with a narrow lead. Since he has previously won in Geneva, he will receive a bonus of 500,000 euros. Later, in Calgary, he also wins the third stop of the "Rolex Grand Slam" and is richer by another million euros.

Famous winners of the CHIO in Aachen


Philipp Weishaupt

Nobody expected him: In 2016, Philipp Weishaupt duped the competition, even though he slipped into the starting field at the Grand Prix as the 40th rider. He has to start first but is the best in the end with only two penalties for timing. Double luck for him, because just before the competition he proposes to his fiancee, and she says: "Yes!"

Famous winners of the CHIO in Aachen


Marcus Ehning

"Exactly the right person won", is the sentence Marcus Ehning, who is known for his dry sense of humour, comments on his success at the 2018 Aachen Grand Prix. However, Ehning wasn't quite so cool beforehand at the award ceremony. After all, it's the second title for the 44-year-old, who won in 2006 on the mare Küchengirl.