After Cyberpunk 2077, Techland's survival horror game Dying Light 2 Stay Human (test) now also receives support for AMD's FidelityFX Super Resolution 2.0 via modification. The implementation is identical, so the difference to FSR 1.0 is also clear – but the same applies to the problems.
FSR 2.0 beats FSR 1.0 – but not yet in Dying Light 2
Dying Light 2 was released in February 2022, featuring Nvidia's AI-supported upscaling technology DLSS and AMD's less sophisticated spatial upscaling method FSR 1.0. Gamers were well advised to switch on one of the two alternative anti-aliasing options, but the performance in the test was not particularly convincing – especially when ray tracing came into play. Unsurprisingly, DLSS 2.0 delivered the better picture in comparison, so that owners of an older Nvidia or AMD graphics card fell behind.
AMD has since released a counterpart to DLSS, but FSR 2.0 is only available in a handful of games so far. This is a pity for two reasons: On the one hand, the open-source anti-aliasing can certainly come close to the DLSS model, as ComputerBase was able to find out in three comparative tests. And on the other hand, according to AMD, the effort for subsequent implementation is extremely low, provided games already support DLSS.
Fork the Cyberpunk mod provides for remedy
This is because AMD and Nvidia use a similar temporal upscaling algorithm, which modder PotatoOfDoom1337 has already suggested for an unofficial FSR 2.0 implementation in Cyberpunk 2077 made use of.
Now modder mnxn0 is also presenting a corresponding modification for Dying Light 2 Stay Human on Nexusmods, as initially reported by wccftech. Some screenshots with FPS display at the top right edge of the screen should demonstrate the mod's performance. They were created on a PC with an Intel Core i7-7700K and Nvidia GeForce GTX 1070 with medium graphics settings and a target resolution of 1,920 × 1,080 pixels. This means that, for example, FSR 2.0 Quality was initially calculated with 1,280 × 720. Comparing that mode with FSR 1.0 Ultra Quality shows a clear improvement in image quality.
In fact, the mod is a fork of PotatoOfDoom1337's code, which mnxn0 published on GitHub with his permission . PotatoOfDoom1337 already noted that his project could easily be transferred to other games with DLSS implementation and made the source code openly accessible.
This mod is based on PotatoOfDoom1337's very impressive CyberFSR mod […] which implemented FSR 2.0 in Cyberpunk 2077 by replacing DLSS in the game. I made some modifications to CyberFSR to make it work for Dying Light 2 and am now releasing it here with permission from PotatoOfDoom. […]

If you like this mod and play Cyberpunk 2077, please check out the original CyberFSR mod. This wouldn't have been possible without PotatoOfDoom's hard work and I am very grateful.

mnxn0
Technology and problems are eliminated identical to
The technical implementation is therefore again based on the close relationship between DLSS and FSR 2.0; both algorithms must be fed with similar data. Since Nvidia publishes the DLSS versions as dynamic program libraries, the corresponding DLL file can be exchanged. The DLSS Swapper tool has already made use of this. In the case of the Cyberpunk and Dying Light 2 mods, however, no official Nvidia DLL is used, but a specially adapted version that translates between DLSS and FSR 2.0. Players need to modify the registry and replace a DLL file to install the mod. This leaves no traces in the game's graphics menu, because DLSS must then be activated in the settings – the name is deceptive, it now stands for FSR 2.0.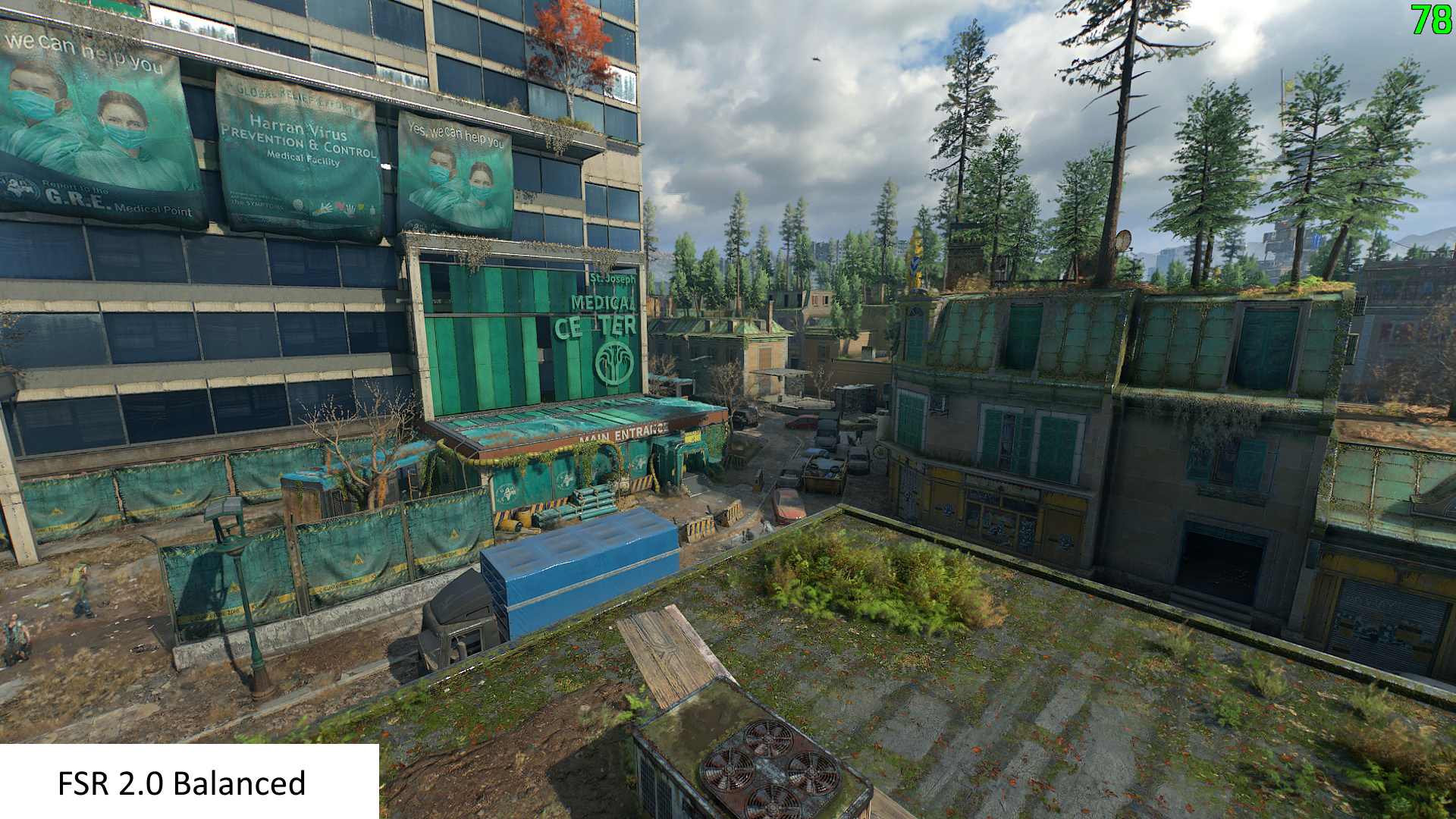 As with PotatoOfDoom1337's mod for Cyberpunk 2077, however, this is by no means a perfectly optimized FSR 2.0 implementation. Again, strong ghosting is a problem, and mnxn0 also reports shadows that are too bright and skybox textures with a lower resolution. Interested gamers should also be prepared for further graphic errors and occasional crashes.
Be aware that this mod has a few issues like ghosting/smearing, lighter shadows, and lower resolution skybox textures. Hopefully Techland will implement FSR 2.0 directly in the game in the future which could fix some of these problems.

mnxn0