Guilty on all counts: This is how a jury decided in the abuse trial against R. Kelly. Now the court in New York has announced the sentence against the former superstar – and that's high.
Soul star R. Kelly performing in Las Vegas at the height of his career (2015)
He experienced an unparalleled high in the pop sky and now a total personal crash: the former soul star Robert "R." Kelly faces 30 years in prison. A US federal court in New York sentenced him this Wednesday for serious sex offenses. This was announced by Judge Ann Donnelly. A jury found the musician guilty on all nine charges last year after a trial lasting several weeks – including sexual exploitation of minors, kidnapping and bribery in the years 1994 to 2018.
According to the indictment, the man with hits like "I Believe I Can Fly", Kelly, who has become famous, built up a whole network of helpers in the USA to recruit young girls and women to satisfy his sexual desires. He is said to have locked some of his victims up and brutally abused them.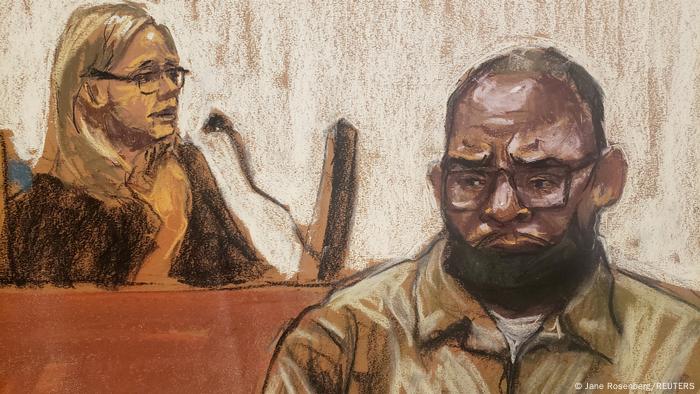 Court drawing of Judge Donnelly and R. Kelly delivering the verdict
Prosecutors had called for Kelly to serve a minimum of 25 years in prison, arguing he continued to pose a "serious danger to the public". His actions were "bold, manipulative, controlling and coercive," prosecutors stressed. He also showed no remorse or respect for the law. Kelly's lawyers had asked for a reduced sentence of up to 17 years.
Another Verdict Coming Soon
The sentence was announced about a month before jury selection begins in Kelly's next abuse trial, which is scheduled to begin in mid-August in a Chicago federal court. There are also two further investigations against the musician.
The first allegations against the singer were made around 25 years ago. Kelly's – later annulled – marriage to singer Aaliyah, who was only 15 at the time, also caused a stir. In 2008, Kelly was acquitted of child pornography charges in a controversial trial, other cases were settled out of court.
The documentary series "Surviving R. Kelly" released in 2019 eventually led to a new investigation and the arrest of the star. Kelly, who appeared in court this Wednesday with black glasses, a black corona mask and a khaki-colored top for the verdict, had always rejected the allegations.
AR/fw (afp, dpa, ap)