CarPlay in iOS 16 gets a number of new features, including improvements to Apple Maps and Siri. But there are also new app categories coming to CarPlay, including apps for refueling. Not much was known about what would be possible thanks to this addition, but Reuters is now clarifying. For example, from iOS 16 it is possible for apps to let users pay for their refueling via CarPlay.
iOS 16: paying for refueling via CarPlay
Reuters has spoken with a major chain of gas stations in the US. They say they plan to use the new feature for CarPlay. You can then use the app of the refueling chain on your CarPlay screen to search for a gas station, but you can also start refueling and pay with it. So to use the function, you need a suitable app from a gas station and you have to set everything up once before you hit the road. Think, for example, of the correct payment information, such as a credit card.
See also


Apps for cheap refueling: this way you immediately save money
Cheap refueling pays off: you can quickly save money if you understand the prices. With the 10 (!) cheap fueling apps we discuss in this guide, you'll know exactly whether it's worth driving.
Apple has made all kinds of rules for the two new app categories, namely fuel apps and apps for tasks while driving. For example, a fuel app in CarPlay should not simply be a tool to find the nearest gas station, because such functions can already be added in navigation apps in CarPlay. Apps should add a useful feature, such as paying for your fuel.
CarPlay apps to pay with
Apple already allows some apps in CarPlay from which you can make payments. This is possible, for example, for apps for parking or for ordering food quickly. These options were added in iOS 14, but many real-world examples aren't there yet. It is therefore also questionable when fuel apps in the Netherlands will start using this new function. Currently, the Shell app with SmartPay already offers an option to pay at the pump from your iPhone, based on GPS. You can also use Apple Pay from the app, without having to pay at the pump itself.
See also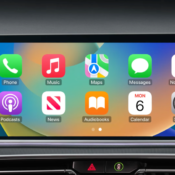 in iOS 16: New in Car apps and more
CarPlay gets a few handy improvements in iOS 16, although there are fewer new options than in previous years. In this article we list all the improvements of CarPlay in iOS 16 for you.