The communication of the German Chancellor is repeatedly criticized. His North German monosyllabicity is not well received by many – especially in direct comparison with a political companion.
Olaf Scholz has been in office as German Chancellor for more than six months. And again and again Germany discusses individual formulations of the head of government. Recently there was another day like that. Scholz spoke to media representatives at the end of the G7 summit in Elmau, Bavaria, including many who also report in the capital Berlin and are known to politicians. Rosalia Romaniec, head of Deutsche Welle's capital city studio, asked the chancellor whether he could say specifically what security guarantees the states had agreed on for the post-war period in Ukraine.
The SPD politician answered "Yes." Then he didn't say anything. Scholz grinned, added "I could" before leaving the stage after "that's it". "Siri, define arrogance," commented Mathieu von Rohr, head of the capital city office of the news magazine "Der Spiegel", on Twitter at this moment. One outraged voice among many. The video of the scene has since been clicked thousands of times on social media.
The only answer was "Nope"
A little later on the same day, Scholz followed suit in the ARD interview "Show your colors". ARD editor-in-chief Oliver Köhr discussed the imminent energy bottleneck in the wake of the Ukraine crisis and then asked the chancellor, expressly mentioning suggestions from his economics minister, Vice-Chancellor Robert Habeck ("take a shorter shower", "regulate the heating") whether he too " practical everyday tips" to hand? Scholz's reply: "Nope". Just "Nope".
"Olaf Scholz communicates in a relaxed, friendly, Hanseatic way, but lacks strategic precision." Political scientist Werner Weidenfeld has been observing German chancellors for decades: Helmut Kohl, Gerhard Schröder, Angela Merkel, and now Olaf Scholz. His verdict on Chancellor Scholz of the coalition of Greens, SPD and FDP, also known as the traffic light coalition, is clear. "There is a strategic speechlessness, which is a kind of basic disposition," says the Munich university teacher of Deutsche Welle.
According to Weidenfeld, Scholz does not see even a simple nope "as a shortcoming, his way dealing with that question, saying 'nope' with a smile. That's just his understanding of communication."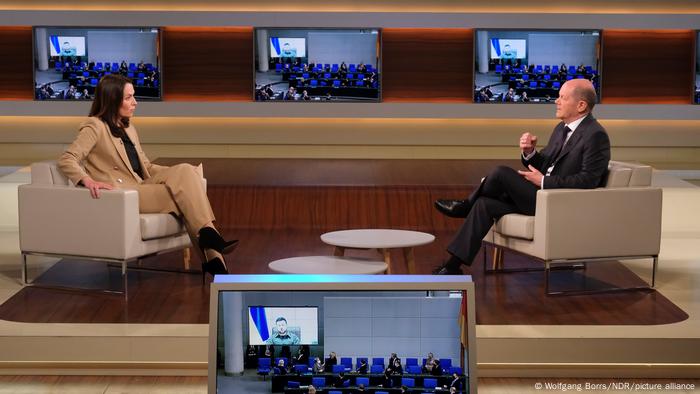 Chancellor Scholz in March on the ARD program "Anne Will"
Incidentally, one of Scholz's quotes, which caused a stir in Germany for weeks (and was alternately interpreted as Chancellor criticism of political opponents, party friends and coalition partners), was also made in a major TV interview. In mid-May, Scholz was a guest on "RTL direct". The question of a visit by the head of government to Kyiv came up. And Scholz, under pressure on this issue, said pointedly that he would "not join a group of people who do something for a short time in and out with a photo session. But if so, then it's always about very specific things."
Harsh criticism of Scholz
"He mixed up beyond recognition," the "Handelsblatt" judged at the beginning of June in a long analysis of Scholz's appearances in the media. Specifically, the four authors made this clear in a 60-minute solo appearance by the Chancellor in mid-March on Anne Will's talk show: "Scholz doesn't lie, but he mixes things beyond recognition and thus allows the citizens perceive untruth as reality."
According to political scientist Weidenfeld, in view of a complex and confused world with climate crisis, corona pandemic and Ukraine war, "interpretation sovereignty" would be crucial: "That's why the ability to explain is so important. There is, to a certain extent, an immense need for interpretation politics," says Weidenfeld. "To a certain extent, it is the sovereignty of interpretation that a politician offers and conveys that makes politics what it is."
Political scientist Werner Weidenfeld teaches at the LMU Munich
Competitors: Scholz and Habeck
But: can Scholz do that? This question is particularly pressing when you look at a political companion and competitor at the same time: Vice Chancellor and Economics Minister Robert Habeck from the Greens. "The contrast is maximum, it seems to me," media scientist Bernhard Pörksen explained when asked by DW about the style of chancellor and deputy. Unlike his predecessor Angela Merkel, who basically stood there without an opponent, there are now actors at Scholz: the Greens with Habeck and Foreign Minister Annalena Baerbock. Poerksen calls their approach "dilemma-conscious openness". When the Economics Minister lets the audience participate in the difficulties of the office via Instagram video, when he explains and promotes processes of negotiations or decisions and not just announces results. The Green also gets respect from political opponents for such mediation.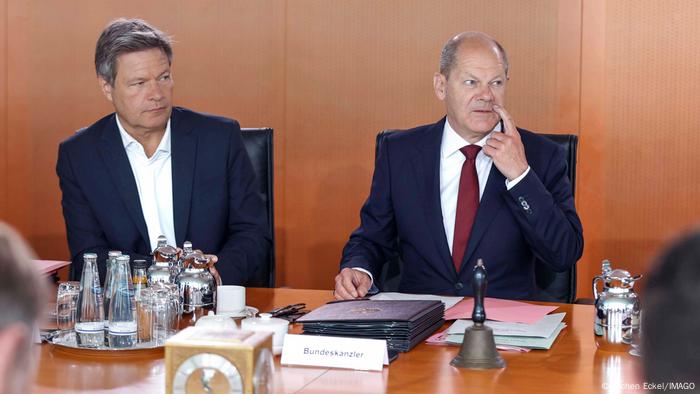 Chancellor Scholz, Deputy Habeck. At the cabinet table in the Chancellery.
"If anyone could become a competitor for Scholz, then Habeck, supported and promoted by Baerbock," says Weidenfeld. They would name concerns and bring in listeners. He speaks of a "good, clear form of communication". Not only Scholz is missing that, but the SPD as a whole. That's why the popularity ratings are "poor everywhere".
At the beginning of May, government spokesman Steffen Hebestreit was interviewed in the media magazine "journalist". The 50-year-old used to work as a correspondent in the capital and was a member of the board of directors of the federal press conference. In the long conversation, he outlined his task as spokesman for the chancellor and the federal government as follows: "Our task is to explain how the government acts and what policies it pursues."
Hebestreit also addressed Scholz's charisma, who "weighed his words and actions so carefully": "If you tried to make the chancellor a Barack Obama in terms of communication, it would definitely backfire." In any case, the Chancellor is a very experienced politician, "who is used to public pressure and doesn't allow himself to be fooled." That's what he was elected for.
Looking for contact with citizens
The spokesman continues: "While many politicians often and happily announce what they plan to do, Scholz first thoroughly prepares his decisions away from the public and then publicly refers to what has been achieved." And Hebestreit himself compares the chancellor to the deputy in the interview: "The economics minister speaks of 'impositions', the chancellor formulates in a more solution-oriented manner that he wants to ensure that we can cope well with the situation".
Hebestreit also described in the interview what he and his team want to do differently. "On the government side, we don't just want to broadcast." That's why the Chancellor, unlike his predecessor, goes to television shows, news programs or talk shows more often "to be questioned and questioned".
In any case, the next attempt to do this is coming up soon: the ARD program "Report from Berlin" advertises a new format on Twitter with the slogan "You ask, Olaf Scholz answers".
Nevertheless, political scientist Weidenfeld believes that a change in Scholz's media impact is still possible. "If he presented his assessments in an appropriate tone, if he was more precise when asked…that would be perceived positively. People would then feel that they were learning more."