The alliance is facing a new threat from Russia, but believes it is prepared – according to the message of the NATO summit in Madrid. Members also pledge to continue supporting Ukraine.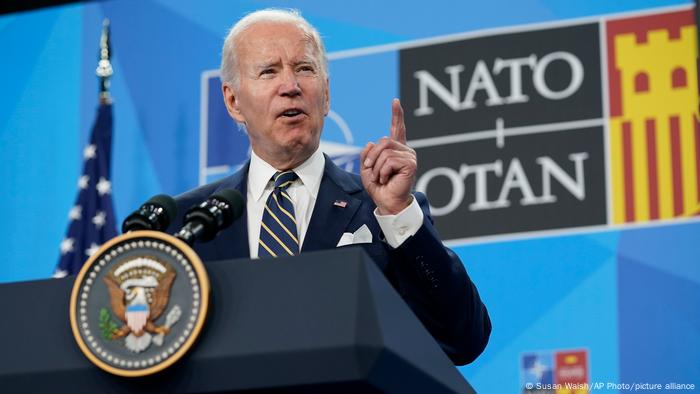 US President Biden in Madrid: "We will defend every inch of NATO territory".
"We live in a dangerous world," said NATO Secretary General Jens Stoltenberg, summing up the security situation after the two-day summit in Madrid. He calls the decision on the massive reinforcement of operational alliance troops by the summer of next year the right answer. We are ready to protect all member states, including Finland and Sweden during the admission process.
Both countries are due to be formally invited as new members to NATO early next week after decades of neutrality. And for those on the Alliance's eastern border who are worried – like the Baltic countries – US President Joe Biden once again reiterated the promise: "We will defend every inch of NATO territory".
Cold War Doctrine
"With its aggressive policies, Russia is once again a threat to Europe and to the Alliance," confirmed Chancellor Olaf Scholz. Russia's attack shattered the international peace order and changed the global political situation. NATO draws the right conclusions from this situation. After more than a decade, in its strategic concept, it once again describes Russia as the most serious threat to common security.
From this, according to the Federal Chancellor, it follows that the eastern flank of NATO must be secured immediately, for which Germany with 3000 soldiers for stationing in Lithuania will contribute.
Watch video 01:25
Scholz: G7, EU and NATO standing together continue to give Putin a headache
Scholz also announced the provision of a 15,000-man division with around 60 aircraft and 20 ships, which are to be kept permanently available for NATO missions. In Rostock he wants to set up a maritime regional command to help secure the Baltic Sea. The Bundeswehr has already increased airspace surveillance on NATO's eastern borders.
The German chancellor called Vladimir Putin's accusation that NATO was showing "imperialist ambitions" in Madrid "quite ridiculous." It is Putin himself who "has made imperialism the goal of his policies" and claims that neighboring countries belong to Russia.
When asked about a possible end to the war, Scholz was as helpless as all western heads of government: "Nobody is in Putin's head" or knows his advisors. But he wants to convince Putin that "it's not working out with Ukraine, that he should stop."
Weapons for Ukraine, "as long as it takes"
"The world has changed a lot and NATO is changing with it," said US President Joe Biden. And when asked by journalists whether the Allies really wanted to hold their own to the end, he confirmed: "We will support them as long as it takes. Look at the effect in Russia so far," the economy had fallen back by 15 years. "They can no longer service their debts," said Biden, "they are paying a high price. We stand by Ukraine".
Biden also announced the continuation of the extensive US arms deliveries to Ukraine: in the next few days he will send anti-aircraft systems, artillery, ammunition for the delivered multiple rocket launchers Himar (High Mobility Artillery Rocket System) and other equipment worth $800 million.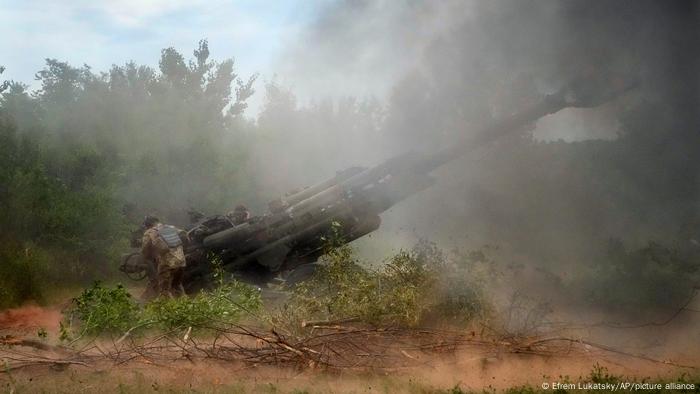 Donetsk region: Ukrainian units fire from US-supplied M777 howitzer
The US remains the largest supplier, but Germany and the Netherlands, Norway, Great Britain and even France also announced further deliveries to Ukraine. President Emmanuel Macron said 12 Caesar artillery pieces are already on site, with six more to follow. And host country Spain is considering the previously controversial delivery of Leopard tanks to Ukraine.
Lavrov: "New Iron Curtain"
During Joe Biden's press conference in Madrid, Russian Foreign Minister Sergei Lavrov reacted to the decisions of the NATO summit. He sees a new iron curtain falling between the West and Russia and advises NATO to "be careful and not get caught". Europe and Washington are not interested in understanding Russian interests, Lavrov explained.
Previously, President Putin had said on the forthcoming NATO accession of Finland and Sweden: "If Finland and Sweden want to join, they can join". However, if military units and infrastructure were deployed there, the same threat would be created for these areas as they posed for Russia.
Many participants in Madrid also called the summit a "historic meeting" because of the pending accession of Finland and Sweden. On the first evening, it was initially possible to clear up the objections of Turkish President Recep Erdogan. He concluded an agreement with Stockholm and Helsinki on how to deal with Kurds in exile there.
US fighter jets for Ankara
The compromise came about because the USA also promised Turkey an incentive in the form of F16 fighter jets, which Erdogan has wanted for his army for a long time. The American side denies the connection, but the simultaneity of events indicates the opposite. At a bilateral meeting with Erdogan in Madrid, President Biden promised the delivery of the jets while the agreement between the accession countries and Turkey was being signed.
At the press conference after the end of the summit, Erdogan thwarted but the hope of a problem-free admission for the two candidates. He demanded that Sweden and Finland first fulfill their promises and implement legislative changes.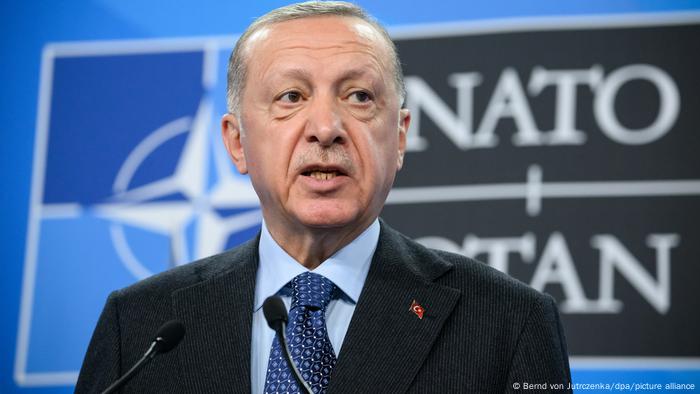 Erdogan surprised with new demands for agreeing to Sweden and Finland joining NATO
Erdogan also claimed that Sweden has promised to extradite 73 people he classifies as "terrorists". However, none of this is in the agreement between the three countries. On Wednesday, a government representative initially demanded the extradition of 33 Kurds to Turkey. The President seems to have increased the number by now.
"The most important thing is that the promises are kept. In the near future we will monitor how far the agreement is being implemented and act accordingly," said Erdogan. Finally, he added an open threat: "Sweden and Finland should fulfill their obligations […] But if they don't, there is no question that I will send the ratification (of accession) to Parliament".
So the conflict does not seem to have been finally resolved. Sweden had never promised to extradite Kurds on Turkish lists, nor is the government in Stockholm legally able to do so. It is unclear whether Erdogan was just putting on a domestic political show in Madrid or actually wants to block the accession of Finland and Sweden.
The only thing that helps is Joe Biden's reference to the upcoming approval of the American Congress for the delivery of the F16 fighter jets to Turkey. Ultimately, only the big brother in Washington can probably resolve this dispute between NATO and Ankara.