The open source e-mail client Mozilla Thunderbird now comes standard with an integration of the free communication protocol Matrix, a heavily revised address book, a new Account Setup Hub and many other innovations. Now the main focus is on the mobile version based on K-9 Mail.
With the release of Mozilla Thunderbird 102.0, a whole series of modifications will be made to the popular open source email client, which includes the following innovations in detail.
Thunderbird 102.0 with matrix integration
In addition to the integration of the Matrix protocol, which is considered to be particularly secure and which is used for this reason in schools and authorities in Schleswig-Holstein and for the Bundeswehr messenger "BwMessenger", several modules of the free client for Windows were also developed , macOS and Linux.
Via about:config → chat.prpls.prpl-matrix.disable the matrix protocol, which is still classified as a beta feature, can also be deactivated if desired by setting the corresponding value to true.
< h2 class="text-width text-h2" id="section_workspaces_organize_in_spaces">Organize workspaces in "Spaces".
The new "Spaces" toolbar is intended to make it easier to organize and switch between workspaces and modules such as the new address book, inbox and outbox, chat, calendar and tasks, and make them quicker for the user to access.
In addition to a revised link preview for emails, the so-called "Link Preview Card", which can convert a link within an email into a rich link preview, in which the content of the website is displayed on a card Thunderbird 102.0 also has a new "Account Setup Hub", which should make it much easier and faster to set up new user accounts.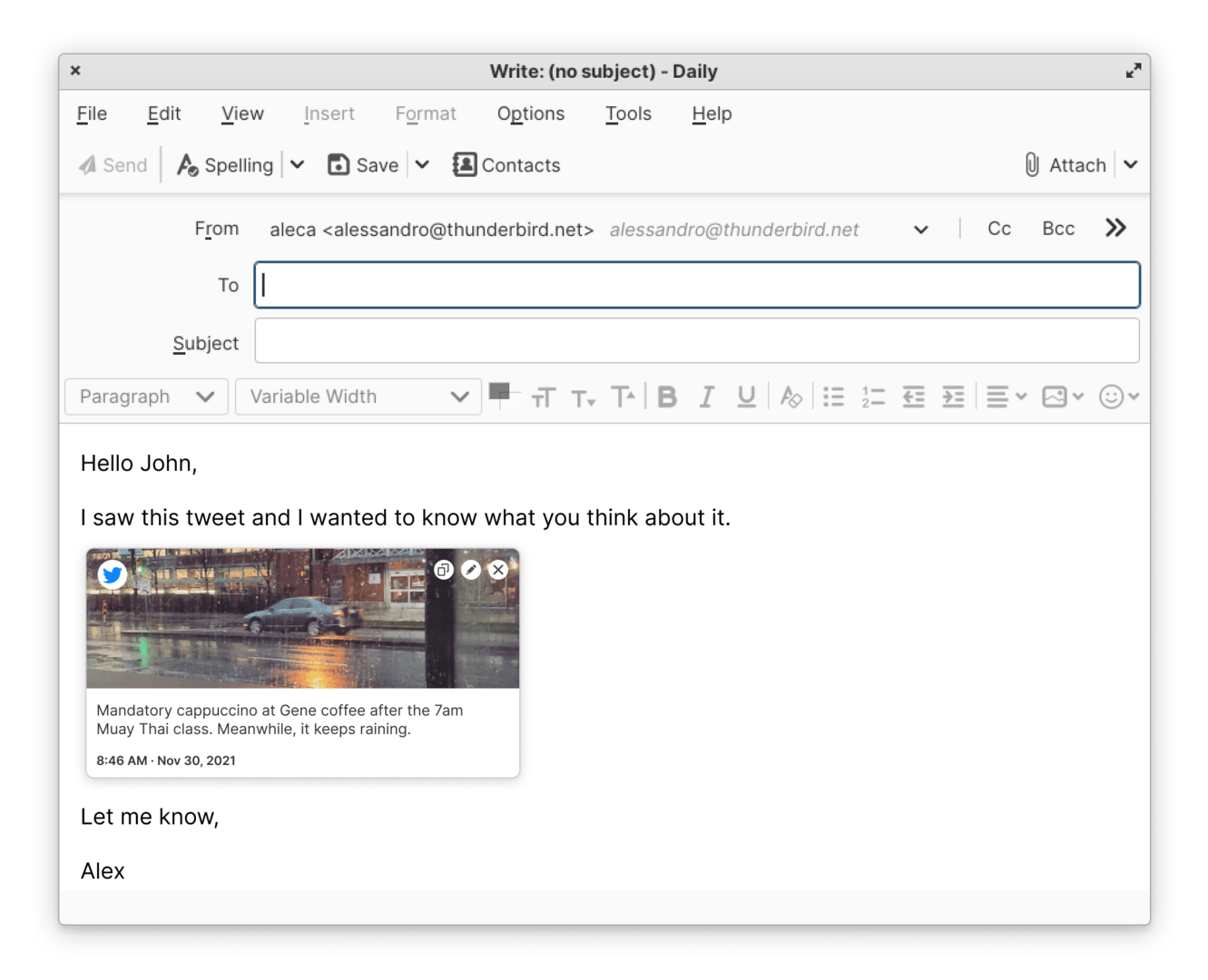 In addition, there is a native implementation of the import and export function of user accounts – which no longer has to be implemented using an add-on – and the redesign of the email header. The Mozilla developers have already released some of the innovations mentioned for testing with Thunderbird 99 Beta and Thunderbird 101 on the Daily Channel.
More information can be found in the official release notes for Thunderbird 102.0.
Mozilla Thunderbird 103 Beta released
While the developers want to focus on the mobile Thunderbird client based on K-9 Mail with the release of Thunderbird 102.0, the development of the desktop client is already entering the next round with Thunderbird 103.0 Beta (Release Notes).
The next software release is planned for mobile devices based on Android, and a version for iOS will follow later. The MZLA Technologies Corporation, a subsidiary of the Mozilla Foundation, which was set up specifically for this purpose, is now responsible for the development.
Download on ComputerBase
Mozilla Thunderbird 102.0 and Thunderbird 103.0 Beta 1 can be downloaded as usual from the ComputerBase download area directly below this message.
First impressions of Thunderbird 102.0 can be found on the YouTube channel "9to5Linux".
Downloads



Mozilla Thunderbird Download

4.7 Stars

Mozilla Thunderbird is an email and newsgroup client with a sophisticated spam and phishing filter.

Version 102.0 German
Version 103.0 Beta 1 German
Version 91.11.0 German