The 25th anniversary of Hong Kong's return is likely to go ahead without disruption. But many residents don't feel like celebrating.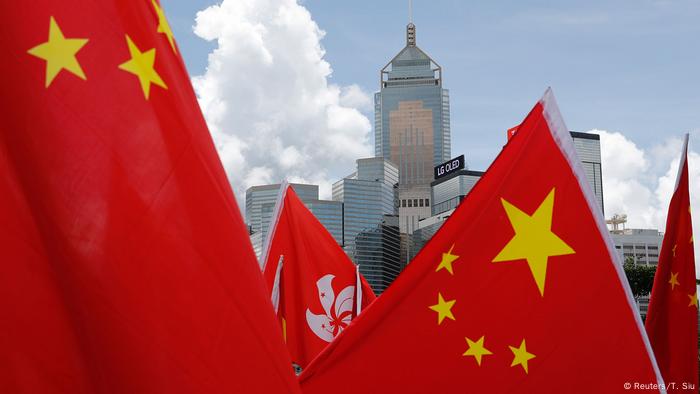 Flag of Hong Kong with the Bauhinia flower covered by PRC flags
Beijing has the political situation in Hong Kong under control. The pro-democracy movement, both on the streets and in the Parliament (Legislative Council) of Hong Kong SAR, has been virtually eliminated. This has been ensured by the disqualification and prosecution of pro-democracy activists and candidates and the exclusive admission of "patriotic" candidates, as well as the closure of pro-democracy websites such as Stand News and Citizen News and newspapers such as Apple Daily. . The basis for the measures is the far-reaching national security law that was introduced in Hong Kong in June 2020. The formula "one country, two systems" found for the period after the end of British colonial rule in 1997 has not yet been officially abolished, but in practice it plays an increasingly minor role.
Concerns about the jailed friend
DW spoke to three Hong Kong residents of Chinese descent about their feelings and experiences under the heavy hand of Beijing. Stella, artist, 33 years old, just visited a friend in prison. "There was a sheet of Plexiglas between us. We were allowed to talk on the intercom for 15 minutes." She asked him what he needs for everyday life in prison.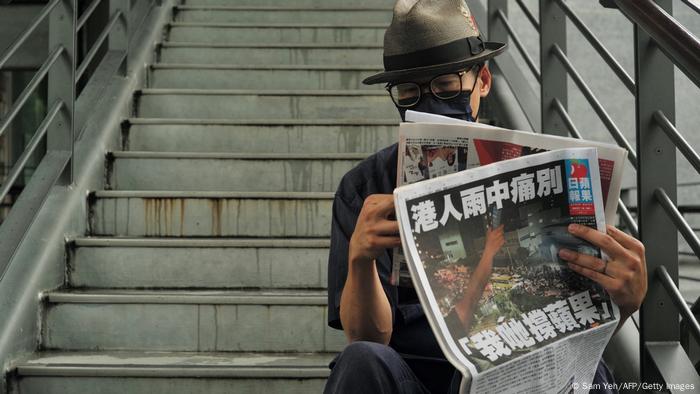 The last edition of the Hong Kong newspaper "Apple Daily" was published on July 24, 2021
Stella visits her boyfriend once a month. Over time, the topics of conversation became fewer and fewer. Perhaps there is not enough opportunity in detention to obtain information, she suspects. Your friend has now been transferred to a solitary cell. Stella is worried about his physical and mental health.
Her boyfriend was arrested in connection with the 2019 protest movement and is still awaiting trial. In an encrypted conversation with DW via a messenger service, Stella was very careful with personal information so as not to endanger herself or her boyfriend.
The street protests in Hong Kong reached their peak in 2019, prompted by the planned new extradition law, which, among other things, should allow suspects to be extradited to the People's Republic. The anti-government protests were eventually crushed and many young participants were arrested. The number of political prisoners in Hong Kong has risen sharply over the past four years, according to a report by the Washington-based Hong Kong Democracy Council (HKDC) in late May. Most recently there were 1014 people, the average sentence is 1.6 years. In addition to students, the detainees also include citizens with a wide variety of professions. More than half are under the age of 25, and 15 percent of those arrested are minors, according to the HKDC.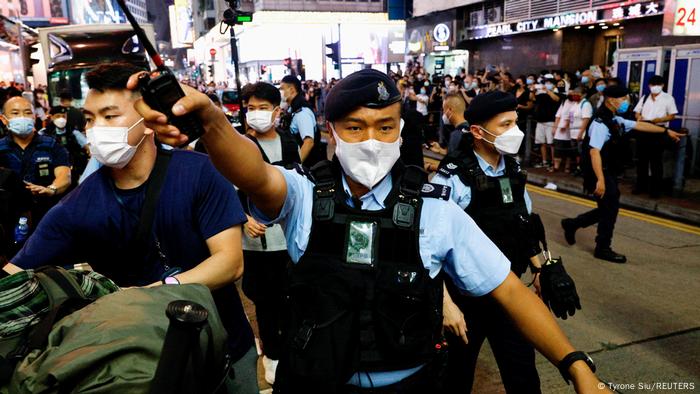 Police am Hong Kong's Victoria Park, where public Tiananmen commemoration was held until a few years ago but is now banned.
The HKDC report criticizes the authorities' practice of keeping quite a few detainees in pre-trial detention for long periods without the actual trial moving forward. Stella's boyfriend has been in jail for more than a year while the evidence is still pending. The hearing was postponed several times. When it finally starts, "no one can say exactly," reports Stella. The general climate of caution and fear of political "mistakes" is noticeable everywhere, she says. Her acquaintances in the art scene also preferred to stay away from topics with a political connection.
"Forced patriotism"
Dorothy, also 33, feels queasy as she thinks of the upcoming celebrations with national flags in the streets and speeches. "I personally find that very strange, a staging of stability and prosperity." The whole thing was difficult for her to bear. Dorothy found out about her pregnancy just as the protest wave reached its peak three years ago and therefore stayed away from the protest events. "Actually, I should have been looking forward to the new life, instead I was just afraid." She remembers the bloody incidents in subway stations, where protesters and passers-by were beaten up by unknown assailants, which she witnessed as an eyewitness.
Today her child is two and a half years old. Dorothy reflects on what her daughter will learn at school: "The school boards are bowing to the government and reinforcing so-called patriotic education." Even the kindergartens, says Dorothy, are encouraged by the authorities to regularly hoist the national flag, sing the national anthem with the children and recite patriotic slogans in Mandarin. The mother fears that such "forced patriotism" will eventually lead to estrangement between parents and children.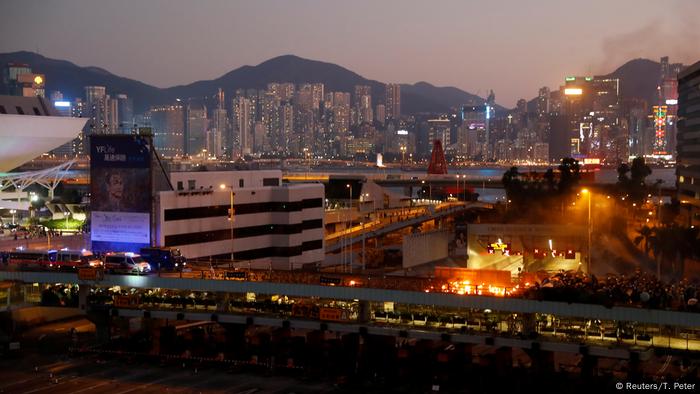 Street battles near the Polytechnic University in November 2019
Beijing's propaganda, coupled with resignation among activists, could already be reflected in public attitudes. According to a survey published in June by the "Hong Kong Public Opinion Research Institute" (HKPORI), the residents of the seven-and-a-half-million metropolis on average still feel more "citizens of Hong Kong" than "citizens of the People's Republic of China"; but for the last two years the trend has been decreasing. On a scale of 0 ("not at all") to ten ("very strong"), China went up from 4.8 in June 2019 to 6.1 in June 2022, while Hong Kong went down from 8.6 to 7.8 over the same period.
In a non-political distance
When asked how he sees his identity as a citizen, a native of Hong Kong, who calls himself "sesame" in German, says that he sees himself more as a Chinese. Among his friends are both opponents and supporters of the security law. He doesn't want to commit himself. The 41-year-old, who works in the financial industry, believes that the economic integration of Hong Kong, Macao and mainland Guangdong province will make Hong Kong's financial industry even more intertwined with China's and people like him will have their future in this larger market. But he also sees the cultural differences and the brain drain from Hong Kong.
Watch the video 03:30
Hong Kong loses top business executives
In his estimation, there is a risk that other locations such as Singapore could replace Hong Kong as the international financial center in the region. He does not expect any significant changes under Hong Kong's future new Prime Minister, John Lee, in the short term. He has no opinion on the 25th anniversary of the return to China.
Choose to stay
Many Hong Kongers have a hard time deciding between staying and leaving. Our three interviewees ultimately decided to stay. Dorothy had repeatedly considered emigration because of her child's education. She then decided to stay in Hong Kong to take care of her parents. With so many relatives and friends already leaving Hong Kong, Stella thought about emigrating as well, but decided against it in the end. She tries to enter into dialogue with people from mainland China. She wants her counterpart to understand what really happened in Hong Kong. She is convinced that this is the only way to make a meaningful exchange possible.