After a year-long break from competition, tennis superstar Serena Williams fails in the first round of the Grand Slam tournament in Wimbledon. The 40-year-old avoids the question of the end of her career.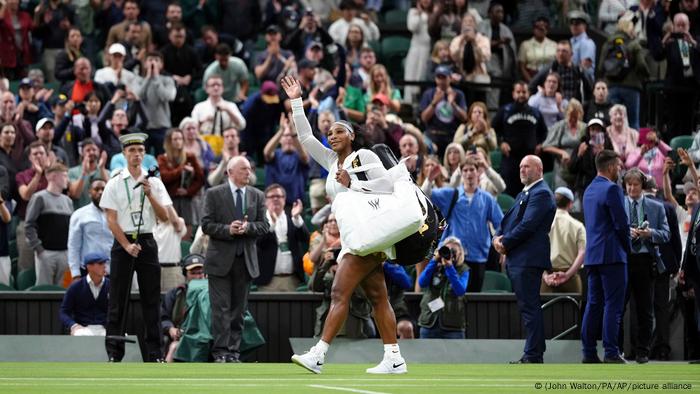 Farewell forever? Serena Williams leaves Wimbledon Center Court after her first round loss
Was that it for tennis superstar Serena Williams? The 40-year-old American lost her opening match at the Grand Slam tournament in Wimbledon against French Harmony Tan in three sets with 5: 7, 6: 1, 6: 7 (7:10). The comeback of the 23-time Grand Slam tournament winner failed before it could really start. Williams had previously had to take a one-year break from competition due to injury. "It was a very long fight," she said after the match, recalling her long-term hamstring injury that she sustained at Wimbledon in 2021: "But it's definitely better than last year."
< h2>Failed to chase Court's record
The spectators on Center Court gave Williams a big round of applause after their defeat. The American dodged the question of whether she would now end her career. "Who knows where I'll show up next," Williams replied. She celebrated the last of her 23 Grand Slam tournament successes in 2017 at the Australian Open. Since then, all her attempts to add Grand Slam title number 24, equaling Australian Margaret Court's 49-year-old Grand Slam record, have failed.
More than three hours to go
h2>
Cheered on by sister Venus and her mother, Serena Williams' lack of match practice and liveliness was noticeable at the beginning. Only in doubles had she recently completed a few tournament games. The seven-time Wimbledon champion wanted to keep rallies short and cheered with loud screams when she won a point End, but it wasn't enough
After losing the first set, Williams improved in the second round. In the decisive tie-break of the third set, however, she gambled away a 4-0 lead. Williams fended off a match point, while Harmony Tan converted the second after a playing time of three hours and ten minutes. "It's a dream for me. I saw Serena on TV when I was young," enthused the 24-year-old Frenchwoman after defeating the American tennis icon. "I was scared on the court, I was on Pretty happy ending though."
sn/dvo (dpa, sid)