NATO stands up to Russia: In response to the Russian war in Ukraine, the alliance wants to massively increase its combat effectiveness and has decided on a new concept. Putin is now getting more NATO, they said.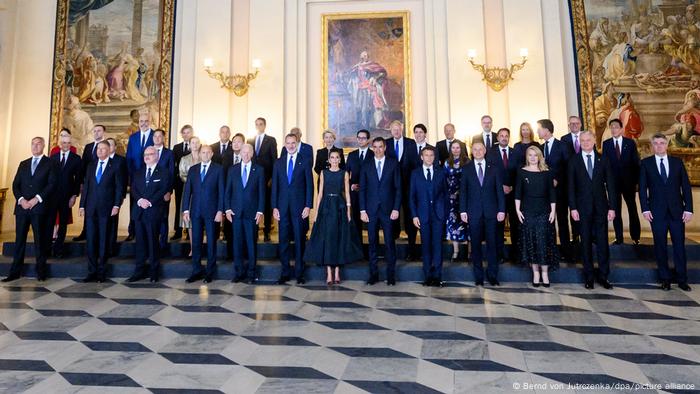 NATO in Madrid united against Putin
The way is clear for the addition of two new NATO members later this year. Turkey had previously lifted its veto and the heads of government in Madrid then formally extended the invitation to Finland and Sweden. Sweden's Prime Minister Magdalena Andersson spoke of a security gain for her country and for NATO. US President Joe Biden commented on the long neutrality of Russia's neighboring country Finland and said: Putin wants Europe to be Finlandized, instead he is getting "Europe's NATOized". And he gets a significantly increased troop presence from the USA and increased operational readiness from the European NATO partners.
From strategic partner to threat
The language in NATO's new strategic concept is clear: while the last version from 2010 still talked about striving for a strategic partnership with Russia, it now says: "Russia is the most significant and direct threat to security for the alliance as well as peace and Security in the Euro-Atlantic area." This results in a political and military reorientation – above all for the member countries that have relied on a partnership with Russia in recent decades.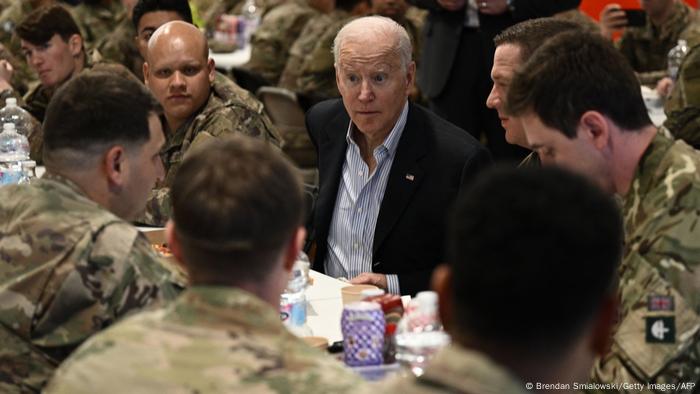 President Joe Biden visited US troops in Poland in March – a permanent headquarters is now to be set up there
NATO Secretary General Jens Stoltenberg said: "Putin's war has created the greatest security crisis since World War II." This leads to a fundamental change in how NATO positions on deterrence and defense: "We will reinforce our combat forces on the eastern flank, increase our rapid reaction forces to 300,000, deploy more equipment and more command centers." < /p>
However, the implementation of these announcements still has to be worked out in detail. A seven-fold increase in operational NATO troops – particularly in defense of the eastern flank – means a dramatic increase in national contributions. In this context, President Joe Biden has announced a significant increase in the US presence in Europe: In addition to two other destroyers in Spain, a permanent headquarters is to be set up in Poland and a combat troop brigade with a total of 5,000 soldiers is to be stationed in Romania. The presence of US troops in the Baltics will be increased, additional F35 fighter jets will be deployed to Great Britain, and air defenses and other capabilities will be strengthened in Germany and Italy.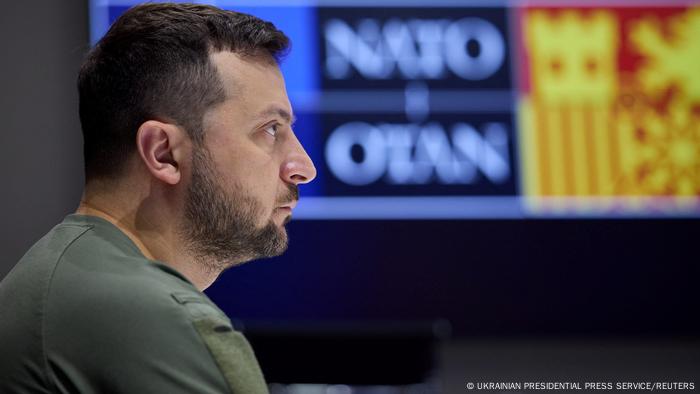 President Zelenskyj took part in a virtual part of the NATO meeting – it is considered too dangerous for him to leave Ukraine
"We are proving that NATO is needed more than ever," concluded Joe Biden. The US President is thus in direct contrast to his predecessor Donald Trump, who threatened to leave the alliance at the 2018 NATO summit in Brussels. At the time, he based his criticism on the fact that many NATO partners did not want to spend the promised two percent of their economic output on defense. Today, the two percent is considered the minimum for arms spending. Federal Chancellor Olaf Scholz also promises to meet the goals and make the underfunded Bundeswehr operational.
Support "as long as it takes"
Jens Stoltenberg promised that NATO would agree to support Ukraine "as long as it lasts". Ukrainian President Volodymyr Zelenskyy sent a video message to the participants of the summit. In it he asked for more help and arms supplies. Secretary General Jens Stoltenberg said further equipment and weapons would be sent directly from Germany, the Netherlands and Norway.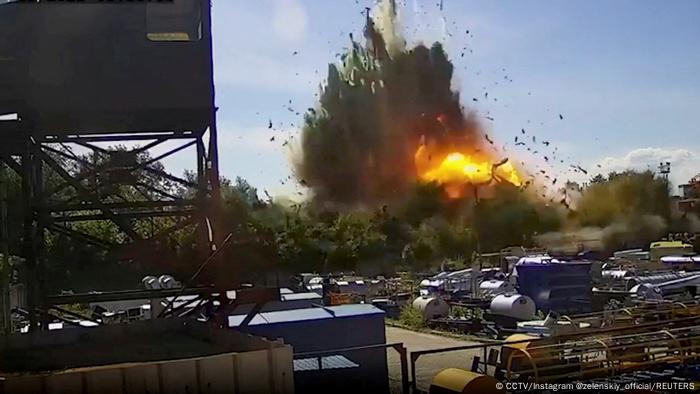 Russia continues intense bombing of targets in eastern Ukraine during NATO summit
Commenting on the mood in Madrid, NATO diplomats said that at the summit, member countries showed real determination to continue the long-term partnership with Ukraine. They want to support them in their fight. No one should doubt this commitment, neither the government nor citizens of Ukraine nor the other partners.
An expression of this support should be a new aid package for Ukraine, which the NATO members decide at the summit and which is independent of the bilateral arms deliveries. This includes, for example, the delivery of fuel, protective equipment, medical supplies, first-aid kits and much more. In addition, Ukraine's military equipment is to be gradually brought from the old Russian to the modern NATO level. And finally one hopes to be able to learn from Ukraine's experience in the fight with Russia in order to reform the western defense industry accordingly.
The test of NATO unity is yet to come
Christoph Heusgen, Chairman of the Munich Security Conference, sees NATO's new strategic concept as a necessary adjustment to reality. "Russia is now our enemy, a country that breaks international law, commits war crimes – and NATO has to respond to that," Heusgen said in an interview with DW. When it comes to arms deliveries, he doesn't want to analyze past mistakes, but rather react to the present: Ukraine is now on the defensive. "We have to do more. We should give them the modern tanks that the industry has ready and we should supply them," said Heusgen.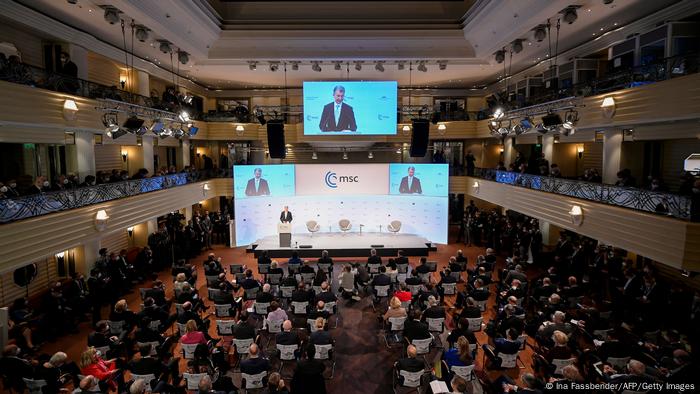 Christoph Heusgen is the head of the Munich Security Conference – here is a picture from February 2022
However, the real test of NATO's unity in the face of the Russian threat, which was often invoked in Madrid, is yet to come. "Putin is a dictator and we have to stand up to him. He thinks we can't, that our societies are decadent and not willing to pay a price for Ukraine's freedom." But the West must understand that this is also about one's own freedom. Heusgen believes it is a question of political leadership to explain the situation to citizens, even if the gas runs out. And he is optimistic that they will be prepared to make the necessary sacrifices.
On the sidelines of the summit in Madrid, the Klitschko brothers from Kyiv represented their country's position. In response to questions from journalists, Wladimir Klitschko said: "Make no mistake, Putin will target you next."
Does Christoph Heusgen see a reason for NATO members to be afraid? According to the diplomat, Putin has broken every treaty and every international agreement: "We have to recognize that Putin has no scruples. And that's why we should be worried. But we see the changes in defence, in energy and we have to see this movement continue and show that we have the necessary resilience."