As of Friday, Brittney Griner faces a Russian court. The US basketball star is accused of possession and smuggling of drugs. The most important questions and answers about the case.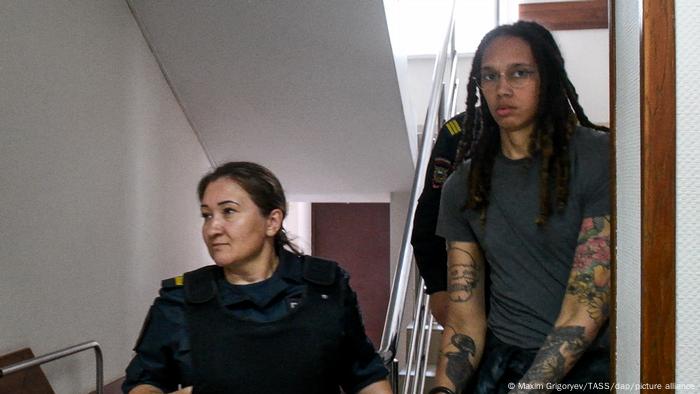 A Russian police officer brings handcuffed Brittney Griner (right) to a court hearing in Moscow
The trial of US basketball player Brittney Griner begins this Friday (July 1) in a court in the Moscow suburb of Khimki. The 31-year-old appeared on Monday for a first hearing before the court, but the public was excluded. The trial comes at a time when US-Russia relations are at an all-time low over the Russian war of aggression in Ukraine.
Who is Brittney Griner?
The 31-year-old is one of the stars of the North American basketball league WNBA. The 2.06 meter tall professional basketball player has been playing for Phoenix Mercury since 2013, with whom she won the championship in 2014. The WNBA named Griner twice (2014, 2015) as the best defensive player of the year, twice (2017, 2019) she was the most successful thrower in the league. Griner was on the WNBA All-Star team seven times. The player, who was imprisoned in Russia, was also chosen as an honorary member of the squad for this year's All-Star Game on July 10 in Chicago. With the US national team, Griner won Olympic gold twice (2016 in Rio, 2021 in Tokyo) and the World Cup title (2014 in Turkey, 2018 in Spain).
Brittney Griner became Olympic champion for the second time with the US team in Tokyo in 2021
Griner has been open about her homosexuality for many years. She has been married to Cherelle Griner since 2019.
What are the Russian authorities accusing Griner of?
Griner was arrested at Moscow's Sheremetyevo Airport on February 17, 2022 – a few days before the start of the Russian attack on Ukraine. According to the Russian authorities, she had an e-cigarette and cartridges filled with cannabis oil in her luggage on her flight from New York to Moscow. This substance is legal in the USA, but banned in Russia. Griner faces up to ten years in prison if convicted of drug possession and smuggling.
There was speculation on social networks that the cannabis oil may have been planted on the basketball player, since the transport of the substance is also on US flights are prohibited. Griner's attorney declined to comment, citing the ongoing proceedings.
Why did Griner travel to Russia?
Despite being a WNBA star, Griner makes only a fraction of what her male NBA peers make. Since 2013, she – like other US players – has been drawn abroad to earn extra money during the WNBA break. First, she played two off-seasons in China before she went hunting for a basket for the successful Russian club UGMK Jekaterinburg from 2015.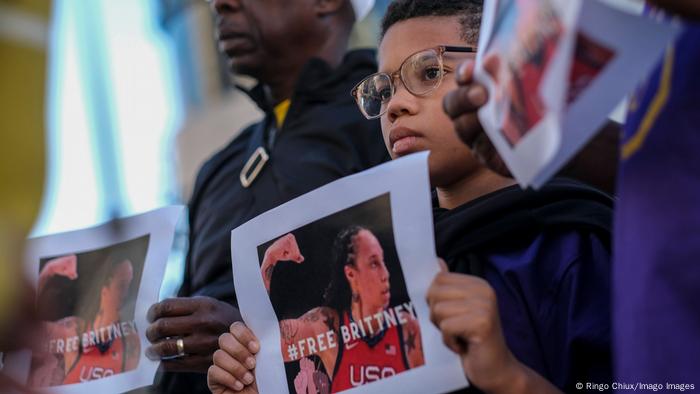 US basketball fans call for release of WNBA star Griner
The assignments abroad are very lucrative for WNBA top players. The current upper salary limit in the US league is 228,094 dollars (around 217,000 euros) annually. With Russian clubs, which are often owned by super-rich oligarchs, the stars can negotiate more than three times as much. Griner is said to have earned up to a million dollars a season in Yekaterinburg.
What role does politics play in the Griner case?
Political observers assume that Griner would have been before a Russian court long ago if her case had not played a role in President Vladimir Putin's plans. "I think there is no doubt that her arrest and continued detention is only to make her a hostage and a part of this chess game," said Virginia Senator Tim Kaine. "Vladimir Putin and the Russians want to use them as bargaining chips."
Cherelle Griner also described his wife as a "political pawn". In an open letter, she called on US President Joe Biden and Vice President Kamala Harris to use their power to get Griner released. More than 40 US organizations, including the women's basketball union WNBPA, signed the letter. Adrienne Watson, spokeswoman for the National Security Council, responded with a statement: "President Biden has made it clear that all US citizens who are being held hostage or wrongly held abroad must be released, including Brittney Griner."
How could Griner be released?
The probability that the US basketball player will leave the court in Moscow as a free woman is very low. Only between one and two percent of all trials in Russia end in acquittals. More realistic is an exchange of prisoners like last April: At that time the American Trevor Reed, who was imprisoned in Russia, and in return the Russian pilot Konstantin Yaroshenko, who had been convicted in the USA, were released.
The Russian news agency TASS reported, citing government circles in Moscow, Griner could be exchanged for Viktor Bout. The Russian arms dealer was sentenced to 25 years in prison in 2012 for conspiring to murder US citizens and supporting a terrorist organization. Apparently, the Russian side is preparing for a tough struggle, because the court ordered Griner's detention to be extended until December 20.