Micron has chosen the SSD series 5400, which still uses the SATA interface instead of NVMe, as a faster and uncomplicated replacement for hard drives (HDD) in the server. Up to 7.68 TB are offered in the 2.5-inch housing; but the M.2 format is also available with a smaller capacity. The write limit is high.
Meanwhile, NVMe SSDs clearly dominate the reporting on ComputerBase, but the SATA interface still plays a role in both the consumer and enterprise segments a role. While Western Digital recently served the consumer market with new SATA SSDs with the SA510 series, Micron is now unleashing a new SATA SSD series into the data center.
Micron 5400 offers up to 7.68 TB at 540 MB/s
With the usual simplicity with names like optics, the Micron 5400 SSDs come with storage capacities from 240 GB to 7.68 TB in 2.5-inch format with a height of 7 mm and from 240 GB to 960 GB in the M.2 form factor 80 mm length on the market. As usual, the maximum transfer rates of 540 MB/s reading and 520 MB/s writing are at the limit of the interface, which has long since been overtaken in terms of performance. After all, SSDs with PCI Express and NVMe now offer more than 7,000 MB/s.
SATA SSDs are faster than HDDs, especially in terms of access times and IOPS.
SATA SSDs in the server still in demand
However, there are still many systems that primarily rely on SATA and whose service life can be extended with these SSDs from Micron's point of view. The higher storage capacities are ideal as a storage replacement for slow hard drives. The smaller storage capacities can in turn serve as a boot drive.
Micron has shipped nearly 20 million units built on the SATA architecture, which continues to be widely used in data centers. The 5400 SSD provides a great alternative to lower capacity 10K and 7.2K SATA HDDs.

Micron
Not only Micron still sees a market for SATA SSDs. The press release quotes Forward Insights analyst Greg Wong as saying that demand for enterprise SSDs with SATA will remain strong until at least 2026. Then, according to his estimate, 26 exabytes (26,000,000 terabytes) of these data carriers will still be needed.
Micron advertises high durability
Micron apparently believes that its 176-layer TLC-NAND is capable of a high level of durability, which is limited in the case of NAND flash memory by the possible write cycles. The specification of the Drive Writes Per Day (DWPD) that is usual in the server segment, as a write limit to cancel the otherwise 5-year warranty, is higher than usual for the new Micron SSDs. The Micron 5400 Pro sub-series designed for applications with low write volume is specified with 1.5 DWPD, while 1 DWPD is otherwise common in this class. The 5400 Max for mixed read-write workloads has a high 5 DWPD instead of the usual 3 DWPD.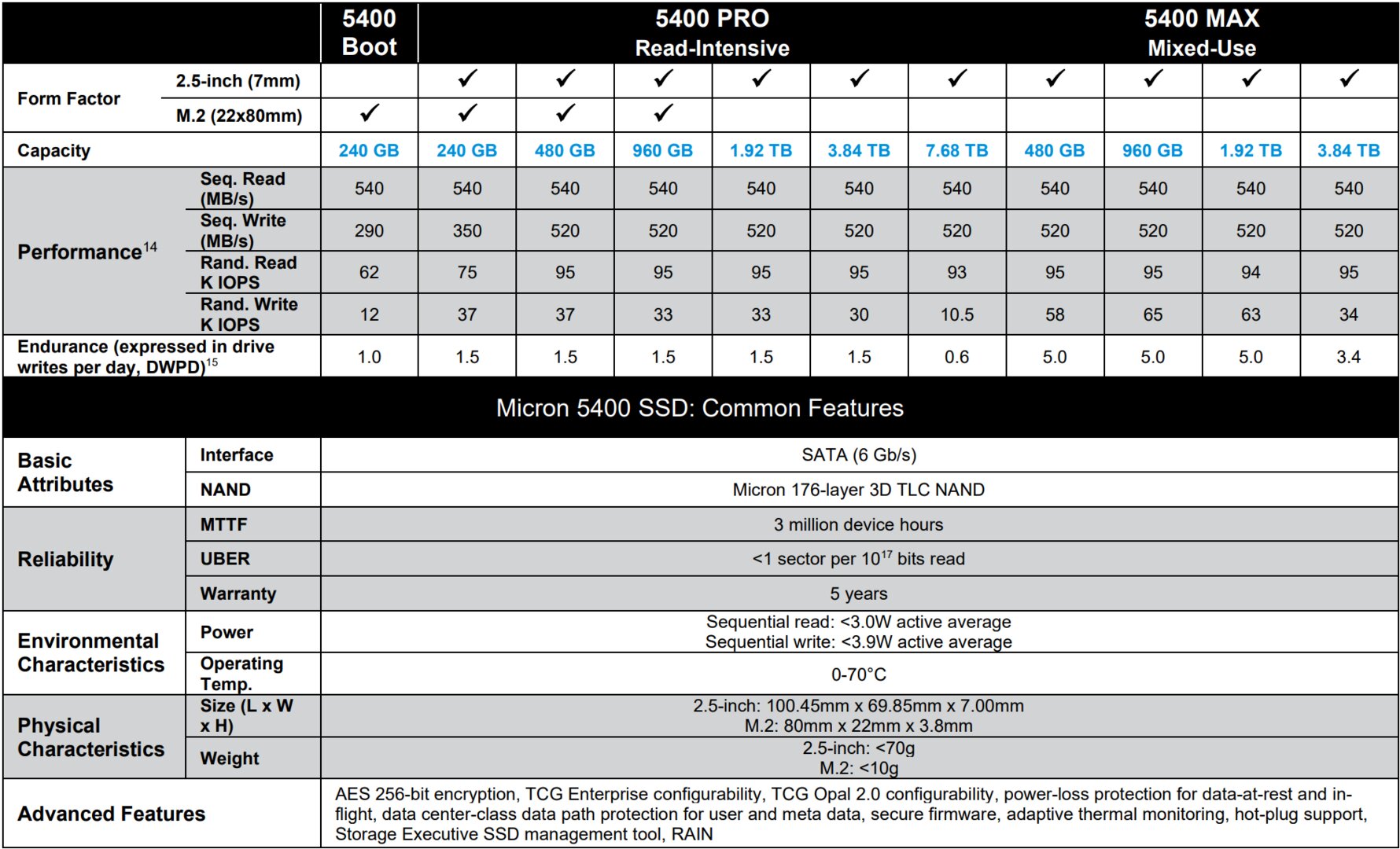 Converted to the Total Bytes Written (TBW), which is more common in the consumer segment, this means around 10.5 petabytes in the case of the 5400 Pro with 3.84 TB and in the case of the 5400 Max that a whopping 35 petabytes of data can be written with the same storage capacity. until the warranty expires. However, there are also special SSDs for high write requirements, which offer 10 DWPD and more thanks to the large reserve memory. The frontrunner is probably Intel's Optane family with up to 100 DWPD. However, this does not use NAND flash, but extremely durable and expensive phase change memory (3D XPoint).
Meanwhile, three models are completely out of line: The 5400 Boot with 240 GB in M.2 format, whose name already reveals the area of ​​application, is only specified with 1 DWPD. On the other end, the 5400 Pro model with the largest storage capacity of 7.68TB is only listed at 0.6 DWPD, and even the largest model in the 5400 Max series is lower than the rest at 3.4 DWPD.
Micron is also very self-confident with 1 error per 1017 bits when it comes to the ratio of uncorrectable read errors, also known as Unrecoverable Read Error Rate (UBER). The allegedly high reliability of the SSDs should also be underpinned by the mean time to failure (MTTF) of 3 million hours instead of the 2 million hours that is otherwise often read.
Power failure protection and encryption
To prevent data loss in the event of a power failure, the SSDs are equipped with what is known as power loss protection, which can continue to supply power for a certain period of time. That should usually be enough to write the data from the volatile cache to the non-volatile memory cells of the NAND flash.
The security standards TCG Enterprise and Opal 2.0 are also supported. Data can also be protected against unauthorized access using AES encryption with 256 bits. Hot-plug support allows the data medium to be quickly exchanged on the SATA backplane in the server bay.
Availability immediately
More information about the Micron 5400 SSDs can be found on the manufacturer's product pages as well as in the data sheet (PDF). As always in this business customer segment, no prices are mentioned. However, customers should already be supplied.
Samsung remains the "big player"
In terms of market share in the enterprise SSD segment, however, Micron is a comparatively small fish. In a study by Trendfocus, Micron had a market share of just 5.6 percent in the delivered exabytes in the third quarter of 2021, behind Intel, Kioxia, SK Hynix and Western Digital. Samsung will remain dominant for the foreseeable future with a share of over 53 percent.
Samsung's share is even higher for NVMe SSDs for servers even bigger; Micron has so far played almost no role here. However, a few months ago Micron also introduced new models for this interface in the form of the 7450 series. Thanks to PCIe 4.0, they reach up to 6,800/5,600 MB/s in sequential read/write.