At the summit meeting of NATO in Madrid, up to 300,000 soldiers are to be made available to deter Russia. It remains unclear whether Sweden and Finland will already become members. Bernd Riegert reports.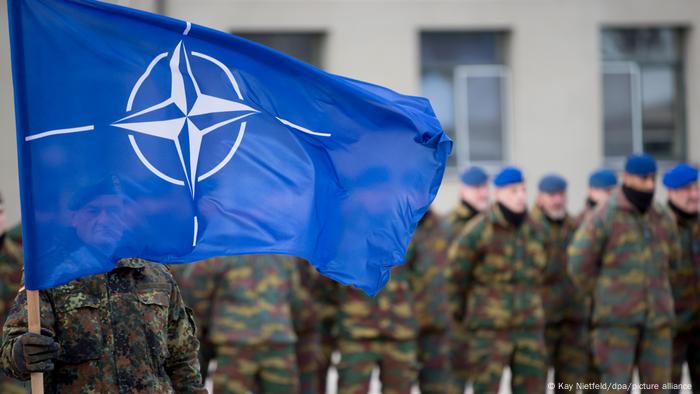 Germany wants to station more troops in NATO partner country Lithuania
As always, NATO Secretary General Jens Stoltenberg prepared the NATO summit in Madrid. It was actually supposed to be his farewell summit, but because of the Russian attack on Ukraine, Stoltenberg will have to stay in office longer. The 30 Allies want a proven chief diplomat at the head of the alliance in times of crisis. The 63-year-old Stoltenberg, who has been Secretary General since 2014, sets a clear course.
"Our summit in Madrid represents a transformation with important decisions. It is about a new strategic concept for a new security reality, a fundamental change in NATO's deterrence and defense capabilities. And we support Ukraine, now and in the future", said Jens Stoltenberg before the start of the summit.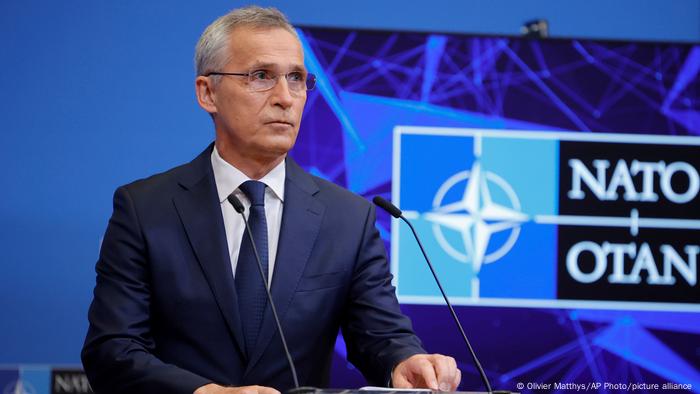 Jens Stoltenberg: NATO needs a new strategy that Russia and takes a look at
Stoltenberg and other NATO diplomats are trying to play down the dispute between NATO member Turkey and candidate countries Sweden and Finland. It would have been nice if Sweden and Finland, who are asking for quick admission because of the Russian threat, could be invited to Madrid. According to the US delegation to NATO, if that doesn't happen, it won't hurt either.
Sooner rather than later, Turkish President Recep Tayyip Erdogan will be persuaded to give up his opposition to Finland and especially Sweden. Finally, the remaining 29 NATO countries wanted the Nordic countries to join as a sign of unity. Erdogan's objection that the two applicants would favor Kurdish terrorists should "be taken seriously". But nothing more. They are working feverishly on a solution, assures NATO Secretary General Stoltenberg.
Secretary General Stoltenberg (left) wants to get Sweden's Prime Minister Andersson on board with NATO, but Turkey blocks (June 13 in Harpsund)
Upgrade on the East Flank
The focus of the summit meeting will be more on the eastern flank. Since the start of the Russian war against Ukraine, even the last NATO partner has realized what has been the subject of NATO planning rounds for years. The Russian threat with conventional weapons is greater than previously thought. That is why Russia is no longer called a partner in the new strategic concept, but an opponent.
NATO defense ministers decided two weeks ago that the "eastern flank", that is, from the Baltic States to the Black Sea, needs to be reinforced as quickly as possible. At the Madrid summit, NATO Secretary General Jens Stoltenberg is hoping for further commitments for combat brigades from western NATO countries, which could be deployed to pre-determined countries on the eastern flank if necessary. The concept currently being discussed does not envisage the permanent stationing of large combat units of several thousand soldiers. In total, Stoltenberg calculates, 300,000 men and women could be ready as a task force in the final phase. However, these forces are not really being relocated, but are being put on increased readiness at their home locations so that they can be deployed between ten or 30 days in the Baltic States or elsewhere on the eastern flank.
The Bundeswehr is to be a combat force for Lithuania
Half of the "robust" brigade announced by German Chancellor Olaf Scholz during his visit to Lithuania in early June will normally remain in Germany and only actually be relocated to Lithuania in the event of a crisis. The other half (about 1500 people) will be present in the Baltic state on a rotating basis. In addition, 2,000 soldiers from other NATO allies are to come, so that the additional NATO brigade under German leadership should comprise around 5,000 forces. For the summit in Madrid, NATO Secretary General Stoltenberg hopes that the German example will set a precedent for "a new type of troop deployment" and that other NATO nations will also assign combat brigades to other states on the eastern flank. Britain, France, Denmark, and perhaps Canada too, could come out with pledges, according to NATO diplomats preparing for the meeting.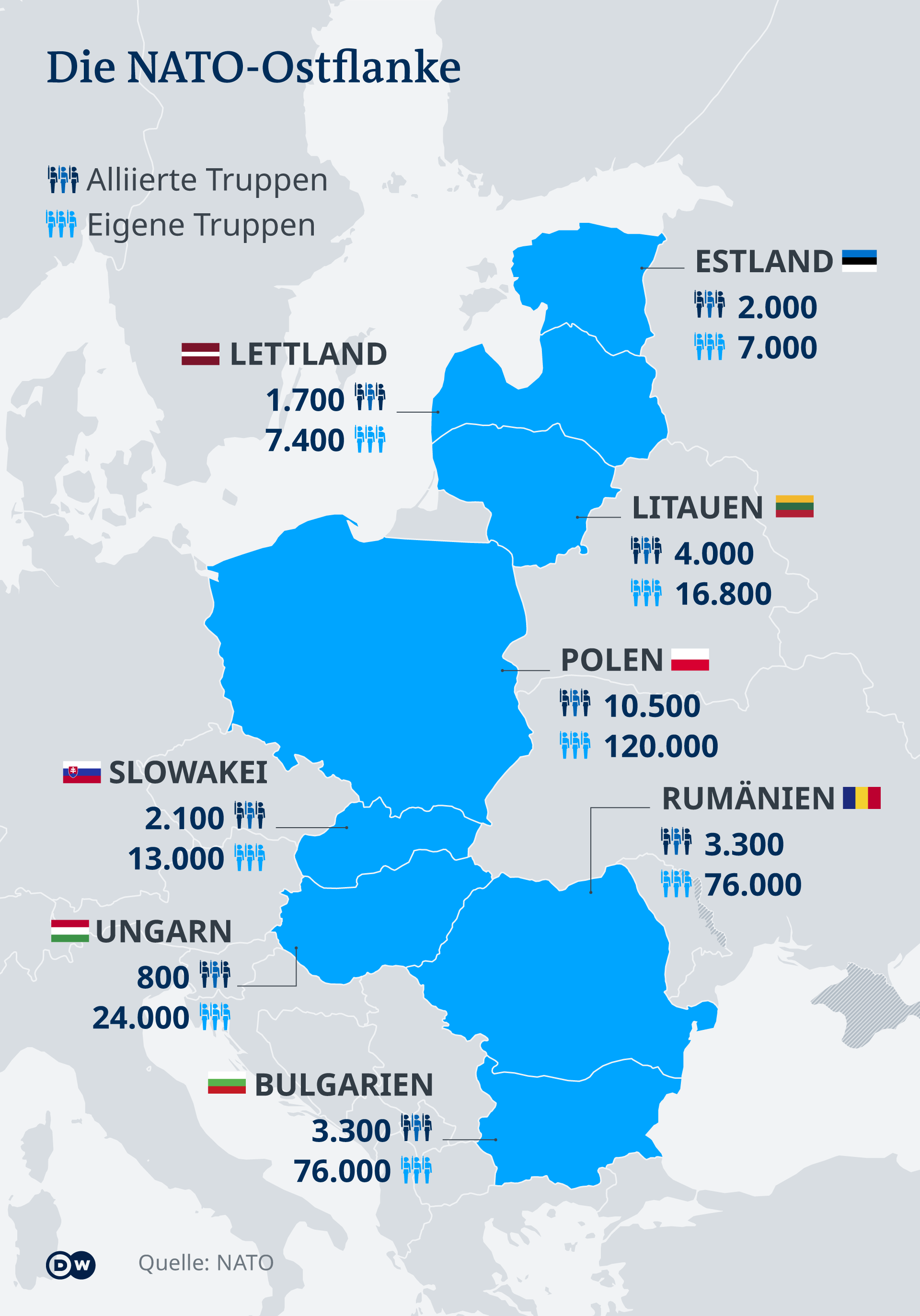 Existing troop strength, new brigades are to come.
British Defense Secretary Ben Wallace made it clear at the defense ministers' meeting in Brussels two weeks ago that urgency is needed. "You don't have 60 days to get the tanks to Estonia. After that time there will be no more Estonia if you see what the Russians are doing in Ukraine." " including "Spearhead" set, but according to the previous operational plans it would take up to 60 days to arrive in the operational area. This should now be much faster.
The prerequisite for this is proper logistics, which the NATO countries are still a long way from achieving. In 2018, NATO deployed its own command, the "Joint Support and Enabling Command", in Ulm. It is busy working out transport routes, strengthening infrastructure and removing bureaucratic obstacles. There is a lack of suitable trains, bridges and ports to get heavy war equipment quickly from the Atlantic or from Germany to the East. Such logistics existed during the Cold War, but they were dismantled after reunification because the threat was no longer seen. Bundeswehr General Alexander Sollfrank, who heads the command in Ulm, wants to make troop transport faster so that credible deterrence can work.
Permanent stationing or rotation?
In an interview with DW last week, the President of Lithuania, Gitanas Nauseda, made no secret of the fact that he would like more troops in his country. "We need soldiers in the country because that's the best way to deter Russia." Russian troops, says Nauseda, are increasingly being stationed in Belarus in the immediate vicinity. "Of course we don't have time to react and NATO would have very little time to react," said the Lithuanian leader, referring to the Russian strategy.
"I am very happy that Germany decided to send additional forces." But he would prefer the brigade to be stationed permanently in Lithuania. "We will create better conditions for the soldiers than they have in Germany. From a military point of view, it is much better to coordinate actions on the ground, stand shoulder to shoulder, train and maneuver together to improve the skills on Lithuanian Improve ground."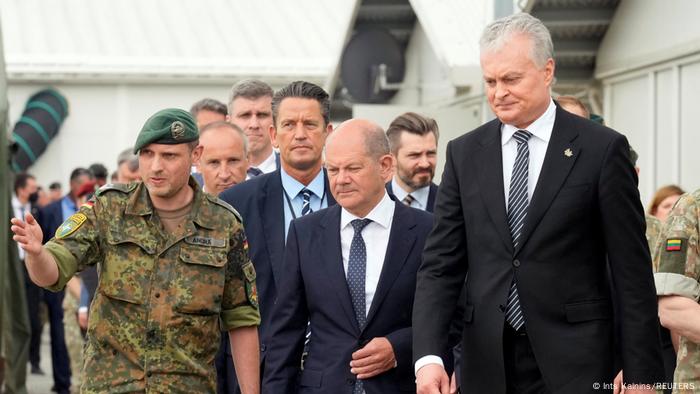 Lithuania's head of state Nauseda (right) is happy about German reinforcements, here with Chancellor Scholz (middle) on June 7 in Pabrade
Permanent stationing is considered too expensive and also a violation of the last remnants the "NATO-Russia File", a 1997 treaty of friendship against which Russia fundamentally violated with its war of aggression. Despite this, Germany, unlike Great Britain, is urging NATO not to terminate the treaty itself.
Cohesion in NATO
In recent months, NATO had already increased its presence on the eastern flank. The already existing "battlegroups", which are units of 1000 to 2000 people, were increased in Poland, Estonia, Latvia and Lithuania. New "battlegroups" were founded in Slovakia, Hungary, Romania and Bulgaria and are now slowly growing. NATO calculates that because of the Russian threat in March, 100,000 US soldiers were stationed in Europe, almost 10,000 of them in Poland alone. 40,000 soldiers are under direct NATO command.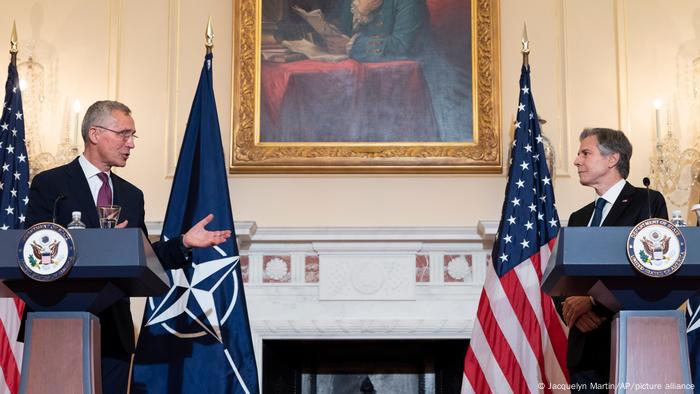 Stoltenberg (left) visiting the most important ally in Washington: US Secretary of State Blinken has stepped up the commitment
The Relatively new NATO nations on the eastern flank are pushing for more permanent US troops, and NATO diplomats warn that one also needs to prepare for the current Biden administration's support for NATO soon to end over se in could.
If the Republicans win the presidential election in 2024, and Donald Trump possibly returns to the White House, the newly revived solidarity could be over again. Behind the scenes of the NATO summit, French President Emmanuel Macron, who no longer considers the alliance "brain dead" anymore, will advocate strengthening NATO's European pillar and making it "more sovereign".