Iran and the US take a new initiative in the nuclear negotiations. At the same time, Tehran is increasingly seeking cooperation with Moscow.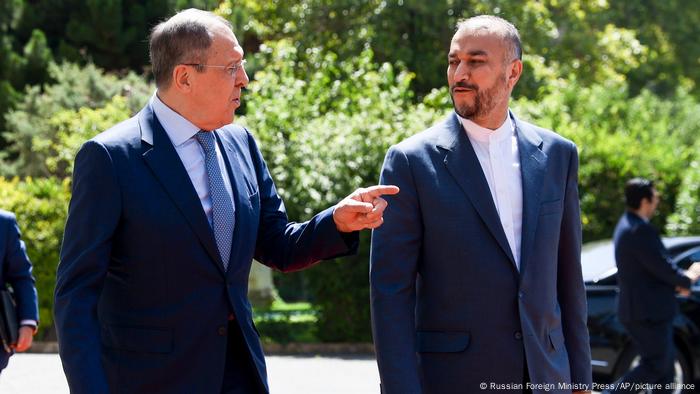 Iran's Foreign Minister Amirabdollahian with his Russian counterpart Lavrov in Tehran
There is fresh movement in stalled efforts to revive the 2015 international nuclear deal with Iran. Chief US-Iranian negotiators Rob Malley and Ali Bagheri Kani have arrived in Qatar. There they want to look for ways to reach an agreement – ​​still in separate rooms and through an intermediary. For more than a year, the diplomats of all participating countries have been trying to breathe new life into the "nuclear deal" under EU moderation.
Last Saturday, after talks with EU foreign policy chief Josep Borrell in Tehran, Iranian Foreign Minister Hussein Amirabdollahian said: "We are ready to resume nuclear negotiations in the next few days. It is important for Iran to fully enjoy the economic benefits of the 2015 agreement."
"Iran distances itself from the nuclear deal"
The question is: How strongly does Iran actually rely on an agreement in the nuclear negotiations in order to achieve its economic goals? Hamidreza Azizi, Iran expert at the Berlin Science and Politics Foundation (SWP), suspects that Tehran is hoping for more from stronger relations with Russia: "Iran has not yet given up the nuclear agreement, but its interest in reviving it has noticeably cooled off." , Azizi says in an interview with DW. Iran is no longer sure whether it serves its long-term interests: "The next US administration in Washington could again unilaterally withdraw from the agreement and reintroduce sanctions against Iran. The war in Ukraine and its consequences can also be seen Iran as part of a process of change in the world order that began some time ago. Iran wants to position itself on the side of the non-Western countries that are becoming more powerful, i.e. on the side of Russia and China. Iran sees the pressure from the West on Russia as an opportunity to gain Russia's trust and increase its cooperation with Moscow." Conclusion of the SWP expert: "Iran believes that it can better achieve its long-term goals in an anti-Western coalition."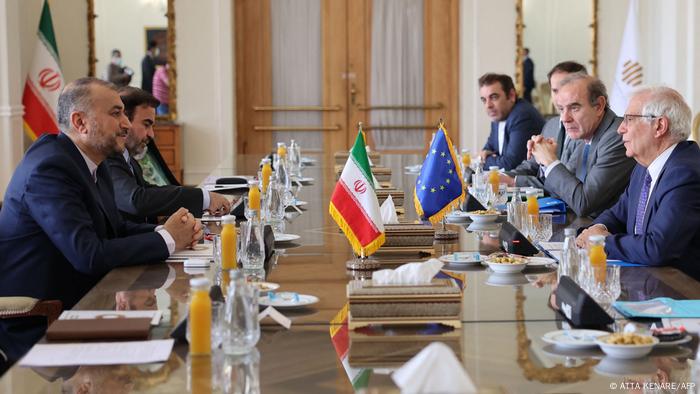 EU foreign policy chief Josep Borrell (r outside) in Tehran
A sign of this: Tehran has recently applied for membership in the emerging market club BRICS, as reported by Reuters. Argentina also applied. Moscow sees the bids as a failure of Western and US efforts to isolate Russia after its attack on Ukraine. At a virtual BRICS summit last week, China's President Xi Jinping condemned the "abuse" of the international sanctions regime against Russia.
Trade agreement with the "Donetsk People's Republic"?
Tehran's position is similar: Foreign Minister Amirabdollahian said they wanted to work with Moscow to fight back against "illegal US sanctions" after a meeting with his Russian counterpart in Tehran last Thursday. According to the Iranian state broadcaster IRIB, during his two-day visit Lavrov met representatives of the Iranian leadership to "discuss the nuclear deal, the situation in Ukraine and strengthening cooperation in the areas of trade and energy".
Iran even signed an agreement with the so-called "Donetsk People's Republic" during the International Economic Forum in St. Petersburg in mid-June, reported the website "Young Journalists' Club" (YJC), which is close to Iranian hardliners. "The Donetsk People's Republic now has a new partner, and despite all the obstacles, our international economic relations are expanding." According to the agreement, Iran will supply Donetsk with building materials and horticultural products, including fruit and vegetables. In return, Donetsk will export metal products, cast iron, fertilizers, steel products, coal mining machinery and other mining equipment to Iran.
This report has not been officially confirmed. Iran has not recognized the "Donetsk People's Republic". "The agreement seems to have come about under pressure from Moscow," suspects Navid Jamshidi, editor-in-chief of the Iranian business newspaper Asia News, in an interview with DW. "Such an agreement will not help our ruined economy and is also kind of pointless. There is still war in western Ukraine. How are they supposed to supply us with anything there? We hardly know anything about it. We don't even know what Tehran and Moscow are doing to strengthen each other of cooperation in the areas of trade and energy."
Tehran's options
Tehran is therefore taking a two-pronged approach: While it is signaling a willingness to talk in the multilateral negotiations in the hope of easing sanctions, it is also looking the rapprochement with Russia in case of failure. How realistic the two options are, or how seriously Tehran is pursuing one or the other, remains an open question for the time being.
Watch the video 02:37
Is there a substitute for Russian oil?