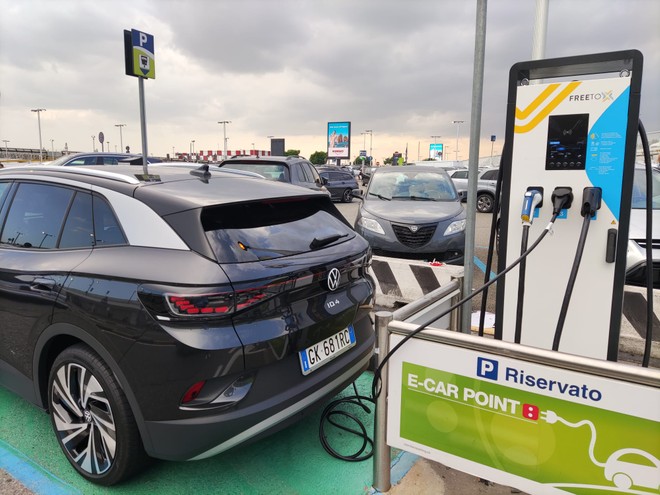 Linate and Malpensa airports will soon be able to offer Ultrafast charging points for electric cars. In particular, at the Milan Linate airport & egrave; already The construction site for the & quot; Superfast Charging Station & quot; which will be powered by 100% renewable energy.
The project also includes a station at Malpensa and two in the private aviation terminals present at the two airports. To take care of the construction of these charging stations & egrave; Free To X which had been awarded a competitive procedure announced by SEA, the company & agrave; which manages the airports of Milan Linate and Malpensa.
RECHARGE UP TO 300 KW
Overall, Free To X will go to install 14 charging stations , eight of which of the Ultrafast type with power up to 300 kW. Going into detail, at Linate it will be & agrave; created a station equipped with 5 Ultrafast columns (covered by shelters) which will allow 10 vehicles to be recharged at the same time. At Malpensa, on the other hand, 4 columns will be placed, 3 of which Ultrafast, capable of loading 7 vehicles in parallel.
Finally, for each of the areas outside the terminals dedicated to private aviation, 2 columns will be installed, one of which up to 150 kW, capable of loading 4 vehicles at a time. All the columns will be located in areas where access and use is; also facilitated for people with reduced mobility.
In addition to Free To X, involved in this project there is; also Atlante, societ & agrave; of the NOHA Group , partner for the creation and management of energy management services. The new columns will accept all forms of payment with the main Mobility Service Providers.
Finally, Free To X highlights that near the Arrivals area of ​​the Linate airport, & egrave; already activates the first fast multistandard column capable of recharging all electric vehicles with CCS2, CHAdeMO in DC and Type2 in AC standards.
small? Samsung Galaxy S21, buy it at the best price from eBay at 619 euros .