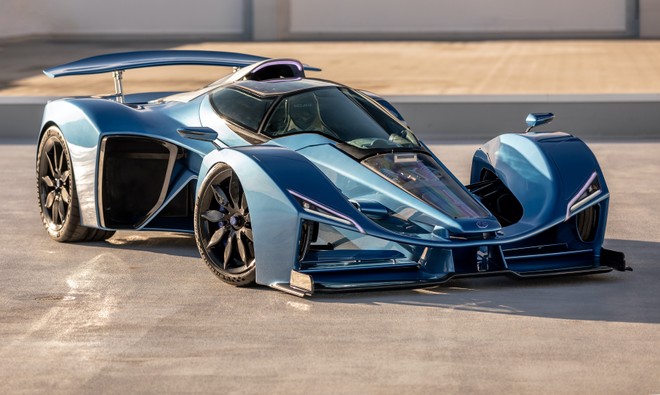 It could not be other than the Goodwood Festival of Speed, which ended last weekend, to baptize the first working prototype of the Delage D12 , hypercar born from the rediscovery of a historic French brand and which is a candidate to become a new record car. Reborn on the initiative of Laurent Tapie, a French entrepreneur with a passion for historic cars, the new Delage is based near the Magny-Cours track and & egrave; led, as well as by Tapie, by Patrick Delage, great-grandson of the founder of the Louis Delage House, with the position of honorary president.
With them, a team of technicians made up of frame builder Mauro Bianchi, technical director Benoit Bagur and ex-F1 champion Jacques Villeneuve in the role of test driver. The D12 will be built as a whole in 30 units sold at a price of 2 million euros each .
12 CYLINDERS AND AN ELECTRIC MOTOR
The Delage D12 & egrave; hybrid: to push it, a naturally aspirated V12 7.6 liters and almost 1,000 HP (976 to be exact) and an electric motor with 2 different calibrations, 109 or 20 HP, depending on whether the car is configured for road or track circulation, and a total power of 1,085 or 996 hp, enough to challenge Bugatti, of which Delage was a historical rival. The change & egrave; an automatic with 8 forward gears, without reverse gear because & eacute; as happens on the Ferrari SF90 Stradale, the task of reversing is; acquitted by the electric motor.
LOTS OF CARBON TO BEAT LAMBORGHINI
Designed to be a sort of covered single-seater that can also be driven on the road, the D12 is; built around a carbon fiber monocoque with an aluminum rear subframe, it has interiors with 2 seats arranged in a row , like on fighter planes and suspensions inspired by a very popular scheme among the F1 cars of the 90s.
The weight ranges from 1,390 to 1,300 kg in the case of the D12 Club model, the track one, which is; lightened and has less electric power, but promises to establish a new record at the Nurburgring where, according to the manufacturer, it would be able to beat the Lamborghini Aventador SVJ record (6 minutes and 45 seconds approximately) for road-approved cars, snatching them a good 5 seconds, something that will tempt; to do in 2023. With a weight/power ratio that exceeds 780 hp per ton, the manufacturer declares a 0-100 of 2.6 seconds for the D12 GT and 2.9 seconds for the D12 Club and a speed; maximum of 390 km/h .
5G without compromise? Oppo Reno 4 Z, on offer today by Teknozone for 245 euros or by Amazon for 313 euros .