Leftists versus right-wing populists, conciliators versus splitters, labor leaders versus social media cracks: Lula da Silva and Jair Bolsonaro, old acquaintances, will dominate the Brazilian election campaign. It will still be exciting.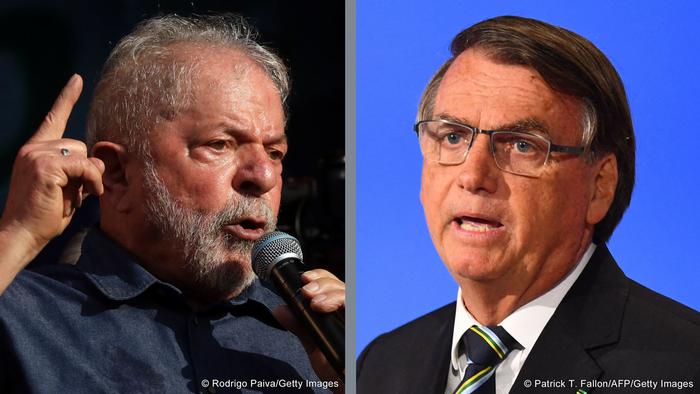 Jair Bolsonaro (right) wants to remain in office, Luiz Inacio Lula da Silva wants it back
One thing already seems clear: the race for the presidential election in Brazil will be between former President Luiz Inacio Lula da Silva and right-wing populist and incumbent Jair Messias Bolsonaro. The two political professionals could not be more different and they face a deeply divided Brazil.
What is the background of the two politicians?
Lula: ex-union leader tries comeback
Lula comes from a poor background, the metal worker led huge strikes in the late 1970s – still in the days of the military dictatorship – for which he was imprisoned. The trade unionist founded the Labor Party PT and has since been its main presidential candidate. "If not he himself, then he selected people," explains political scientist Camila Rocha.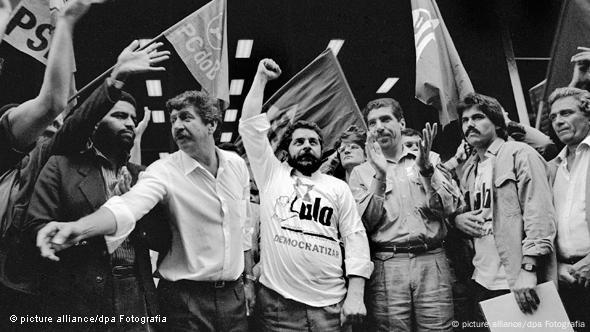 Lula (center) protesting against the privatization of public companies in 1989
Now the 76-year-old is running for the sixth time. He won the elections in 2002 and for re-election in 2006. When he gave up office to his party colleague Dilma Rousseff at the end of 2010, his approval ratings were a spectacular 83 percent. This was partly due to his social welfare programs: For example "Universidade para Todos" (University for All), which also enables young people from poor backgrounds to study. The "Bolsa Familia" program – probably Lula's best-known merit – still supports many families in the country to this day.
But meanwhile, Lula no longer just has the "image of the defender of the poor and workers," says the political scientist Rocha. "He also has the stigma of corruption." During the PT governments from 2003 to 2016 there were numerous corruption scandals, such as vote-buying in Congress (Mensalão) and in connection with the semi-public energy giant Petrobras (Operation Lava Jato).
In connection with the latter, Lula was even in prison from April 2018 to November 2019 on allegations of passive corruption and money laundering – while the ex-president always maintained his innocence and described the investigation as a conspiracy against himself. In fact, hackers found evidence of collusion between the corruption investigators and the judge responsible at the time, Sergio Moro – which led to the annulment of the trials against Lula.
Bolsonaro: From right backbench to president
It is no coincidence that Jair Messias Bolsonaro still glorifies Brazil's military dictatorship (1964-1985) and advocates torture and private gun ownership. After school, the 67-year-old embarked on a career in the military. Probably in connection with disciplinary problems, the captain switched to the reserve and soon went into politics.
The political scientist Rafael Cortez, who teaches at the Brazilian Institute for Education, Development and Research (IDP), describes Bolsonaro – who has been a member of the Brazilian National Congress since 1990 – as an "eccentric backbencher": "It was clear that he represented the interests of the military, otherwise he hardly excelled or held important posts."
Watch Video 02:59
Uranium Mining in Brazil Cleared
Known for homophobic, misogynistic and racist slogans, Bolsonaro has changed party affiliations many times, but has always stayed on the right. The so-called BBB faction of the Chamber of Deputies (Bíblia, Boi e Bala, i.e. Bible, cattle and firearms) is its ideological home. According to Cortez, Bolsonaro owes the fact that he was able to become president in 2018 to two main factors: "He recognized the power of social media and conducted a new type of election campaign Brazilians against the established parties and especially against the left."
Bolsonaro managed to present himself as the only non-corrupt politician. In retrospect, this may not seem very convincing, since it has since come to light that friends, acquaintances and relatives of the Bolsonaro family were allegedly hired as ghost employees in order to siphon off public funds ("Rachadinha" scandal). Bolsonaro is also said to have known about corruption in corona vaccine contracts.
What are Lula and Bolsonaro planning for Brazil?
Lula: Economy and environmental protection in focus
A good three months before the elections in Brazil, Lula presented his preliminary election program in a hotel in Sao Paulo. He positioned himself clearly against environmental crimes, in particular against illegal deforestation and illegal mining in the Amazon region. A clear reaction to the practices of the Bolsonaro government: under it, deforestation reached record levels, the threat to indigenous peoples and environmentalists increased, and the images of the devastating fires in the Amazon region and in the Pantanal wetlands shocked the world.
< img src="https://static.dw.com/image/61465073_401.jpg" />
Indigenous people protest against Bolsonaro's environmental policies and gold mining expansion in April
According to political scientist Camila Rocha, it is also important in Lula's plans that the labor market reform of the Temer government is adjusted. This gave employers more flexibility in hiring and firing employees in 2017. Lula also wants to lift the cap on government spending. The instrument is used to reduce national debt, but ensures tight government coffers.
Bolsonaro: Lots of noise, little content?
The incumbent has hardly positioned himself so far, but he too is concentrating on economic issues. After two years of the corona pandemic, Brazil is in a tense situation; due to the Ukraine war, the inflation rate is even higher than before. The topic of money and the economy is likely to be decisive for many people.
Bolsonaro, who, according to Rafael Cortez, had hardly taken a position on economic issues before his presidency, has taken economic policy into the hands of his Minister Paulo Guedes, an ultra-liberal economist. The privatization of state-owned companies is high on his agenda.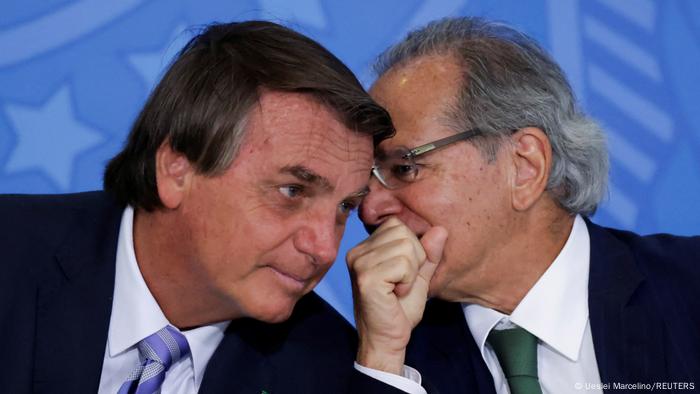 Important confidant for Bolsonaro: Economics Minister Paulo Guedes
Bolsonaro will probably also retain his image as " Defenders of traditional values, of a past that allegedly existed in Brazil before the left came to power," says Cortez. The style of politics will also remain: "Bolsonaro's modus operandi is confrontation – very different from Lula , who has always relied heavily on dialogue and compromise."
How do Brazilians feel about Lula and Bolsonaro?
Bolsonaro's small talk and mismanagement of the corona pandemic in particular have caused bitterness among many Brazilians. Polls recently clearly indicated an election victory for his opponent. According to a survey by the Datafolha institute published on June 23, 47 percent of Brazilians would vote for Lula, while Bolsonaro would vote for 28 percent.
Of course, a lot could change in the coming months, says Camila Rocha. Basically, explains the political scientist, who repeatedly conducts surveys for the study and research center CEBRAP, Lula is very popular among poor and very poor Brazilians: "In addition, women, blacks and young people are more likely to vote for him. With Bolsonaro it's the other way around: Its voters tend to be affluent, male, white and elderly."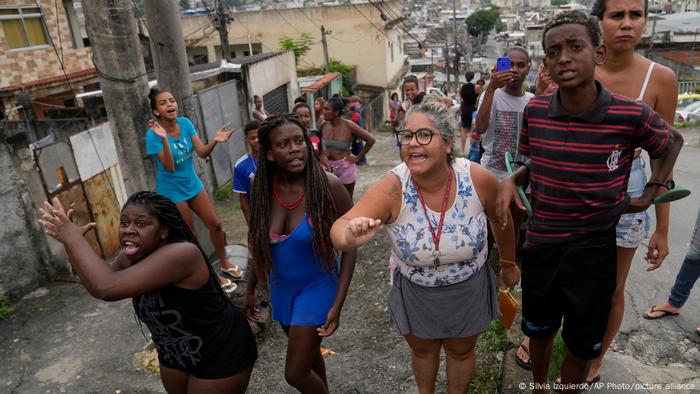 Protest by favela residents after a Police crackdown – Bolsonaro is known to be an advocate of crackdowns on drug-related crime
What worries both Rocha and Cortez is that Bolsonaro, like Trump in the US, is already sowing doubts about Brazil's electoral system. In doing so, he fueled fears that he might not honor the result of the election if Lula won. A team of election observers from the European Union was only uninvited in May.