Building on the ARMv9 architecture, ARM today introduces the components of the next generation of Systems on a Chip as they will be used in upcoming smartphones, tablets and PCs. Arm Cortex-X3, A715 and A510 Refresh deliver more performance, reduced consumption and allow new configurations.
Table of Contents
< li>1 Cortex-X3, A715 and A510 are faster and more economical

TCS22 delivers 28 percent more gaming performance
DSU is ready for fast arm notebooks
Arm expands security features
The Immortalis GPU is capable of hardware ray tracing
CoreLink CI-700 and NI-700 remain almost the same
Optimizations for modern manufacturing processes
New tools for developers

2 Cortex -X3: Everything is bigger in Texas

Single-core performance increases by up to 25 percent
Faster than an Intel Core i7-1260P in a notebook
IPC -Gain is 11 percent
Front end receives the most changes
Execution core is growing in width
Back end is faster and more economical

3 Cortex-A715 and Cortex-A510 refresh: focus on efficiency

Same performance with 20 percent less consumption
Front end receives second predictor
Cortex-A715 is a pure 64-bit core
Decoders in the mid-core master all instructions
Back-end reduces DRAM accesses
Cortex-A510 gets a refresh
Only the Cortex-A510 can do 32 bit
TCS22 delivers 28 percent more gaming performance
Cortex-X3, Cortex-A715 and Cortex-A510 Refresh are Arm's new 2022 CPU cores and are part of the Compute Performance section of Total Compute Solutions 2022 (TCS22), which also includes the Developer Access and "Security" include. That's what Arm calls the holistic solution of his own IP this year. Corresponding products, i.e. processors, should not come onto the market until 2023. In a typical 1+3+4 configuration, the TCS22 promises an average 28 percent increase in gaming performance over the TCS21 with Cortex-X2, Cortex-A710 and Cortex-A510.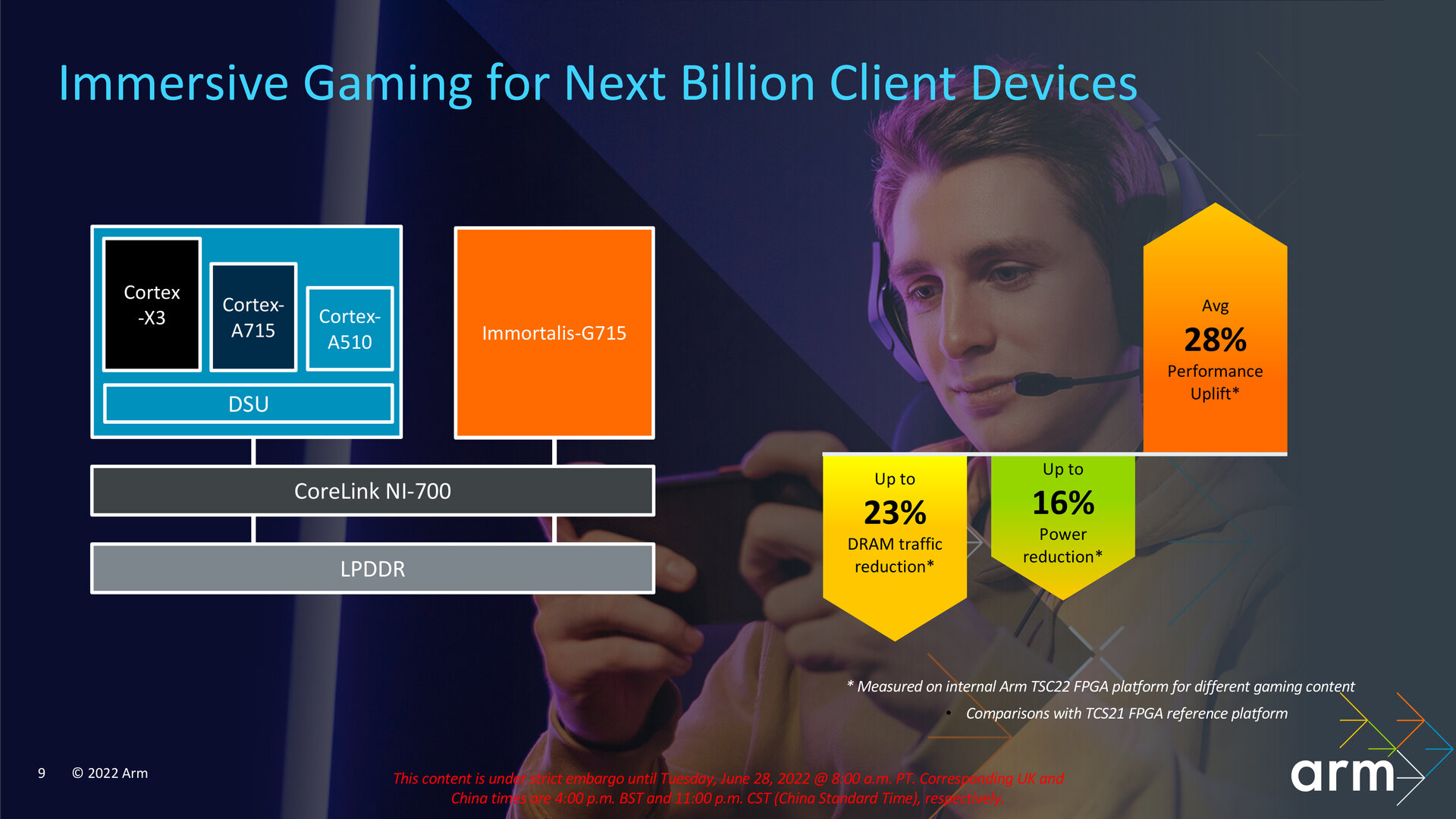 With EPAN ("Enhanced PAN"), Arm also follows the previous PAN ("Privileged Access Never"), which is intended to prevent access to less privileged memory areas in user mode, for example at kernel level. The security function is intended to prevent a user-mode attack from taking place via a tricked kernel. However, a bug in the ARM specs did not prevent access to user-mode memory pages marked as "execute-only". "Enhanced PAN" is intended to correct exactly this fact.
Immortalis GPU is capable of hardware raytracing
Arm introduces new graphics units for the flagship and premium segment with the TCS22. The new flagship is the Immortalis G715, which can be integrated with up to 16 GPU cores. The two major innovations of the Immortalis-G715 are hardware ray tracing via a new RTU ("Ray Tracing Unit") in the shader core and support for "Variable Rate Shading" (VRS). In addition to the Immortalis-G715, the Mali-G715 is also new and offers the same changes as VRS and optimizations to the execution engine except for the RTU. The same applies to the Mali-G615, which can be configured with fewer shader cores and optionally has fewer L2 caches.