Journalists around the world work under difficult conditions in crisis regions. Three from Myanmar share their commitment to independent reporting.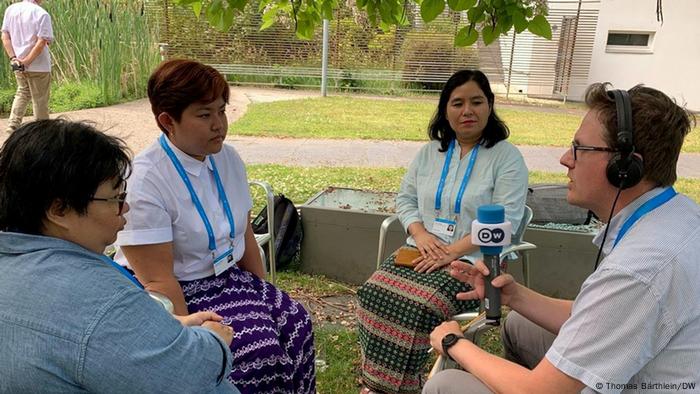 DW reporter Rodion Ebbighausen (right) in conversation with Htaike Htaike Aung, Aye Min Thant and Tin Tin Nyo
The decades-old conflict in Myanmar, which entered a new phase of excessive violence with the military coup of February 1, 2021, is in danger of being forgotten internationally. On the hard-fought "market of public opinion" only the Ukraine war and its global consequences currently tower above all other crises.
The Burmese-American journalist Aye Min Thant of the magazine "Frontier Myanmar" can even understand that: "If Of course, living in the country, war seems like the biggest problem in the world. But there are so many countries in the world where terrible things happen all the time."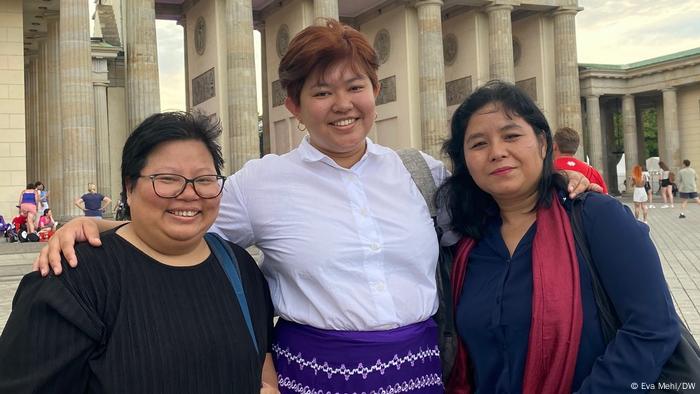 Three strong women for freedom of the press in Myanmar: Htaike Htaike Aung, Aye Min Thant and Tin Tin Nyo (from left to right)
Journalism for civil society
At the same time, Aye Min Thant and her colleagues Htaike Htaike Aung and Tin Tin Nyo are distressed by their lack of interest in Myanmar. Still, they are combative and are doing their best to get Myanmar the attention it deserves on the international press agenda. Htaike Htaike Aung is a curator in the "Myanmar Internet Project" and Tin Tin Nyo is the executive director of "Burma News International", an association of 16 ethnic minority news organizations in Myanmar.
All three women are primarily committed to informing people in and about Myanmar in their respective fields. For them, this is the prerequisite for making their own decisions in the confusing civil war situation. The international audience can only be won over to Myanmar with high-quality products. Above all, this requires good journalism.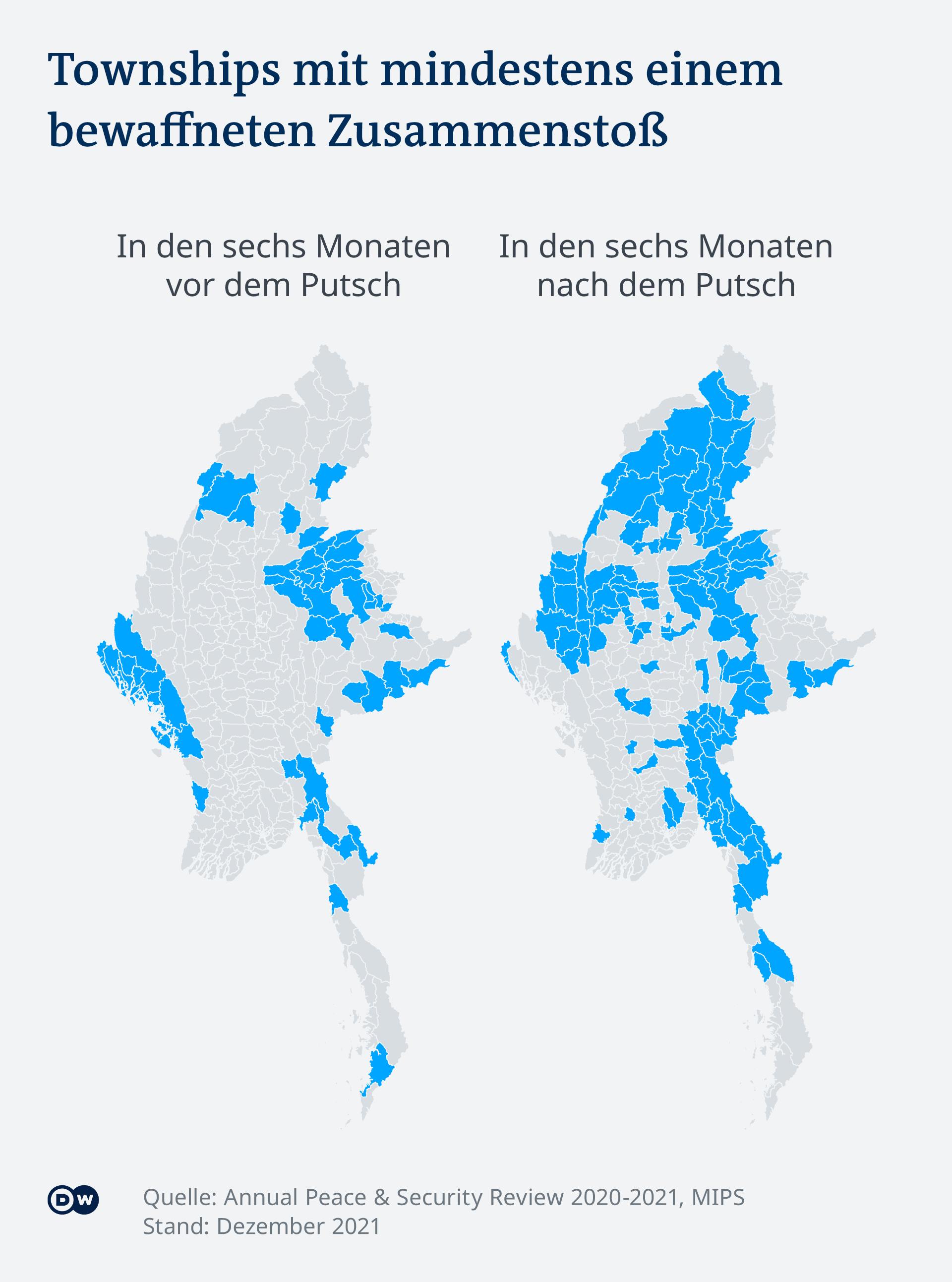 Care before speed
However, the challenges of providing high-quality journalism in Myanmar are immense. Journalism work in Myanmar is very dangerous. According to Reporters Without Borders, 64 journalists are currently being held in Myanmar where they are threatened with torture and even death. Informants and interviewees also live dangerously. In particularly competitive areas, the Internet is repeatedly switched off. The result: the independent procurement of information is risky and time-consuming, the editors often have to rely on so-called citizen journalists who have no professional journalistic training. "Fact verification is incredibly difficult and challenging right now. I think one thing that the more reputable media outlets are doing is sacrificing speed to try and find as many independent sources to verify the news," he says Aye from Frontier Myanmar.
"Verifying information takes time, but fake news spreads fast," adds curator Tin Tin Nyo. In the short term, you might lose the information race. In the long term, however, all three are convinced that facts will prevail.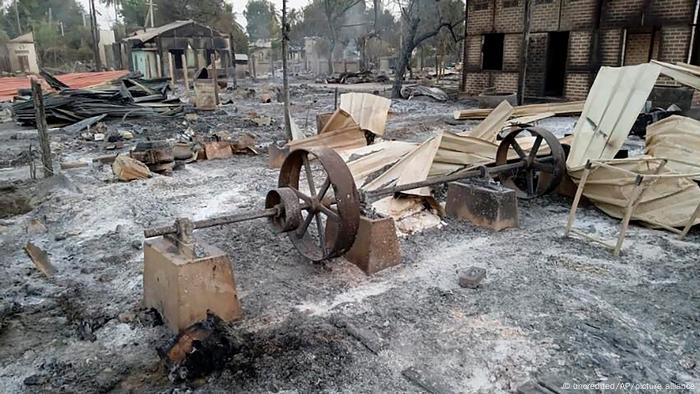 (Archive) Downed village of Mwe Tone in February 2022
Hungry for reliable information
Htaike Htaike Aung, who has worked extensively on fact-checking and researching the development of digital communication in the country in the "Myanmar Internet Project", illustrates people's need for reliable information with the following story. Shortly after the 2021 coup, when Facebook was blocked as the country's main source of information, rumors circulated that de facto Prime Minister Aung San Suu Kyi had been released from prison. Confused, people contacted their organization by phone and SMS to find out what was actually going on. There was no way at the time to verify the message, which ultimately turned out to be false. Now the press organizations have to prove their credibility by actually verifying the published facts.
Immediately after the coup, there was a significant increase in the use of VPN tunnels, which establish a network connection that cannot be seen by third parties. In this way, state censorship can be circumvented. Today, while the VPN is illegal in the country, it is still widely used. The citizen journalists also copy press articles into Google Forms, then share them with each other or print them out to swap among friends and acquaintances.
Watch the video 01:58
Myanmar: Aung San Suu Kyi sentenced
Polarization and propaganda
In addition to the danger for journalists and the problems in spreading news, women journalists have to contend with the highly polarized, even fragmented society. In Myanmar there have been deep rifts and great distrust between the ethnic groups for decades, especially between the largest ethnic group, the Bamar, and many smaller ethnic groups, some of which are hostile to one another. The military, most of which is recruited from Bamar, has been fighting the ethnic minorities for years.
The main line of conflict runs between the military on the one hand and an alliance of the national unity government, the armed resistance and some ethnic groups. The distrust within the resistance camp has not yet been overcome. Tin Tin Nyo reports that some members of her network have reservations about news channels such as Myanmar Now or Frontier Myanmar because ethnic Bamar are primarily responsible for them. "They observe that these media do not support their point of view and show a certain one-sidedness." There is also the accusation that they are not critical enough of the National League for Democracy (NLD), which was deposed by the military with the coup, and of themselves because they only know one enemy: the military.
Watch video 42:36
DokFilm – The child slaves of Myanmar – The cruel business of adoption
Common denominator
Tin Tin Nyo doesn't quite see the time for a common basis of understanding as yet. However, she is optimistic that the cooperation between the various media of the ethnic minorities has improved significantly compared to before. People exchange ideas more often, report more about the often comparable problems of others. "The various news organizations are working towards a common denominator."
In contrast to this, according to Tin Tin Nyo, there is a new development, namely the emergence of hyper-regional media that only cover a very small geographical area. Digitization has made it much easier to set up news sites. There are dozens of such new, very small-scale offers. With these, there is a risk of losing sight of the big picture.
What all three would like: continued support for the media in the country and in exile by the international community. Cooperation with various local journalists should be encouraged, because only they have access and can draw a picture of the situation in Myanmar from their respective contexts.
Notice of transparency: Aye Min Thant, Tin Tin Nyo and Htaike Htaike Aung took part in various training courses at DW Akademie.