This has never happened before in the history of the Bundestag: since the last election, there have been three members of parliament who were born in Africa. You started with big goals – what's left of it?
Awet Tesfaiesus speaking in front of the German Bundestag in March 2022
It is his first major appearance, but Armand Zorn is surprisingly calm. At the beginning of April he will speak in the Bundestag for the first time. Topic: Tax policy, the special topic of the 33-year-old management consultant, who was elected to Parliament last September. "I was a bit nervous, I have to admit. But I like it. If you're tense for a moment, you realize how important the matter is," he told DW the next day in his office in the Bundestag.
Three languages, many countries
Nobody noticed his excitement. His speech is self-confident, knowledgeable and factual, with small tips against the right-wing populist AfD. The new MP Armand Zorn – trilingual, of athletic build and elegantly dressed – has a special biography: Born in Cameroon, he moved to Halle at the age of 12. His mother's new partner lived there. From there we continued: to Paris, Constance, Bologna, Hong Kong and Oxford.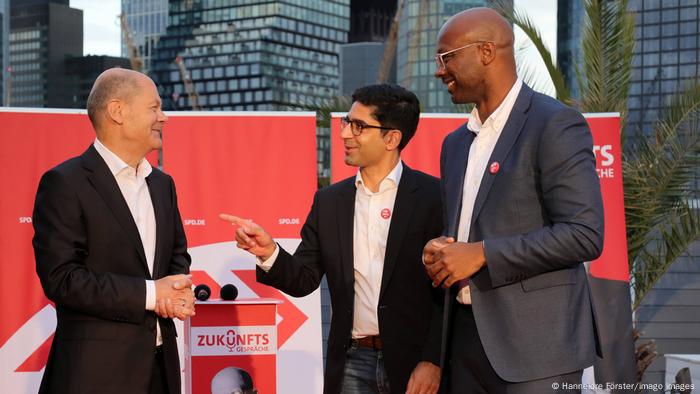 Armand Zorn (right) in the 2021 election campaign with the then SPD top candidate Olaf Scholz
Zorn has lived in Frankfurt since 2015, has been politically active since 2009 and joined the SPD in 2011. Then last year he made the leap into the Bundestag – as a direct candidate. Because he wanted to fight for more social justice, Zorn says today: "Based on my personal biography, I have had many experiences where I met young people who were very diligent, who worked hard, who were competent, but who never had the got the success they deserved. That never left me alone," says Zorn.
Connected to Africa
In the Bundestag he is a member of the powerful finance committee and the important digital committee. This is where he sees his strengths and skills. He also remains connected to his continent of origin, Africa. "In the area of ​​finance, for example, there are many issues relating to global financial stability. It's about the debt ratios of certain African countries, it's about making funds available to allow perspectives and economic development in certain African countries," he says.
Watch video 03:20
The first black woman in the Bundestag
Awet Tesfaiesus has also been in the Bundestag since the last election. She's still quite used to being MPs. "It's a completely different world. People seek dialogue and are open. You can invite people. You're very high up in the hierarchy, especially if, as a black woman in the drugstore, you were critically scrutinized as to whether you weren't stealing something "Tesfaiesus told DW in a Skype interview. Nevertheless, she still experiences everyday racism in everyday life. "When I go shopping and get the looks of the security staff. It's back to normal."
Start in the refugee home
Experiences of racism have been with her for a long time. In 1974 Tesfaiesus was born in Asmara. Today the capital of Eritrea, then occupied by Ethiopia. The country is a military dictatorship, her parents are politically active. When Tesfaiesus is 10 years old, the family has to flee to Germany. Their new home will be a refugee home where many families from Eritrea live. "It was difficult for my parents. We lived in a small space with many Eritrean children. There were six of us in one room with the whole family. But as a child you don't pay attention, you're happy that so many great people are there ", she says today.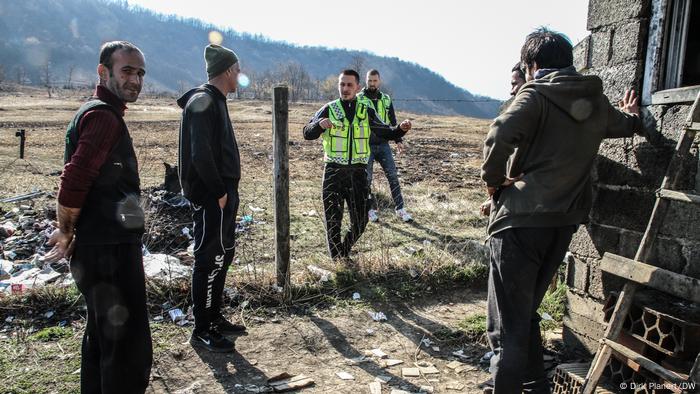 As a lawyer, Tesfaiesus fought for changes to EU migration policy< /p>
The experiences drive them. Tesfaiesus studies law and opens a law firm. Subject: asylum law. She wants to help others who also come to Germany as refugees. But it is reaching its limits – many refugees are not given residence status in Germany. Because the so-called Dublin rules of the EU are clear: Refugees must apply for asylum in the EU country that they entered first. Most of their clients are Italy or Spain. "In Italy, a lot of people lived on the streets, maybe they had asylum status, but no social benefits, no language courses, nothing. It was frustrating to fight against this system, but I had the feeling that I had to change something politically."
'Hurt hurts'
Tesfaiesus has been with the Greens since 2009 and was a city councilor in her hometown of Kassel for five years. She has been a member of the Bundestag since October last year and is already her party's chairperson on the culture committee. And has also set itself an ambitious goal here: stolen cultural treasures should be returned to the countries of origin. "When I walk through German museums and see art and cultural goods from my region, it hurts my heart. Things are looked at here and they basically mean nothing to the people. They mean a lot to the people in their countries of origin because it is her identity that was stolen," she says.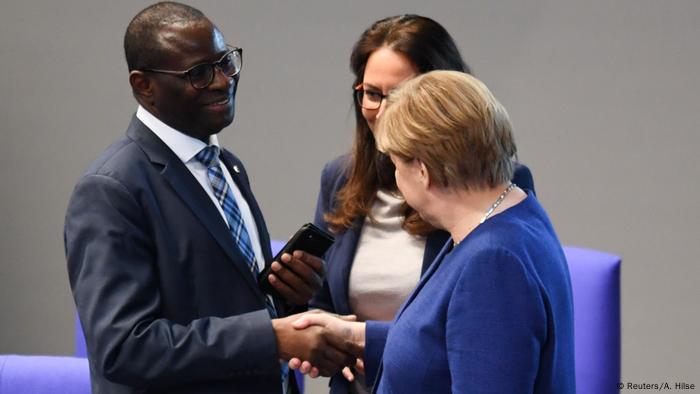 Karamby Diaby 2020 with the then Chancellor Angela Merkel
In addition to the two newcomers, Karamba Diaby is something of an old hand in the Bundestag. On a warm day at the end of April, he sits in his Bundestag office and works on a speech. Next to the black leather sofa is a plaque with the signatures of his helpers from a past election campaign. In 2013 he came to the Bundestag for the first time, even the New York Times reported at the time. Because Diaby was the first MP with African roots in the German Parliament. "Many thought that I was the expert on Africa or on racism in everyday life and didn't want to see that I was an education and research politician," says Diaby.
Hatred and agitation are part of everyday life
Today he is recognized in the Bundestag – and also by his voters. In 2021 they elected him directly for the first time. In the 1980s he came to what was then the GDR from his homeland of Senegal on a scholarship. He studied chemistry in Halle and finally did his doctorate on heavy metal pollution in local allotment gardens. He has long called Halle home, which right-wing extremists still do not want to accept. Racist attacks on social media are part of his everyday life.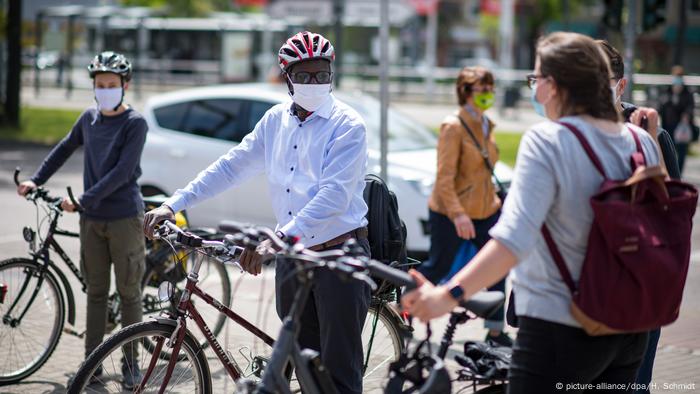 Karamba Diaby has long been a fixture in Halle
For someone who has to endure so much hate and hatred, Diaby is remarkably calm. Even years later, he tries to differentiate, avoiding blanket judgments and political rhetoric. "Death threats and things like that hurt me. But I've always felt support and solidarity when something unqualified, insulting or demeaning was posted. There were letters from people expressing their solidarity or school classes collecting signatures," he says in an interview.
Even after almost nine years in the Bundestag, Diaby is still the "friendly neighbor next door" type with a lot of interest in his counterpart. He has learned the typical parliamentarian sound and still tries to use it as little as possible in direct conversations. In this legislative period he sits on the Foreign Affairs Committee and the Development Committee. It's no longer the same parliament as it was in 2013 – today it's much more diverse, says Diaby. And still fight for diversity. Not only in terms of origin. But also when uAwet TesfaiesuZornm the relationship between academics and non-academics, people from town and country, people with and without disabilities. "These are all factors where I say: the more diverse the parliament, the more differentiated are the perspectives that are perceived," he says.