After a year's break, Serena Williams competes in the tennis tournament in Wimbledon. The 40-year-old American is now primarily concerned with her business future. But she still wants to know one more time.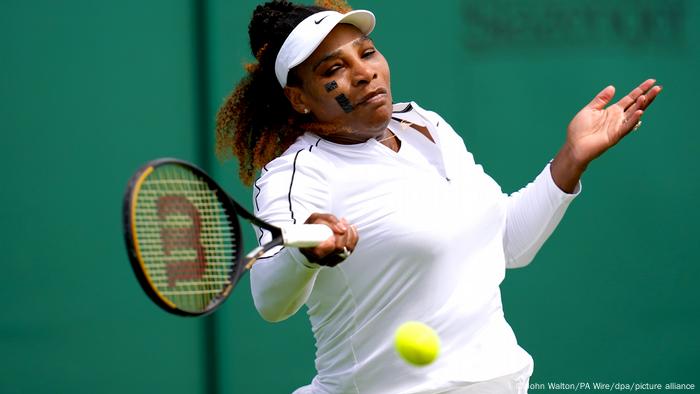 Serena Williams returns to tennis tournament in Wimbledon after a year break
It is not known whether Rafael Nadal is really happy about this compliment. Serena Williams, who has often caused a stir with somewhat bizarre statements, seemed serious about her deference to the Spaniard. "I've always been a Rafa fan. I named my dog ​​after him," said the American when she presented herself publicly at a tennis tournament for the first time in a year. At the last Wimbledon tournament to date, Williams tore a muscle fiber in his thigh in the first round on London's Center Court – and hasn't competed in a single since.
Now she is back in the traditional All England Club, at what is probably the most important tennis tournament in the world. And Nadal, who is two years younger, obviously had something special with his two Grand Slam successes this year (Australian Open, French Open). inspiration for Williams. Williams' message: Look, older athletes can still be successful.
The tennis world had actually expected almost every day that the 40-year-old, once dominant player on the WTA tour, would announce the end of her career . But Williams doesn't want to know about that. "I didn't say goodbye to retirement. I just had to recover physically and mentally," said Williams.
View this post on Instagram
No player has more experience
And probably all tennis fans and all competitors are curious to see what level of performance Williams was able to work up to in preparation for the tournament. Because hardly anything is more important and necessary in professional tennis than match practice. And she gave up completely. Williams has slipped to 411th in the world rankings. At Wimbledon she is given a wild card so she can compete. There she will play with kinesiology tapes on her face to help regulate her breathing.
However, no active player has more experience and more tournament wins than Williams. So far she has won 73 WTA titles in her exceptional career, including 23 Grand Slam titles. She can't really care about money anymore. She earned over $94.5 million in prize money alone. She is likely to have earned significantly more with her numerous advertising contracts.
New professional perspectives
In the past year, her professional priorities have shifted a bit. Williams has worked intensively with her company "Serena Ventures". With this $111 million fund, Williams wants to invest in founders with different perspectives. She is also an investor in Angel City Los Angeles, a new women's soccer club. "Part of me feels like there's a little bit more to my life than tournaments now," Serena said. "When you have a business, you have to put your heart into it. It literally takes up all my extra time. And it's fun!"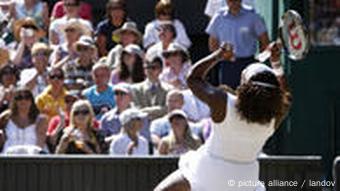 Serena Williams celebrates after beating Sister Venus in the final in 2009
The big question will be whether Serena Williams feels like flying all over the world again and swinging the tennis racket all over the world. Whether she sees Wimbledon as the end of her unique career. Her new coach Eric Hechtmann recently told the New York Times about his famous player's ambitions: She plays Wimbledon for a reason. Like everyone who starts in this tournament, our goal is to win the event." She has already triumphed seven times on Church Road, grass is one of her favorite surfaces.
First indication of the end of her career ?
Williams has already given a first indication of her near future: "I'm currently out of the office for the next few weeks. So if you email me, you'll get the nice 'out of office' reply. Everyone knows I'll be back in a few weeks," Williams said.
But now the first round in Wimbledon is on the program for them. The French Harmony Tan, the 113th in the world rankings, must first defeat Williams. Perhaps Serena Williams' last appearance on the holy lawn of Wimbledon.
Wimbledon – best tennis, fine style


The "sacred lawn" on Church Road

Wimbledon is the oldest and most important tennis tournament in the world. The premiere took place in 1877. The reason: The All England Lawn Tennis and Croquet Club wants to raise money with the tournament in order to be able to buy a new lawn roller that costs 10 pounds. In 1922 they moved to Church Road, where the tournament still has its home today. The game will be played on two main and 16 secondary courts.

Wimbledon – best tennis, fine style


Royal Box

When moving to the new stadium in 1922, the English royals were also remembered by setting up a separate box for the royal family in the stands of Center Court, the so-called "Royal box". England's King George V is the first royal guest at the Wimbledon Championships in 1907. In recent years, Duchess Catherine and Prince William have regularly attended the tournament.

Wimbledon – best tennis, fine style


award ceremony by the Duke

Catherine, the Duchess of Cambridge, will also conduct the awards ceremonies from 2022. Edward, Duke of Kent had this honorable task for 52 years – until 2001 his wife, the Duchess, was at his side. In 2021 he resigned as club president at Wimbledon. Edward is a cousin of Queen Elizabeth II. The Queen has served in his role before, most recently in 1962.

Wimbledon – best tennis, fine style


All in white

If you want to be on the pitch at Wimbledon, 90 percent of your clothes have to be white. This has been the case since the beginning of the tournament and in the 1990s it was also the case for "bird of paradise" André Agassi, who normally appears on the pitch in neon colours. He makes an exception for Wimbledon – the only thing he doesn't want to do without is his cycling shorts under his tennis shorts.

Wimbledon – best tennis, fine style


Hard school

Before the ball boys and girls are allowed to march in rank and file onto the Wimbledon courts, they have to go through a strict selection process. The 14 to 18-year-olds drill for five months, learning how to roll balls perfectly and hand towels correctly. Out of 1000 applicants only 250 make it onto the sacred turf each year.

Wimbledon – best tennis, fine style


Handmade

Who plays when and in which round on which court against whom? In a tournament the size of Wimbledon, where not only singles but also doubles and mixed competitions are played, it's not that easy to keep track of things. On Church Road, however, nothing is left to chance or the computer, and the scoreboard is always kept up to date by hand.

Wimbledon – best tennis, fine style


Enjoy your meal!

The most popular snacks at the Wimbledon Visitors strawberries with cream. Countless portions of "strawberries and cream" are sold over the counters of the stalls every day. The "Strawberry Team" at Wimbledon consists of 40 people. Allegedly, around 28,000 kilograms of the red fruit and around 7,000 liters of whipped cream are now consumed per tournament.

Wimbledon – best tennis, fine style


Successful Brothers

Initially, the tournament was firmly in British hands – foreign players were not admitted until 1910. William Renshaw (right) wins six times in a row between 1881 and 1886, twice against his twin brother Ernest (from left). William Renshaw wins a total of seven singles titles at Wimbledon, remaining the record winner until Roger Federer celebrates his eighth singles title in 2017.

Wimbledon – best tennis, fine style


Record winner

In addition to William Renshaw, the American Pete Sampras (2nd from left) is also allowed to raise the winner's trophy seven times. Federer (2nd from right), who is extremely popular with the Wimbledon spectators, has one more win, even winning five times in a row between 2003 and 2007. Björn Borg (left) did the same thing in the 1970s.

Wimbledon – best tennis, fine style


Icon from Sweden

The long-haired Swede was a real pop star back then and was especially admired by the female fans. Borg plays unorthodox and revolutionizes the game of tennis: For example, he introduces the two-handed backhand. On Church Road he won all titles between 1976 and 1980 and was in the final again in 1981, which he lost to John McEnroe.

Wimbledon – best tennis, fine style


Australian Dominance

Before Borg took control of Wimbledon, the men's tournament was firmly in Australian hands for decades. In the 26 editions between 1946 and 1971 only five times no Australian made it to the final. Ten times the final is even purely Australian during this time. The Open era begins in 1968, and professionals can now play too. First winner: Rod Laver from Australia (photo).

Wimbledon – best tennis, fine style


Hit into the heart

Boris Becker has one Wimbledon win less than Laver – namely three – to his credit. The red-haired German surprisingly won in 1985 at the age of 17 and took the hearts of London viewers by storm. His trademark: the Becker pike. Becker calls Center Court his living room. However, overall he loses more Wimbledon finals (4) than he wins (3).

Wimbledon – best tennis, fine style


No duels between friends

The most bitter final defeat is probably that of 1991 against Michael Stich. The two play together in a Davis Cup team, but they are not friends – on the contrary. Stich, always standing in Becker's shadow, goes through his game ice-cold and wins in three sets. Becker lets his frustration run wild: "I'm playing crap," he yells across the court. "I don't like it anymore."

Wimbledon – best tennis, fine style


Finally another Brit

Andy Murray makes the spectators at Wimbledon particularly happy when he wins the tournament in 2013. Finally, the vast majority of tennis fans from the island will have thought at the time. 77 years after the Englishman Fred Perry, with the Scot Murray, another Brit is allowed to receive the golden winner's trophy and kiss it.

Wimbledon – best tennis, fine style


German final

For the German players, the 1930s are the most successful time at Wimbledon. Gottfried von Cramm reached the final three times between 1935 and 1937. In 1931, Cilly Aussem (l.) won a German final against Hilde Krahwinkel-Sperling. This is followed by a dry spell of a similar length to that of the British. The next German success came 57 years later.

Wimbledon – best tennis, fine style


The era of the Countess

Then, however, the successes come straight in a row: Steffi Graf celebrates her seven Wimbledon victories between 1988 and 1996 (photo) and is therefore the dominant figure of the tournament in this phase. She still loses her first final in 1987. In 1999 she reached the final for the last time, but lost out to the American Lindsay Davenport.

Wimbledon – best tennis, fine style


Incredulous successor

It is only 22 years after Steffi Graf that a German, Angelique Kerber, wins the tournament on Church Road again and can hardly match her 6: 3, 6: 3 win over Serena Williams, who only returned from maternity leave a few months earlier grasp. It is the third attempt to succeed Graf: in 2013 Sabine Lisicki lost to Marion Bartoli, in 2016 Kerber had to admit defeat to Serena Williams.

Wimbledon – best tennis, fine style


The Queen of Wimbledon

Williams has seven individual wins at Wimbledon. The most successful player of all time is Steffi Graf's constant rival Martina Navratilova. Born in the Czech Republic, she wins the tournament nine times. Between 1982 and 1990 she is always in the final. Her six wins in a row between 1982 and 1987 are also a record.