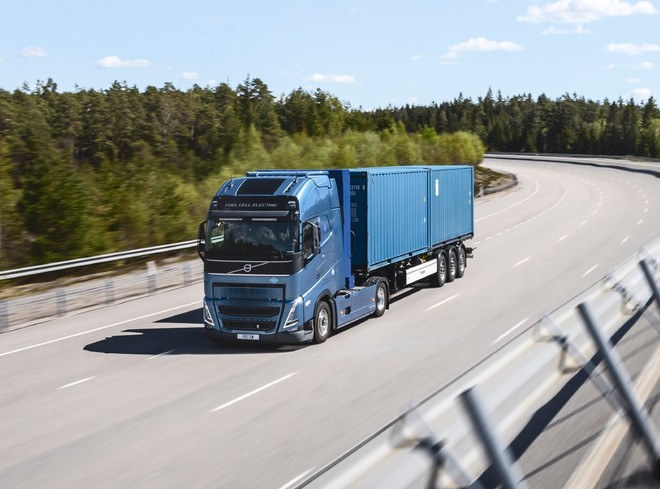 Volvo Trucks , after electric and biogas-powered trucks, intends to focus on models equipped with the Fuel Cell technology . There will be; however to wait since the company & agrave; has indicated that its fuel cell trucks will only arrive in the second half. of the decade. As Roger Alm , president of Volvo Trucks well explains, the development work on this technology is already underway; going on for a few years.
We have been developing this technology for several years, and it is; a great satisfaction to see the first vehicles successfully running on the test track. The combination of electric battery and electric fuel cell will allow; our customers to completely eliminate CO2 emissions from their trucks, regardless of destination.
Volvo Trucks' objectives are ambitious given that they want to come up with trucks with a range similar to that of models with a diesel engine. So, the goal is to offer Fuel Cell trucks with a mileage of up to 1,000 km . The manufacturer has also anticipated some very first features of these future new vehicles. The total weight will be able to be around 65 tons and the two fuel cells will be able to generate a power of 300 kW. A full tank of hydrogen, on the other hand, will be possible; carry out in less than 15 minutes. Pilot trials with customers will begin in a few years.
Fuel cells, says Volvo Trucks, will be supplied by cellcentric . This is a joint venture between Volvo Trucks and Daimler Truck. This company & agrave; will build one of the most large plants in Europe for the production of fuel cells, specially developed for heavy vehicles.
This is interesting news. Fuel Cell technology is well suited for use on heavy vehicles. However, there are some criticisms; to be solved such as the large-scale supply of green hydrogen and the construction of an adequate infrastructure for refueling. And on these issues, Roger Alm commented:
We expect the supply of green hydrogen to increase; significantly over the next two years, as many companies will need it to reduce CO2 emissions. However, we can no longer & ugrave; wait for the decarbonisation of transport, we are already & agrave; late. So, my clear message to all transport companies is; to start the journey today with electric batteries, biogas and other available options. Fuel cell vehicles will be an important complement to more transportation. longer and longer; heavy, within a few years.
The best of OnePlus? OnePlus 9 Pro, on offer today by Multibrandproject for 577 euros or from eBay for 699 euros .