The new generation of Razer's entry-level Ornata keyboard with "hybrid" buttons is said to be more durable, flatter and more comfortable. In practice, there are fewer features compared to the two-year-old predecessor, and the price effectively remains almost the same.
Membrane keyboard on feature diet
The Ornata V3 serves the entry-level range at Razer. There are still no mechanical buttons for the "budget" model, instead the company uses "hybrid" variants. They use rubber bells and conductor foils to generate the signal, but refine them with a mechanical "click". This ensures a clear pressure point and a spring-loaded stop at the same time.
These buttons, called "mecha-membrane" in Razer language, are fitted with more robust keycaps. Since the durability of the caps has become a relevant criterion, Razer is following suit here. Instead of PBT plastic, which improves this aspect in the higher price range, the Ornata V3 uses a UV protective coating on ABS plastic, which is said to increase the durability of the keycaps.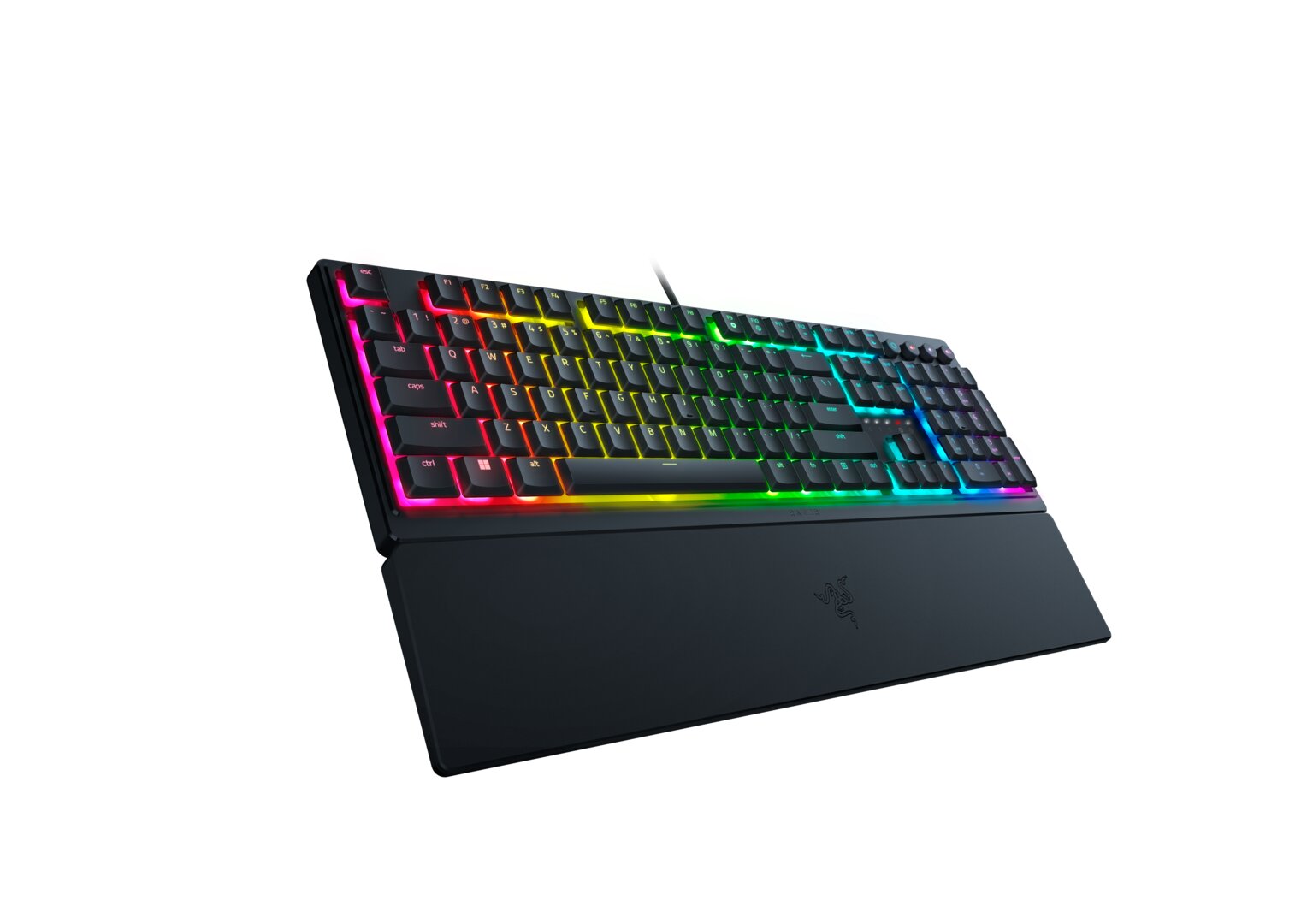 In addition to a redesigned palm rest that has been enlarged according to the product images and the case that is three millimeters flatter, savings measures also catch the eye. The Ornata V3 has about four instead of three additional keys. This is not a gain, however, because these are now used for volume control. The predecessor had a dial for this. In addition, the key rollover drops to 6.
The keyboard's RGB lighting experiences the greatest limitation. If the Ornata V2 was still able to illuminate each key individually, there is no longer any indication of this. According to the product page, the LEDs can be configured in ten zones; in the smaller V3 X, which also has to do without additional keys, in just one zone. By reducing to zones, Razer saves on LEDs: Since there is no longer a diode under each key, several keys can be illuminated with one diode.
Why Razer with membrane keys It is unclear whether a transparent membrane enables "even brighter" lighting: The light has to go through the rubber, which reduces the brightness, at least on other keyboards.
Price remains almost the same
Despite the canceled features, Razer is leaving the price almost at the old level. The recommended price of the Ornata is around 100 euros, only 10 euros below its predecessor, the more slimmed-down V3 X should cost around 60 euros. Both keyboards are currently only available in the Razer web shop at this price, but they are not really attractive: the 2020 model currently only costs around 50 euros.
Razer Ornata V3 Razer Ornata V2 Size (L × W × H): ? × ? × 2.7 cm
Wrist rest ? × ? × ? cm
Wrist rest Layout: 105 ISO (extended) Weight: ? Cable: USB 2.0 Hub function: – Key rollover: 6-KRO N-KRO Switches: Razer Mecha membrane Buttons: Shape: cylindrical
Material: ABS plastic
Labeling: laser cut
Flat keys Shape: cylindrical
Material: ABS plastic
Labeling: laser cut Additional keys: 3 × media
1 × extra 3 × media
Scroll wheel (volume) Media functions: mute, volume volume, play/pause, Forward/Back Additional functions: brightness (adjust, switch off), gaming mode, macro recording, system functions Lighting: color: RGB
Modes: breathing effect, wave effect, color loop
Other: individual LED profiles color: RGB
Modes: Breathing Effect, Wave Effect, Reactive Mode, Circumferential Activation, Color Loop
Other: Custom LED Profiles Macros & Programming: ? programmable fully programmable Price: €100 from €50