Since 2015, with the introduction of the Apple TV HD, Apple has had the Siri Remote, also known as the Apple TV Remote in countries where the Siri feature is not available. With the Siri Remote you can control the Apple TV and you will find buttons such as a selection key, play button and volume buttons and of course a Siri button. There are currently three generations of this Siri Remote, but a fourth generation may be coming soon.
'Fourth version Siri Remote showed up in code iOS 16'< /h2>
@Aaronp613 of the AppleDB website (which tracks software and firmware updates and new Apple devices) discovered the reference. He saw in the betas of iOS 16 code called "SiriRemote4". For the first version, Apple internally uses the name "SiriRemote1", for the modified 2017 version with white ring around the Menu button "SiriRemote2" and for the current Spring 2021 release, the name will be "SiriRemote3" used. So it seems that Apple has at least been working on a new version.

More than this reference has not been discovered in the code of iOS 16. In any case, it seems to be a remote control on which separate firmware can be installed, since the code also mentions "WirelessRemoteFirmware.4". It is not clear what new functions are included or when this new remote control should be released.
At first it seems unlikely that Apple will release a new Siri Remote so soon, let alone a completely new Apple TV. Apple updates the Apple TV every few years, and the current version is only just a year old. Still, a trustworthy Apple analyst recently claimed that Apple is working on a cheaper Apple TV, which could be released as early as 2022. It is therefore possible that it is, for example, a smaller or simpler remote control or a modified version of the current one. We've already daydreamed about which features we would like to see in such a cheaper Apple TV.
Also see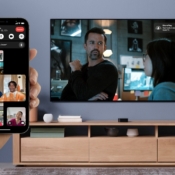 This is what we want to see in a cheaper Apple TV
According to a reliable source, Apple is working on a 'cheaper' Apple TV. But how can Apple make the Apple TV cheaper? Which functions would then be deleted and which should really not be missing? This is what we want to see in a cheaper Apple TV.