Polestar with CarPlay
While electric automakers such as Tesla, Rivian and Lucid Motors seem far from planning to offer CarPlay, Polestar is opting for it. A replacement heads-up display interface will be available to iPhone owners, the automaker announced. You can then use apps, switch music and communicate via Siri, as long as an iPhone is connected. The update will be rolled out over-the-air incrementally, but you can also go to a Polestar location to have it performed. Polestart has been owned by Volvo since 2015 and has only been making electric cars since 2017. Volvo technology and production capacity is used for this, although production takes place largely in China. Meanwhile, production facilities in the US are under consideration.
The fact that Polestar opts for CarPlay is remarkable in itself: the infotainment system in the cars is powered by Android Automotive, an operating system that runs directly on the hardware in the car and goes one step further than Android Auto. Apple is also planning something similar, where the entire dashboard, including the instrument panel, will be controlled by Apple software. At WWDC 2022, Apple previewed it and promised it will be "next-generation CarPlay" is becoming.
The most fun part about driving a Polestar is driving it, but there's more to it. Our latest over-the-air update for the Polestar 2 comes with Apple CarPlay, allowing Polestar owners with an iPhone to change music, use apps, and communicate through Siri or the infotainment system pic.twitter.com/mulkjIUR6D

< p>— Polestar (@PolestarCars) June 22, 2022
There will be support for almost any size display and direct integration with the speedometer, fuel gauge, climate control and the like. The first cars to support it will arrive in late 2023, and automakers Ford, Mercedes-Benz, Audi, Porsche, Volvo, Rover, Jaguar, Nissan, Honda, Infiniti, Acura and Lincoln have already pledged to join. But not all automakers are thrilled. For example, BMW is participating in the CarKey project, but they are not at the front of the queue to support the new generation of CarPlay. One of the suspicions involved is that Apple eventually wants to build a car itself. And the German Volkswagen does not like that either.
Volkswagen CEO has doubts whether Apple can make a car
Volkswagen CEO Herbert Diess reacted skeptically to Apple's plans to build its own car. "I'm not sure Apple is really capable of bringing a car to market eventually. It will take a lot of effort." Diess spoke at a tech conference in Berlin, where he predicted the car will likely become the most digital device imaginable. This is also the reason why Apple is so interested in it, Diess thinks. In 2020, the Volkswagen CEO said he was looking forward to a self-driving car from Apple, especially since the company has virtually unlimited resources to build one. Apparently the man has changed his mind now that he is not getting along.
There has often been skepticism about whether Apple would be able to enter a new market. For example, almost every phone manufacturer predicted in 2007 that Apple would not be able to make a smartphone without experience in the phone market. It succeeded beyond expectations, but Apple's ambitions to build its own car seems to be a bit more difficult. Apple's Project Titan has been dragging on for years, with rumors leaking about a changed strategy or executives leaving after a short time. Since last fall, the project has been led by veteran Kevin Lynch, who moved from Adobe to Apple in 2013 and was instrumental in bringing the Apple Watch to market.
See also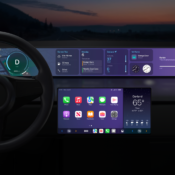 CarPlay of the future: you can do this with the next generation of CarPlay
Apple has big plans for CarPlay. While it's still a long way off, Apple has already shown what the next generation of CarPlay has to offer. We take you through what the future of CarPlay will look like.
CarPlay is now doing very well: there are now 600 car models with CarPlay from dozens of manufacturers, as an alternative to Android Auto and the manufacturer's own infotainment system.
See also

This way you know which car models work with CarPlay
Are you going to buy a new car and do you want to know whether it supports Apple CarPlay? Apple makes it easy to check this quickly. These are all car models that work with CarPlay.