National team director Oliver Bierhoff has long defended the controversial World Cup host Qatar against criticism. Now he asks himself: "How could FIFA award a World Cup to this country?"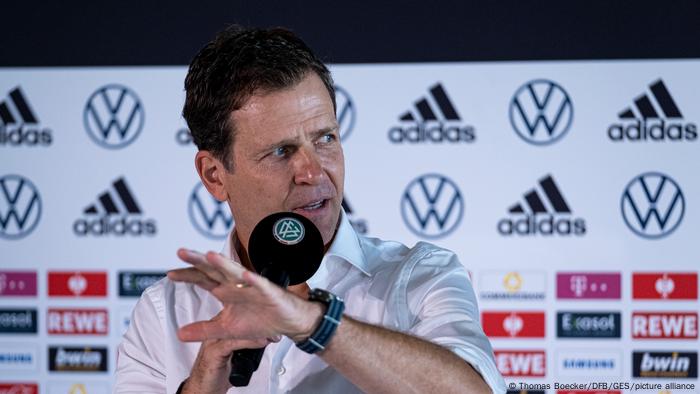 Human rights situation too little attention: Bierhoff is now also criticizing the award of the World Cup to Qatar
Homosexuality is forbidden in Qatar. Relationships between men can be punished with long prison sentences. Even the awarding of the World Cup to the emirate on the Persian Gulf has not changed that. Those affected are afraid and have to live in secret, they report in a report by the television station RTL. Confronted with this, DFB director Oliver Bierhoff asked the question in an interview: "How could a FIFA give the award to this country?!"
Human rights irrelevant in the award
That's surprising, after all, Bierhoff had highlighted the "developments" in terms of human rights in Qatar back in March. The World Cup host is considered an important partner in the region. Now Bierhoff strikes different tones. When awarding the prize, you "simply have to criticize that in the first point perhaps attention was only paid to stadiums or other points, or of course commerce and not to these aspects, such as human rights or other social issues," said Bierhoff. The next awards should only be made to countries "where things like this don't happen".
During a visit to Germany in May, Tamim bin Hamad Al Thani, the head of state of Qatar, called on visitors from all over the world to come and visit to come to his country. He also included members of the LGBQI+ community in his statement, but with the addition that "Qatar's culture" must be respected.
The DFB director did not want to make a travel recommendation for members of the LGBTIQ+ community: "It's difficult. I don't know. I think everyone can only decide for themselves whether they considered a risk for itself," said Bierhoff: But he hopes that there will be "a certain bell" for a certain period of time during the tournament that will guarantee security.
jk/asz (sid ,dpa)