In the last endurance test before the European Championship, the DFB women check their form in the dress rehearsal against Switzerland. The national coach is hoping for positive effects for the tournament in England from the last test match.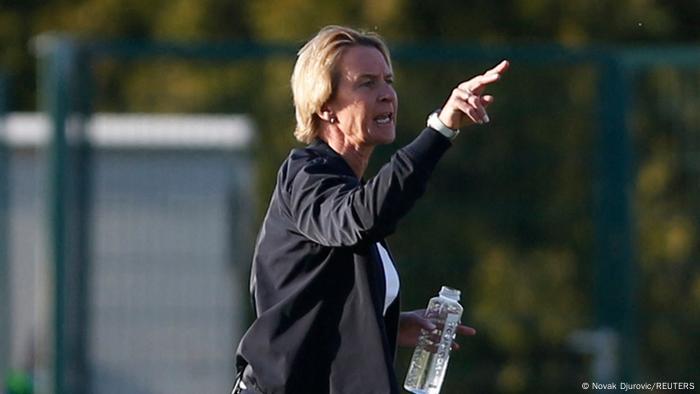 Federal coach Martina Voss-Tecklenburg is looking forward to her first European Championship as national coach
Starting position:
Before the difficult title hunt at the European Championships in England, the German soccer players make the final form check. The duel with the Swiss on Friday in Erfurt (5 p.m. CEST) is a real endurance test for national coach Martina Voss-Tecklenburg's team. Voss-Tecklenburg knows the opponents well, after all she was the Swiss national coach for more than six years until 2018. She and the DFB women then have exactly two weeks until the first European Championship game in England: on July 8th Vice European Champion Denmark in London. After the 2:3 setback in the World Cup qualifier in Serbia, tailwind from the test against EM participants Switzerland is urgently needed.
Back on board after a corona infection during the first part of the EM Camps in Herzogenaurach is captain Alexandra Popp, who is not yet completely fit and will therefore not be on the pitch for 90 minutes. The most experienced national player in the squad with 113 DFB appearances finally wants to put her EM curse behind her – in 2013 and 2017 she missed the tournament injured.
Quotes
Martina Voss-Tecklenburg (national coach):
"The game is very important to us. We won't experiment anymore. We take ourselves very, very seriously a lot. Above all, we want to have fun and have fun and just make a really good game",
"Alexandra Popp has put it away well and is fresh. The status is very good. There are no problems and is going in the right direction. We're building up Poppi now, so hopefully at some point it'll be enough for 90 minutes."
Statistics:
The record of the DFB team against the Eidgenossinnen is almost flawless: In 17 meetings, the German team has won 16 games and one game ended in a draw. The DFB women won their last duel in May 2015 3-1 in Switzerland. At that time, Voss-Tecklenburg was still the coach of the Confederates. The highest German victory was an 11:0 in the European Championship qualification in 1994.
dvo/asz (SID)