Market researchers at TrendForce expect NAND flash memory to become cheaper in the imminent third quarter of the year due to oversupply in the market. Similarly, SSDs equipped with it should also become cheaper.
Price decline only faltered briefly
The forecast at the beginning of the year with significantly falling SSD prices was initially followed in February by disillusionment from the customer's point of view: An incident in the plants of Kioxia and Western Digital, which together account for around a third of global NAND production, destroyed several exabytes and caused problems for a production outage lasting several weeks. The forecasts were promptly changed from falling to rising prices, but at least the local end consumer market felt almost nothing.
Price forecast for the 3rd quarter of 2022
The new forecast from TrendForce now points in a clear direction falling prices for NAND flash and products based on it such as SSDs. The short-term disruption in production has long since been overcome and factors such as rising inflation and the generally falling demand in the PC segment are causing oversupply and full stocks.
Market researchers are therefore currently assuming that prices (spot prices) for NAND flash will fall by up to 5 percent in the third quarter. According to the report, contract prices for the purchase of whole wafers with NAND chips are even expected to fall by 5 to 10 percent and had already fallen in May.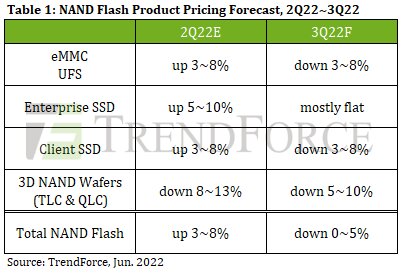 While enterprise SSDs should remain price stable due to the sustained high demand from so-called hyperscalers, i.e. primarily large cloud data centers, prices for client SSDs are expected to fall by around 3 to 8 percent. In the mobile sector with Universal Flash Storage (UFS) and Embedded MultiMedia Card (eMMC) for products such as smartphones and tablets, prices are expected to fall in the same range of 3 to 8 percent. "The trends of sluggish smartphone shipments and the cooling of the consumer market remain unchanged", TrendForce describes the current situation in this sector.
SSD- Prices in online retail are already falling
A look at the price comparison already shows a slight downward trend in SSD prices in the entry-level class: More and more offers start at 7 cents per gigabyte.