On the political map of Latin America, the left is expanding. The election of former guerrilla fighter Gustavo Petro as Colombian president is the latest example of this.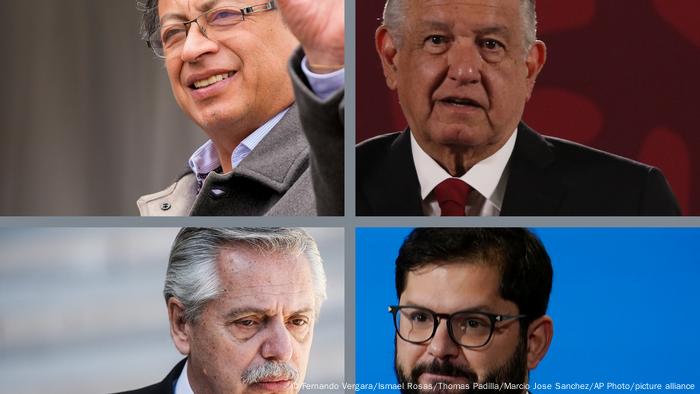 Left leaders in Latin America: Gustavo Petro (above left), Andres Manuel Lopez Obrador (above right), Alberto Fernandez (below left) and Gabriel Boric (below right)
With the election victory of leftist Gustavo Petro, Colombia joins the new wave of leftist governments seizing power in Latin America. In 2022, left-leaning presidential candidates were the favorites in both Chile and Honduras, and recent polls suggest former Brazilian President Luiz Inácio Lula da Silva could also defeat right-leaning candidates in the upcoming October elections.
The Latin American left had an additional reason to celebrate: never before had a candidate from this political spectrum won a presidential election in Colombia. Future President Gustavo Petro and his Vice-President Francia Márquez propose the formation of a new progressive axis in the region, along with other like-minded counterparts. The leaders of Mexico, Andrés Manuel López Obrador, Chile, Gabriel Boric, and Argentina, Alberto Fernández, were also the first to congratulate Petro on his election victory.
"A new left wave is on the rise in the region," Jan Boesten explained in a DW interview. Compared to the first wave, between 2000 and 2010, however, this seems to be stronger because today's challenges are far greater, according to the Colombia expert from the Latin America Institute at Freie Universität Berlin. The victory of the left in Latin America is mainly due to poor pandemic management, the economic crisis and growing social inequality.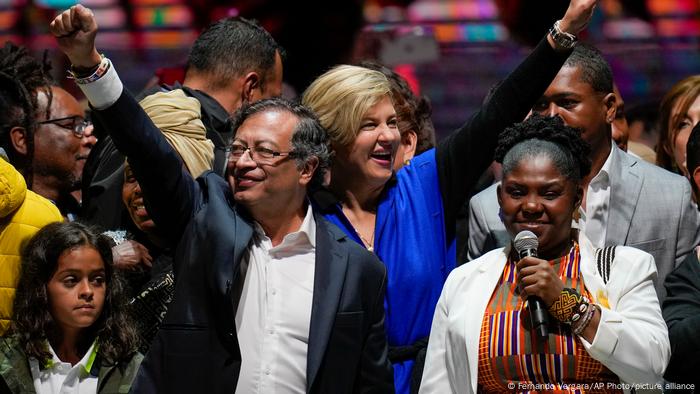 < p>With a raised fist, Gustavo Petro celebrates his election victory in Colombia
A left with shades
In the first decade of the new millennium, left-leaning candidates won key presidential elections such as Venezuela's Hugo Chávez, Brazil's Lula da Silva, Argentina's Néstor Kirchner, Chile's Michelle Bachelet, Uruguay's José Mujica, Bolivia's Evo Morales and Ecuador's Rafael Correa.
Political scientist Boesten points out, however, that a "radical left like that of Chávez cannot be compared with a moderate left like that of Lula da Silva or Bachelet. Every country has a different political and social reality".
According to Flavia Freidenberg, director of the Observatory for Political Reforms in Latin America, left-wing governments in the region continue to show their shades. One would have to distinguish between social, economic and ideological lefts. "First and foremost, however, we have to differentiate between democratic and non-democratic political systems," stressed the Argentine in a DW interview. She adds that Venezuela, Nicaragua and Cuba, three self-proclaimed leftist governments, do not belong in the group of democratic countries.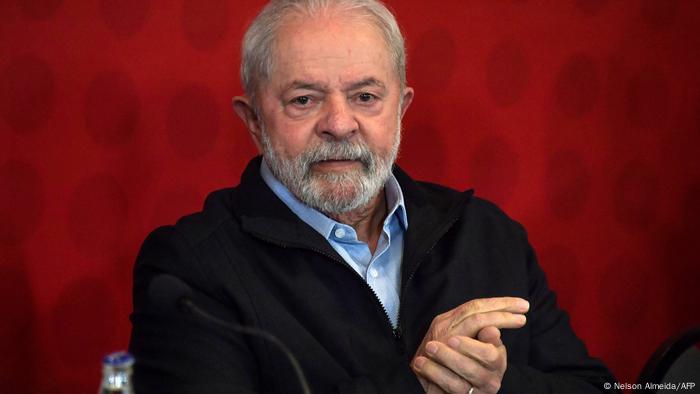 Will ex-President Luiz Inacio Lula da Silva make a comeback this year?
According to Freidenberg, the reality in Chile is very different, as President Boric leading a more moderate left where human rights and freedoms are respected. The expert "still" counts Argentinian President Fernández and his Mexican counterpart López Obrador among this centre-left group, although his relationship with important independent bodies and journalists has become increasingly tense in recent years.
Stigma, a common practice
The political scientist Boesten explains that the current stigmatization and humiliation campaign in the Colombian election process did not surprise him. The allegations that Petro would turn the South American country into a "second Venezuela" are not new. "We recently observed this strategy of equating left-wing politicians with Maduro and terrorism in Chile and Peru." However, it did not work out and only benefited the respective candidate. "I don't think Petro is endangering democracy in Colombia," said the expert. As mayor of the Colombian metropolis of Bogota and senator, he is part of the institutional structure.
According to Freidenberg, Petro's major challenge is to show where he will position himself on the left spectrum. The fact that Petro is a former guerrilla fighter is not a problem for her: "The great success of the democratization of our countries lies in the fact that the parts of the left that once opted for the armed path are now taking part in political competition via democratic elections participate".