Berlin and Warsaw should approach each other instead of blaming each other, says the German government's commissioner for Poland, Dietmar Nietan (SPD), in a DW interview.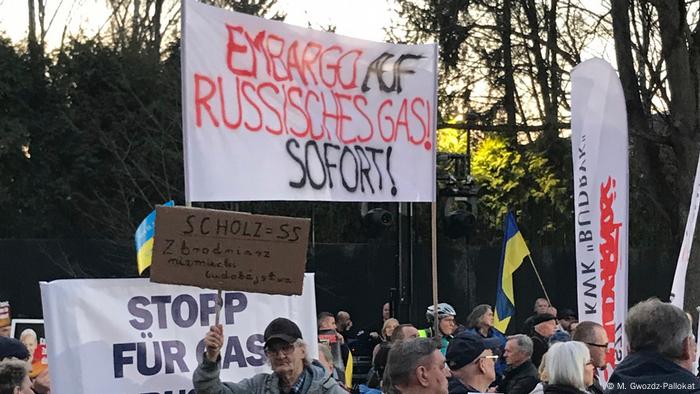 Protest against Germany's Russia policy in front of the German embassy in Warsaw on March 23, 2022
< p>Deutsche Welle: If you look at German-Polish relations at the moment, are you worried?
Dietmar Nietan: I'm not worried about German-Polish relations. But I know that relationships could get even better than they are now. And that should be an incentive for all those responsible in politics, whether in Poland or in Germany, to put aside party tactics or domestic political considerations and make an effort to ensure that Germany and Poland work together as closely as possible. In view of the threat posed by Vladimir Putin and the Kremlin, it is important that Germany and Poland work particularly closely together, especially in the EU, but not only there.
The SPD politician and the federal government's representative for Poland, Dietmar Nietan
Even before the start of the war against Ukraine, one could hear that Poland and Germany are currently more separating than connecting. The war and the German position on the issue of military aid to Ukraine are now putting an even greater strain on relations. There are voices saying that Germany's reputation in Poland has been ruined. Would you agree with that?
I'm a realist and I know that many people in Central and Eastern Europe are disappointed in Germany. I think there's a core of reasons I can understand the disappointment. But I also believe that a large part of the disappointment is based on misunderstandings. Nord Stream 2 was built during the times of the German governments led by Angela Merkel. She was stopped by the traffic light federal government headed by Olaf Scholz. After 16 years of responsibility of CDU/CSU defense ministers, the Bundeswehr is in its current poor state. It was the proposal of the Social Democratic Chancellor Scholz to equip the Bundeswehr with a special fund of 100 billion euros so that it can meet its obligations well-equipped.
Are the predecessors to blame?
In any case, one thing has to be made clear: the policy that the states in Central and Eastern Europe had been demanding of Germany many years earlier, for example to be more critical of the Kremlin and to invest more in defense capabilities, is now being practiced by the new federal government. Of course, this turning point takes place under the impression of the Russian war against Ukraine. But it is now being pursued consistently – and that should count in the end.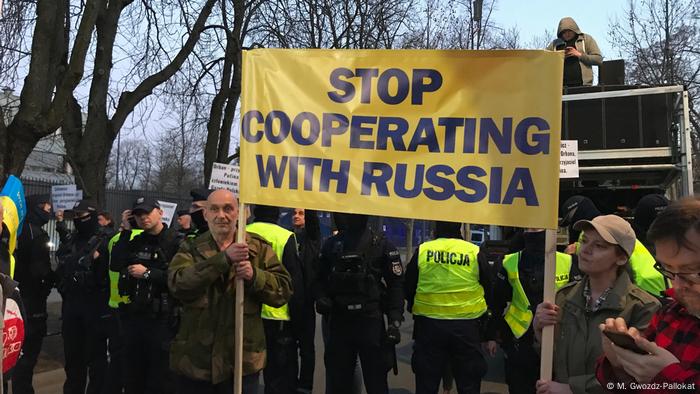 Protest against German Russia -Politics in front of the German embassy in Warsaw on March 23, 2022
Germany is accused of being too hesitant.
I can understand the disappointment. Because we weigh things up well, some things are perceived as hesitant. If you look at the facts, however, you have to realize that Germany supplies a lot of weapons, including heavy weapons, and was one of Ukraine's most important financial supporters even before the war. And it is the new traffic light federal government that is now making sure that the Bundeswehr can once again fulfill its mission in NATO. Because all these are points that can be ascribed to the new federal government, it is a priority task of the government and of German politics as a whole to better explain this turning point to our friends in Central and Eastern Europe. I believe that the nature and scope of our communications can be improved. I also see my task as coordinator as explaining what is currently happening in Germany and at the same time having open ears for justified criticism of German politics.
Federal Chancellor Olaf Scholz and Polish Prime Minister Mateusz Morawiecki on February 26, 2022 in Berlin
One gets the impression that Poland and Germany have been given new roles since the beginning of the war. Now Poland has the moral arguments against Germany on its side, because they were right about Putin and about Nord Stream. The country is also taking in millions of refugees. How does Berlin feel in this new role?
It is important to listen carefully to your friends and partners. I have to admit that many actors in German politics paid too little attention to the legitimate concerns and advice of our friends from Poland and the Baltic States and did not listen carefully enough. We made mistakes there. That's why I say: Yes, dear Polish friends, you were right in your assessment of Vladimir Putin and our analysis was wrong. Admitting this mistake is not a weakness, it is a strength for me. But I don't think there's any reason for triumph now. On the other hand, one has to say that when it came to taking in the refugees from Syria, Germany made a great humanitarian contribution to the EU, not Poland. On the contrary, the governing coalition in Poland has even stirred up resentment towards Muslims. When it comes to the rule of law, too, the government led by the PiS has been wrong. It has already had to correct its policy under pressure from the EU.
So you refuse the accusations from Poland?
What I mean is: Should I stand up now and point my finger Point to Poland and say yes, we made mistakes with Nord Stream 2 and Putin, but you made mistakes with the rule of law? Does that get us anywhere? Wouldn't it be better to admit that we've all made mistakes? The most important thing is that you learn from your mistakes. So if a German government learns from mistakes and a Polish government learns from mistakes, then for me that is first of all something positive.