"When there is freedom, culture can flourish," said musician Bobi Wine on a DW panel on opportunities and obstacles for Africa's creative scene.
< img src="https://static.dw.com/image/62210267_303.jpg" />
Bobi Wine fights for change in his homeland
"Liberty comes to those who fight but not to those who cry, because the more you cry, the more your people die, so stand up and defend your rights…!" With these lines from his song "Time Bomb," Bobi Wine opened the panel on June 21 that the DW culture editors had invited to the annual Global Media Forum. In his home country, Wine could end up in prison for it. Since 2018, Robert Ssentamu Kyagulanyi, as his real name is , has been a "discontinued artist" in Uganda: "I'm not allowed to give concerts and my music is not allowed to be played on the radio or on television," he explains.&nbsp ;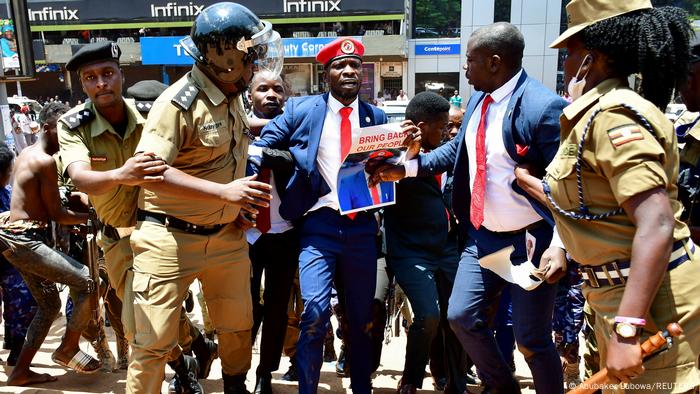 In his homeland, Bobi Wine (middle) was repeatedly arrested
Bobi Wine is a thorn in the side of the Ugandan government. He has been politically active himself since 2017 and has declared war on President Yoweri Museveni, who has been in power for 36 years. In 2021 he even ran as a presidential candidate – despite all attempts at intimidation: Wine has been repeatedly arrested and tortured in recent years. After he lost the election, he and his family became four – Wine has four with his wife Barbara Children – placed under house arrest for months. The fact that he is still alive at all may be due to the fact that the government wants to at least appear to the outside world that opposition is possible. Yoweri Museveni governs the country autocratically – he silences unpleasant opponents or simply disappears p>Moderator Karin Helmstaedt (middle) moderated the discussion
Wine still doesn't want to leave his country. "It would be betrayal – of myself and my people," said the musician in an interview with DW presenter Karin Helmstaedt. And ultimately it wouldn't make any sense either, Wine continues: "The tyrants who live in some countries of Africa can track you down and assassinate you in any part of the world." Then he would rather die in his own country: "At least that way I save my family the cost of transporting my body from wherever and bringing it home. Uganda is the country where I was born and in which I will also be buried at the end of the day."
To go or to stay?
Writer Stella Gaitano from South Sudan, the neighboring country of Uganda, has taken the difficult step into exile. She, too, was politically persecuted and arrested several times, not only because of her texts in which she denounced warmongering in her home region, but also for her work as an activist. The Sudan-born author took part in protests against the former ruler and autocrat Omar al-Bashir, who was overthrown by the military in 2019. And she is involved in various NGOs that provide refugees and displaced persons with food donations – but also with books. "Change can only come through education," says Gaitano. "Dreaming is not enough; we must work hard to make our countries better."
Art as the engine of change


Stella Gaitano

Born in Sudan in 1979, the author primarily writes about war, flight and expulsion, but also about great expectations and hopes for her home region. In early 2022, she fled to Germany with the help of the PEN writers' association. "Art is a living thing: it needs space to be freely expressed, accepted and supported," says Gaitano.

Art as the engine of change


Angèle Etoundi Essamba

Angèle Etoundi Essamba comes from the francophone part of Cameroon, but left her home country at the age of ten. Today she lives in the Netherlands and is considered one of the most successful African photographers. She draws her inspiration from the heritage of her homeland and regularly travels back and forth between continents.

Art as an engine of change


Bobi Wine< /h2>

According to his Twitter bio, Bobi Wine is "a ghetto kid who has something to say through music…" And Robert Ssentamu Kyagulanyi, as his real name is, does that not only with his music but also as an activist and politicians. In 2021, despite massive attempts at repression, he ran against long-term president Yoweri Museveni, but ultimately lost.

Art as a driver of change


Ike Nnaebue

The Nigerian director, screenwriter and producer is considered one of the leading representatives of new African cinema. His most recent works deal with the issues of migration and human trafficking – his documentary "No U-Turn", for example, examines why young Africans are still forced to risk their lives to reach Europe.

< li class="hideBeforeLoad"> Art as an engine of change

Akinbode Akinbiyi

Born in Oxford, Akinbode Akinbiyi has Nigerian roots and now lives in his adopted home of Berlin. He is one of the best-known African photographers and describes himself as a "wanderer between cultures and worlds". For years he has been capturing the bustling life in African metropolises with his camera – just like in the German capital.
Gaitano prepared her children that something might happen to her or that one day she might have to flee. "That made me strong and that made her strong," says the author, who has been living in Kamen in North Rhine-Westphalia since March 2022 as a scholarship holder of the Writers-in-Exile program of the writers' association PEN. Her three sons are still in Sudan with Gaitano's EX-husband – they are currently awaiting their visas.
Filmmaker Ike Nnaebue from Nigeria also wanted to leave his homeland more than 20 years ago to seek his fortune in Europe: "I wanted to help my mother and my siblings. My father died when I was two years old." ;In Mali, however, Nnaebue met a man who changed his mind: "What he told me about the dangers of the journey scared me. Of course I wanted to make money, but I also had to stay alive."
< p>Nnaebue is now an acclaimed filmmaker. His documentary "No U-Turn" (Eng. "Lagos – Tangier: Journey without a return ticket"), in which he lets migrants have their say, was honored as an outstanding achievement at this year's Berlinale. "As artists, we have a very big responsibility. Part of our job is to hold up a mirror to society and show it the direction we should be going," Nnaebue told DW. "Our job as creative people from Africa, from West Africa and especially from Nigeria is to show what is possible. To show that people can dream, no matter where they are."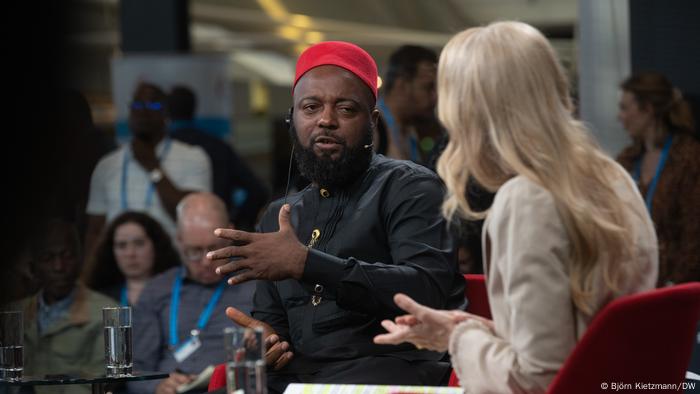 Ike Nnabue started his career in Nigeria's local film scene, Nollywood, before turning to documentary
It is a wonderful time to be a filmmaker in Nigeria, Nnaebue continues. For example, you can use the smartphone, which has made filmmaking much easier and more accessible. And people are now ready for more in-depth stories, not just the usual Nollywood flicks [Nigeria's local film scene, editor's note], which are mainly about love and money. "They want to hear stories about everyday heroes." For example, about a market woman who has saved all her life and can thus enable her children to study law and medicine. "We encourage people to tell these kinds of stories, because these are the stories that show people's magic."
Artwork on the move
The Cameroonian photographer Angèle Etoundi Essamba also captures this magic. "I wanted to break with all the stereotypes surrounding the depiction not only of Africa but also of African women," says Essamba, whose works from this year be included in the permanent collection of the New York Museum of Modern Art . "I wanted to reappropriate the black female body, to show that it is a body like any other body. A body that asks questions, that denounces, that speaks of development, injury, fragility, but above all of strength and resilience. "
Essamba firmly believes that art can bring about change. In the last 20 years, African art has become more and more popular, which has clearly benefited the artists. In contrast to the past, you no longer necessarily have to leave the African continent in order to get involved in the international art scene: "The most important thing is that the artists' works travel."
Art Biennale: Africa in Venice


Cameroon: Angèle Etoundi Essamba

In recent years, more and more African artists have presented themselves at international art shows. So also in Venice. In 2007 there was only one African pavilion, this time there are eight. Angèle Etoundi Essamba contributes to the Cameroon Pavilion. Her main subject: women. Essamba breaks with stereotypical representations: Her women radiate strength, pride and self-confidence.

Art Biennale: Africa in Venice


Uganda: Collin Sekajugo

In addition to Cameroon and Namibia, Uganda is also part of the first time in Venice. The multimedia artist Collin Sekajugo deals primarily with the subject of identity in his works. He often uses himself as the central figure in his picture collages, as a metaphor for his multi-ethnic – his mother is from Rwanda, his father from Uganda – affiliation.

Art Biennale: Africa in Venice


Namibia: "RENN"

A controversy has broken out about the contribution from Namibia: In a petition, local artists criticized the project by "RENN", a 64-year-old white artist, as showing a racist and colonialist view of indigenous peoples. The main sponsors then withdrew. The Lone Stone Men of the Desert project has been cancelled.

Art Biennale: Africa in Venice


Ghana: Afroscope

In 2019, Ghana celebrated its highly acclaimed debut at the Biennale. In 2022, Nana Oforiatta Ayim will once again curate Ghana's pavilion. Afroscope, among others, is contributing works to the group show "Black Star-The Museum as Freedom": In his works, the artist creates dream landscapes that are often influenced by myths. For him, art is a way of depicting alternative realities.

Art Biennale: Africa in Venice


Ivory Coast: Laetitia Ky

Feminist and artist Laetitia Ky has become famous via Instagram thanks to her hair, which she shapes into all sorts of symbols and figures. In her art, she draws attention to colonial structures that can still be felt on the African continent. According to Ky.

Art Biennale: Africa in Venice


Kenya: Kaloki Nyamai

For the Kenyan pavilion, Kaloki Nyamai is contributing works that deal, among other things, with the history of the Kamba communities, an ethnic group in eastern Kenya. In doing so, he engages with the oral, unrecorded narratives of his community and his own fragmented memory. His work moves between the figurative and the abstract.

Art Biennale: Africa in Venice


South Africa: Lebohang Kganye

Lebohang Kganye represents South Africa at the Biennale with two other artists. The up-and-coming young artist works primarily with photography, but also creates sculptures, performances and installations. In her photographs, she often combines archival elements and characters from her family stories, theater and literature into imaginary scenarios.

Art Biennale: Africa in Venice


Zimbabwe: Terrence Musekiwa

Terrence Musekiwa was born into sculpture: at the age of five he helped his father with the traditional stone building sculpture. His visual language wrestles with convention; he wants to challenge Zimbabwean tradition and at the same time pay homage to it. His works are part of the Zimbabwe Pavilion in Venice. The 59th Biennale runs from April 23 to November 27, 2022.
British-Nigerian photographer Akinbode Akinbiyi takes a similar view: "It's a good time for African artists. Things are really moving on the continent." Akinbiyi has lived in Berlin for many years. He regularly travels to Africa to give workshops there. He gives this advice to young artists: "I keep emphasizing that you have to be passionate about what you do."
Together for change
None of the five guests who came together for the DW discussion lacked passion. Despite all the obstacles, be it censorship, conflicts or a lack of financial opportunities, they are all convinced that social change is also possible thanks to art. "Art is a gentle force," says Stella Gaitano. "And that's why they [the dictators, editor's note] are afraid of culture and art, because it changes people's consciousness, because it raises awareness."
"We are all fighting for change", summarizes Angèle Etoundi Essamba. Above all, it is important that you stand together in this fight.