Spotlight is the overall search function of your iPhone, iPad and Mac. It's a quick way to find what you're looking for, launch apps, and more. The function searches locally on your device, but also via the web. Every year Apple makes a number of useful improvements, and this year also brings some new things to Spotlight in iOS 16, iPadOS 16, and macOS Ventura. There's a new way to activate Spotlight, the feature gets smarter and more beautiful, and on the Mac, there's also a useful feature added.
Spotlight button on home screen

< li>Quick actions with Spotlight

Find images in apps
Rich results
Quick Look for files
Smarter suggestions
Live Activities
#1 Spotlight button on your iPhone home screen
Available on: iOS 16
You might notice the first thing you notice when you look at the iOS 16 home screen: the new Spotlight button at the bottom. A Search button is now standard in place of the start screen dots. You just need to tap this to open Spotlight, which is just a bit faster than swiping down on the Home screen. By the way, the Search button changes back to dots (up to three) as soon as you swipe between home screens. Do you find it annoying? Then you can easily disable this via the settings via Settings > Home screen > Show Spotlight.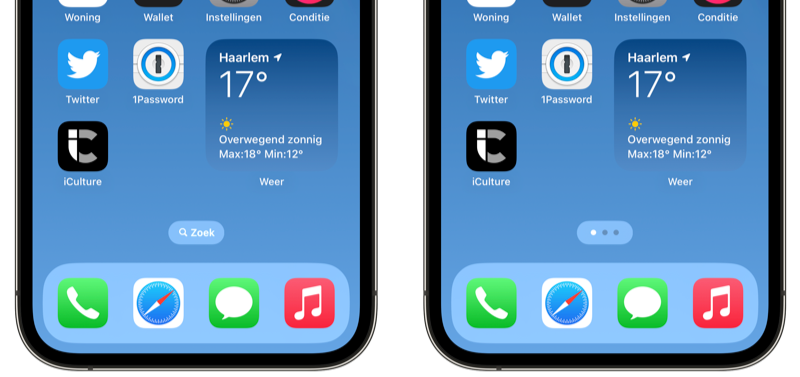 You may also notice that Spotlight's search bar is no longer at the very top, but directly above your keyboard. This makes it easier to see what you type.
#2 Spotlight Quick Actions
Available on: iOS 16, iPadOS 16, macOS Ventura
Spotlight is also getting something functionally new. With the new quick actions you can immediately perform tasks by typing. It is therefore a kind of typed version of Siri. Think of starting a timer or turning on a focus. Type the word Timer and a button will appear with which you can immediately start a timer and enter the number of seconds. In fact, you're using standard Siri Shortcuts here. Apple also allows you to launch your custom Siri commands from the Shortcuts app. So all you have to do is type, without having to say anything to Siri.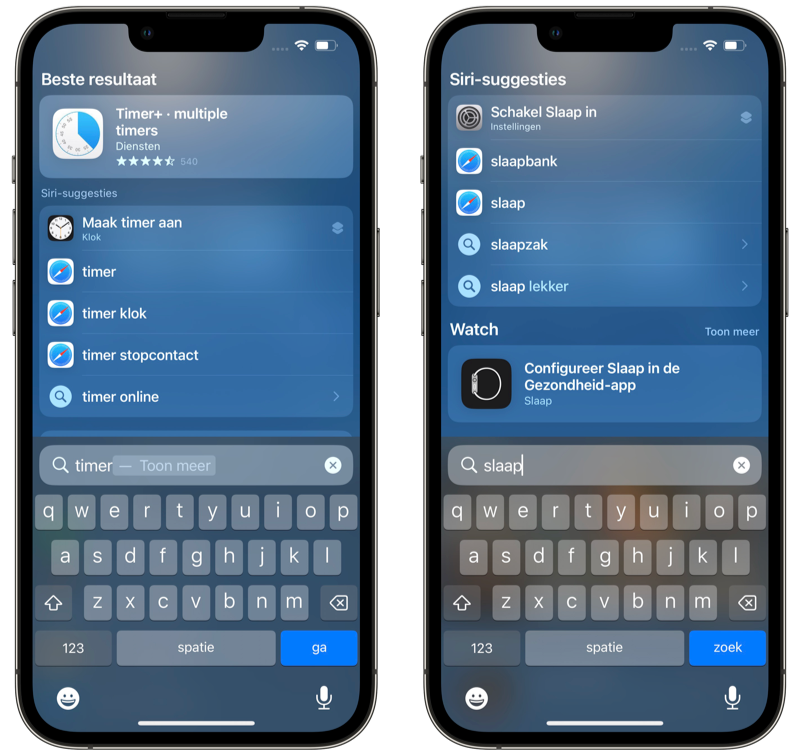 #3 Find images in more apps
Available on: iOS 16, iPadOS 16, macOS Ventura
Spotlight can also search for images in more apps than just the Photos app, starting with iOS 16 and macOS Ventura. Think of images in Messages, Notes and the Files app. You can search by location, but also by people or objects that can be seen in photos. Thanks to Livetext, Spotlight can also search text in photos, although unfortunately this function does not work in Dutch.
On the Mac, Spotlight can also search images on the web, as a sort of alternative to Google Images. Unfortunately, this does not work in Dutch, but it does in languages ​​such as English, German, French and Spanish.
#4 Richer results with more info
Available on: iOS 16 (improved), iPadOS 16 (improved), macOS Ventura (added)
When you search for information about a company, artist or sports league, the results are now more beautiful with more information. In macOS Ventura, the richer results come to Spotlight for the first time, while on the iPhone and iPad it has been extended to businesses, sports leagues, and teams. For example, the nicer view shows general information, with a general explanation, when it was founded and the associated social media accounts. An example: if you search for Eredivisie in iOS 15, you will immediately get the recent sports results. In iOS 16 you can see the full leaderboard and general information.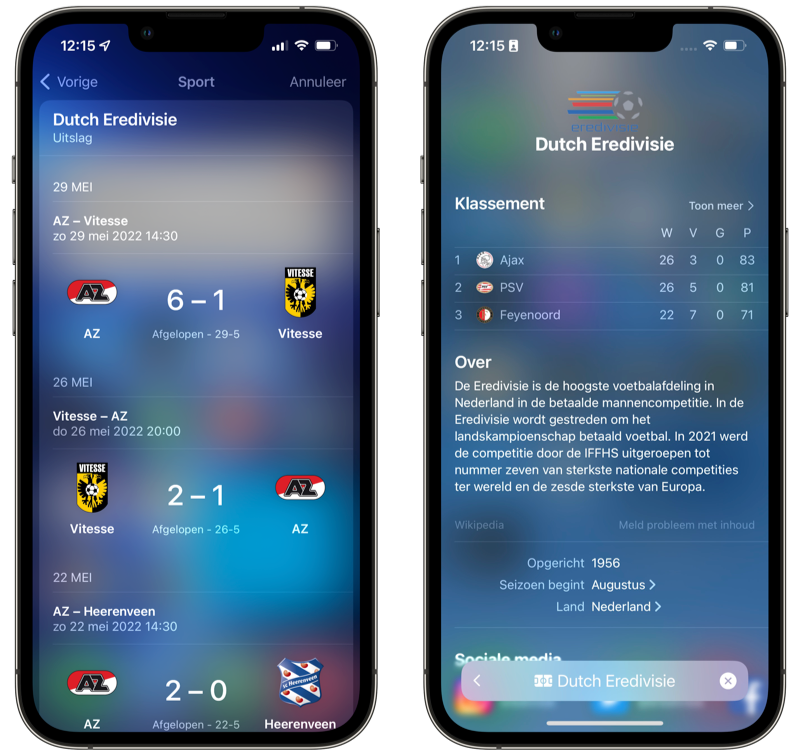 iOS 15 vs iOS 16
#5 Quick Look for Files
Available on: macOS Ventura
On the Mac, starting with macOS Ventura, you get the option to preview files directly from Spotlight. If you search for a file name and highlight it with the cursor or arrow keys, you can press the spacebar to get a quick view. You already know this feature from the Finder and from files on your desktop, so it now works directly from Spotlight.
#6 Smarter suggestions from Siri
Available on: iOS 16, iPadOS 16
As soon as you open Spotlight, search suggestions immediately appear on the screen. These come from Siri, so you can start a search or complete tasks without typing. These search suggestions are a lot smarter in iOS 16 and iPadOS 16, according to Apple, because they look more at context. For example, you can see your recent searches, but also searches and tasks that are useful at that time. Think of starting a navigation to the location of your next calendar event.
#7 Live Activities from Spotlight
Available on: iOS 16, iPadOS 16
Live Activities are new in iOS 16. These are a kind of extended notifications, allowing you to follow a live event from the lock screen. Think of a football match or the status of your package or your ordered taxi ride. This feature won't be available in iOS 16 until later this year, so it won't be available right away. But the Live Activities also come to Spotlight for following sports competitions. Support will be limited for this. For example, you can start a Live Activity for the National Basketball association and the English Premier League in the US and Canada. Major League Baseball will also be supported in the US, Canada, Australia, UK, Brazil, Mexico, Japan and South Korea. You activate these Live Activities from a Spotlight search.
More about iOS 16
iOS 16 is the major update for the iPhone. If you want to know whether your iPhone is suitable for iOS 16, you will find the answer in our article. Also read our overviews with the best iOS 16 features and the best iOS 16 details and discoveries. Currently, only developers can install the iOS 16 beta. The public release date of iOS 16 is scheduled for this fall. The most recent stable iOS version is iOS 15.5.