Most of the new game features apply to iOS 16 as well as to iPadOS 16, macOS Ventura, and even tvOS 16. We'll walk you through them below.
#1 Nintendo Switch Support controllers
#2 Buddy controller
#3 SharePlay via iMessage
#4 SharePlay in Game Center
#5 Redesign for Game Center
#6 Game Center in Contacts
#7 Metal 3
More innovations in iOS 16
#1 Support for Nintendo Switch controllers
Available on: iOS 16, iPadOS 16, macOS Ventura, tvOS 16
Because tvOS is always a little neglected at Apple, we start with a new function that is óók in tvOS 16. In fact, it's one of the most visible improvements: support for Nintendo Switch's game controllers. In recent years, Apple already added support for the controllers of PlayStation and Xbox, but the Joy-Cons of the Nintendo Switch were unusable, and neither did the Nintendo Switch Pro controller. In iOS 16 and tvOS 16, this is finally possible. Joy-Cons can be used individually or paired together to form one controller. If you have a Nintendo Switch and sometimes want to play a game on your Apple TV, that's good news.
More new features for tvOS 16 can be found here.
Watch also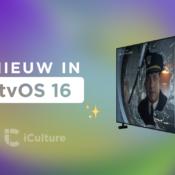 These features are coming to the Apple TV in tvOS 16
Apple barely paid attention to the Apple TV this year, but we are the don't forget to update. In this article we have selected and listed the new features of tvOS 16 for you. What improvements will you get this year?
#2 Buddy controller
Available on: iOS 16, iPadOS 16, macOS Ventura
Speaking of game controllers, there's another feature coming, which is a bit more geared towards people with disabilities. You can combine the input from multiple game controllers into one so that a caregiver or friend can help you pass your next level. We already see opportunities for people without disabilities to eagerly take advantage of this, because two players are stronger than één.
#3 SharePlay via iMessage
Available on: iOS 16, iPadOS 16, macOS Ventura
Apple added support for SharePlay in FaceTime in iOS 15 for watching together movies and listening to music. Later, iOS 15.4 also added the ability to launch SharePlay from any app by opening the share menu.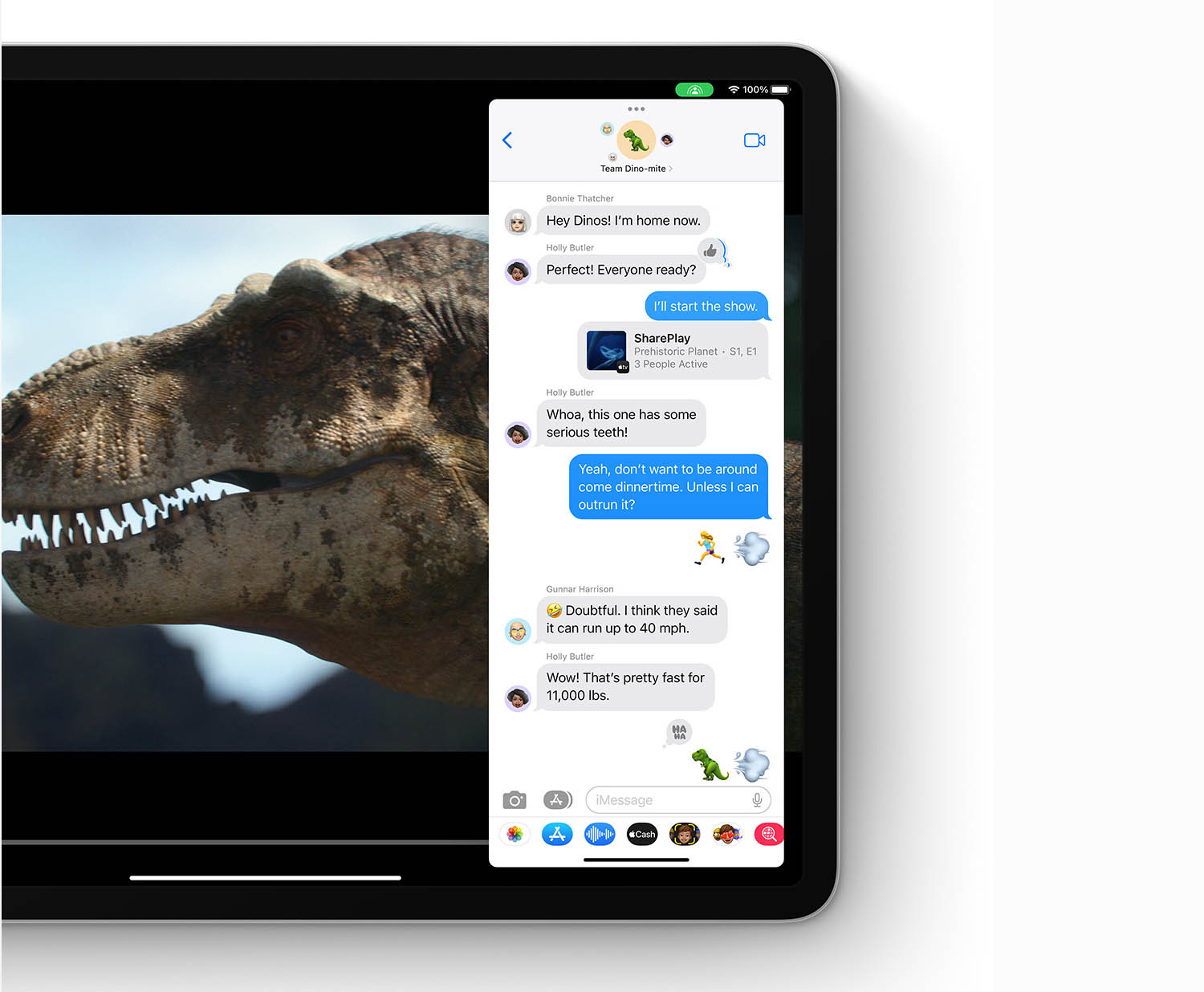 In iOS 16, an additional feature is added: you can sync your SharePlay content via the Messages app. This applies to music, movies, games and workouts. You can watch the latest episode of your favorite TV show with your friends while chatting in iMessage. On-screen buttons allow anyone to pause.
Initially, SharePlay was strongly focused on listening to music and watching movies together, but something else is added in iOS 16: playing a multiplayer game together thanks to the improvement we discuss in the next section.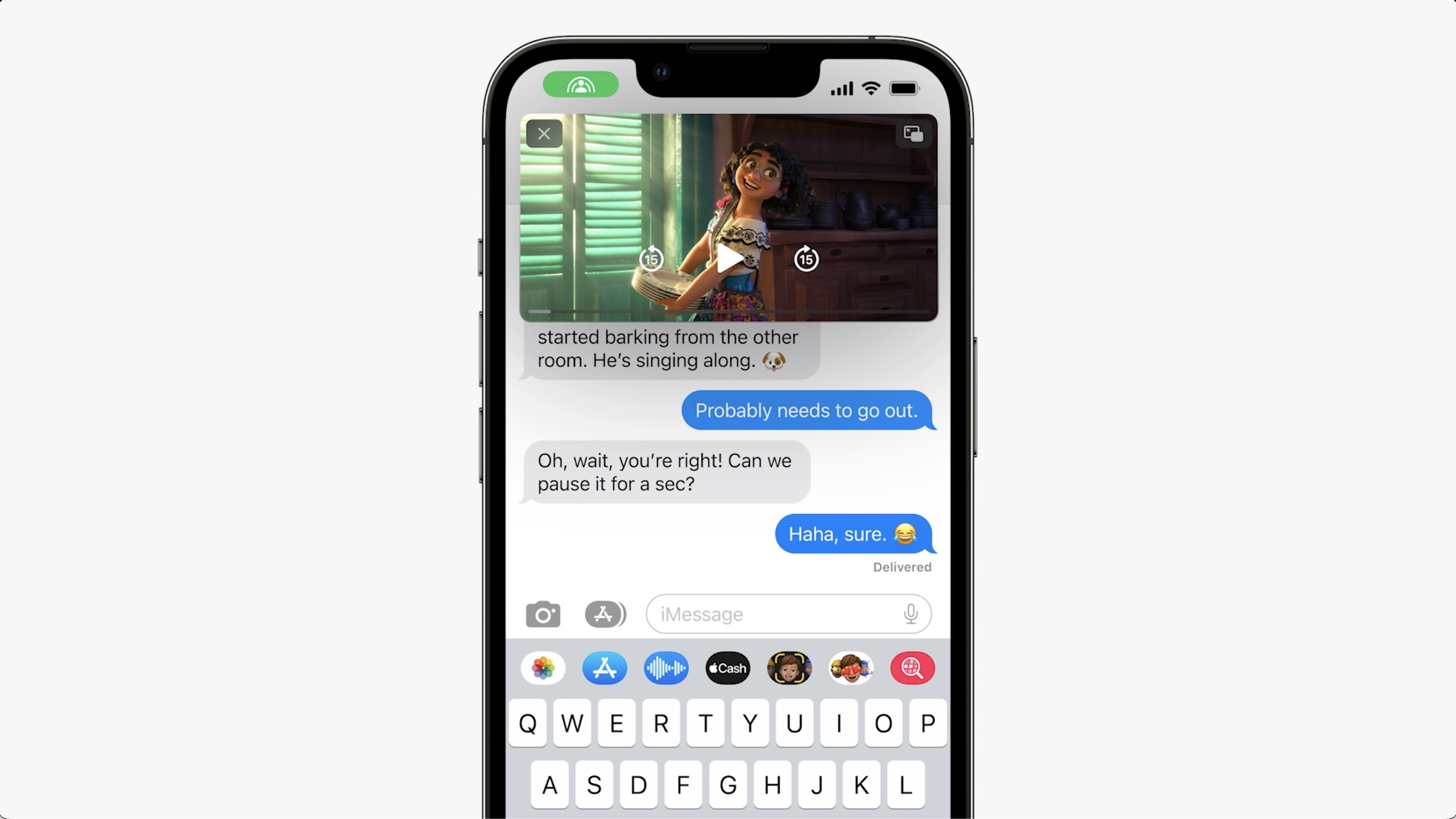 #4 Shareplay Game Center
Available on: iOS 16, iPadOS 16, macOS Ventura
As mentioned, SharePlay was initially intended for doing other activities during a FaceTime call with friends, such as watching TV and using apps. Thanks to the new Game Center integration, all games that offer multiplayer support via Game Center also automatically work with SharePlay. The developers no longer have to adapt their game for SharePlay. There were quite a few games that had done that, such as Heads Up! and Guessing Game, but the offer was limited. There are many more games that offer Game Center multiplayer.
#5 Redesign for Game Center
Available on: iOS 16, iPadOS 16, macOS Ventura
Who would have expected Apple to put some effort into Game Center? The feature appeared years ago with an (by then standards already) old-fashioned look of a poker tablecloth. Later, Apple made the appearance a bit more abstract, but there were not many new functions. Well, you could make your profile more anonymous by setting an auto-generated nickname. But ever since we became the 'Most affectionate sheep' going through life, you just can't seem to make new friends. Maybe it doesn't sound competitive enough?

c17.png"
Apple has now given the look of the Game Center dashboard a major update. It is clearer to see which games you have played and which achievements you have achieved. You can find it in Settings > Game Center.
But not yet! All Game Center updates won't come until "later this year" available. That goes for more functions by the way.
See also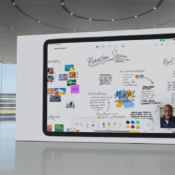 These iOS 16 features won't be available until later
Not all features announced at WWDC 2022 will be available immediately. For example, Matter support will only be noticeable later and Freeform is not yet usable. In this article we list the functions that will only become available later.
#6 Game Center in Contacts
Available on: iOS 16, iPadOS 16, macOS Ventura
A somewhat remarkable 'innovation' is that Apple now integrates the address book on your iPhone with Game Center. You will see the Game Center profile with your contacts, which games someone plays and what achievements they achieve. All the more reason to use our profile name 'Verinnigste Schaapje' to think again. We hope this is a feature you can disable. With business contacts it might be nice to know which sports club they support or which special hobbies they have, but a list of games played – we're not really looking forward to that.
This feature will also come later this year in iOS 16 and the other software updates.
Metal 3 for games
Metal 3 is coming to the Mac. This new version of the Metal framework makes your games even smoother, thanks to better communication with the graphics card. It can be found in macOS Ventura but you only benefit if you have the right Mac (see below).
One big improvement is 'MetalFX Upscaling'. This allows a game at low resolution to be improved to high resolution thanks to smart AI techniques. This costs less computing power, while you do have better quality on the screen. Also new is 'Fast resource loading', which allows your graphics card to directly access the compressed data from games, without having to unpack it first. As a result, games load much faster. The Mac can therefore handle bigger and more beautiful games, such as Resident Evil: Village and No Man's Sky. These are coming to the Mac this fall. Previously, such games were not possible.
These Macs support Metal 3:
Mac with Apple Silicon, so an M1 or M2
AMD Radeon Pro Vega series video card
AMD Radeon Pro 5000/6000 series graphics card
Intel chip Mac with Intel Iris Plus Graphics
Intel chip Mac with Intel UHD Graphics 630
Via  > You can see if your Mac complies with this Mac.
There is much more to come in terms of new functions. For example, Siri in iOS 16 gets some useful improvements and we are pleasantly surprised about the stops in Apple Maps.
More about iOS 16
iOS 16 is the major update for the iPhone. If you want to know whether your iPhone is suitable for iOS 16, you will find the answer in our article. Also read our overviews with the best iOS 16 features and the best iOS 16 details and discoveries. Currently, only developers can install the iOS 16 beta. The public release date of iOS 16 is scheduled for this fall. The most recent stable iOS version is iOS 15.5.