A few months ago, there was a rumor that Apple would release a new dual power adapter, rated at 35W. Shortly after WWDC, this new charger appeared in Apple's own official webshop, but it was not yet available to order. As of today, with the pre-order of the new MacBook Pro M2, this charger can be ordered separately (€ 65,-). But what good is it?
Apple's Dual 35W Charger
The new dual looks like any other USB-C power adapter for MacBooks. It is a white block with a plug on it, which you can also exchange for another international plug. The charger is basically suitable for the latest MacBook Air, but also works with previous generations of the MacBook Air. Due to the power of 35W, this charger is not intended for the MacBook Pro models.
The unique thing about this charger is that it has two USB-C ports. So you can connect two cables to this. This allows you to charge your MacBook and, for example, your iPhone at the same time (via a USB-C to Lightning cable). Due to the power of 35W, that is also a lot faster with your iPhone. You can also use the charger to charge an iPhone and iPad at the same time.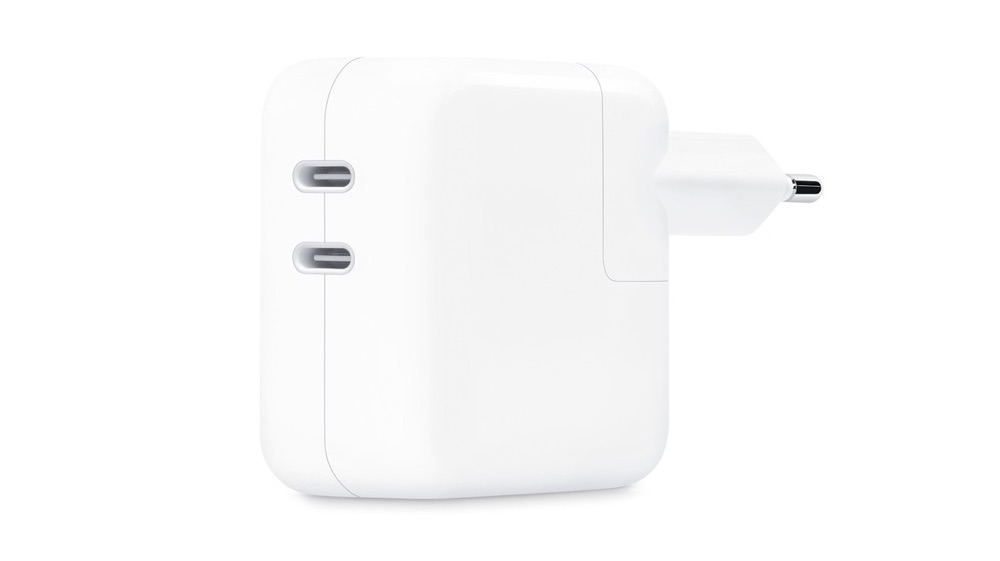 If you are planning to purchase a MacBook Air M2, please note that this new charger comes standard with the extended model. If you choose the entry-level model, you can upgrade to the double version for an extra €20. That is cheaper than buying the double variant separately for €65.-. Also keep in mind that the charger comes without a cable.
Incidentally, Apple releases two versions of this charger in the US: the version that is for sale in Europe (in an American version) and an extra compact version with a fixed plug. You can fold the pins for the socket in this version, which makes it extra compact for in the bag. Unfortunately, this is not available in a European version.

Double charger ideal for travel
Apple's new dual 35W charger seems especially ideal for travel. So you only need one socket to, for example, charge both your iPhone and that of your partner. Or if you use a separate charger for both your iPhone and Apple Watch, for example. Due to the modular plug, the double mains adapter is therefore suitable for Apple's travel plug set. For €35,- you get all kinds of plugs for different regions.