The turmoil in Sri Lanka is affecting all sections of society, but Tamils ​​have been particularly hard hit. The first of them are already fleeing to India. But even there it is not easy for her.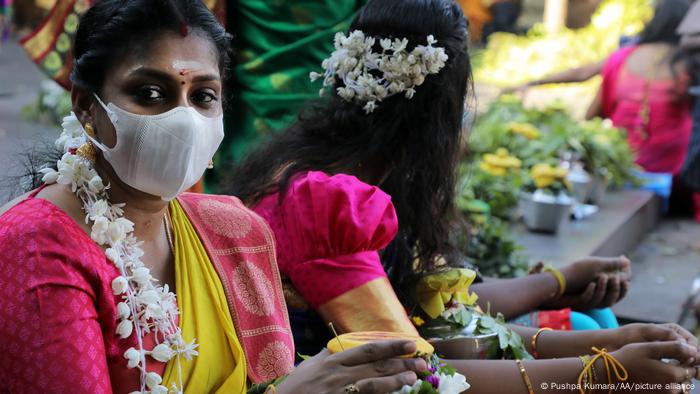 Tamils ​​are feeling the effects of the economic crisis hard hit
Dozens of poor Sri Lankan families have fled to southern India in recent weeks. The background is an acute economic and political crisis that has gripped the island state in the Indian Ocean. Sri Lanka is in the midst of the worst economic crisis since independence from Great Britain in 1948. A major trigger of the crisis was the slump in international tourism as a result of the corona pandemic.
The country of 22 million people is now struggling with severe shortages of basic necessities, including food, fuel and medicines, and has no foreign exchange reserves to buy these goods from abroad.
The resulting public anger against the government sparked mass protests in the streets and political unrest. The resignation of Prime Minister Mahinda Rajapaksa and his cabinet – and the appointment of a new prime minister – has done little to calm public anger. Armed soldiers are currently patrolling the streets to maintain order.
Watch Video 01:38
Sri Lanka on the verge of collapse
A dangerous journey
41-year-old Rani told DW how eight of her family members, including small children, fled the economic hardship by boat to India. They sold their land in Sri Lanka and rented a boat with the money. They were traveling with another family of four: a couple with their two children, aged four and a half.
"My husband and children could no longer find work. Food prices are rising every day," says Rani, who declined to give her real name. "My family needs at least two kilograms of rice a day. The price we paid for rice last time was about 250 Sri Lankan rupees (about 0.65 euros) per kilo. We had to pay about 500 rupees a day on our own pay for rice. We couldn't buy any other groceries for our children," says Rani.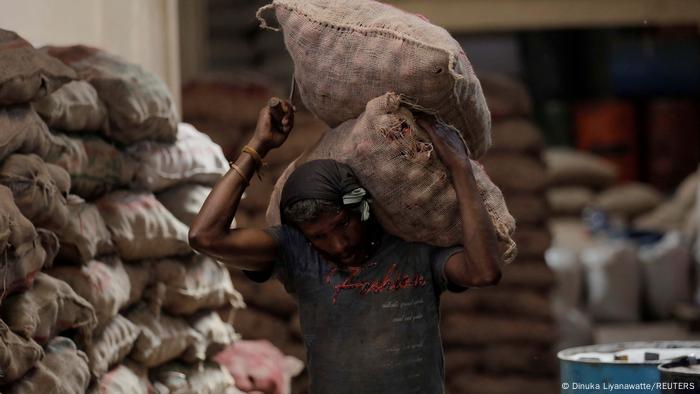 Since For months, Sri Lanka has been struggling with a shortage of medicine, food and fuel
Rani's son has thalassemia, a genetic defect that disrupts the formation of red blood cells. "He needs to eat nutritious food. I wanted to give my children a better life. That's why I decided to go to India," says Rani.
"We were afraid of being caught crossing by the Sri Lankan authorities," she explains. "If we had been caught, they would have forced us to turn back. Then all the money we would have spent renting the boat would have been for nothing." But her family also faces an uncertain future in India.
Tamils ​​are hit particularly hard by the crisis
Indian authorities have so far registered 28 Sri Lankan families totaling 85 people who arrived by boat in the southern state of Tamil Nadu. They all belong to the Tamil community, an ethnic minority group in Sri Lanka that has deep social, cultural and linguistic ties with the people of Tamil Nadu.
The Sri Lankan Tamils ​​are the island nation's largest ethnic minority. They make up about twelve percent of the population and are struggling to recover from the decades-long civil war that lasted until 2009 and cost the lives of around 100,000 people. Even around 13 years after the end of the war, reconciliation seems a long way off. And now they seem to be hit particularly hard by the economic turmoil.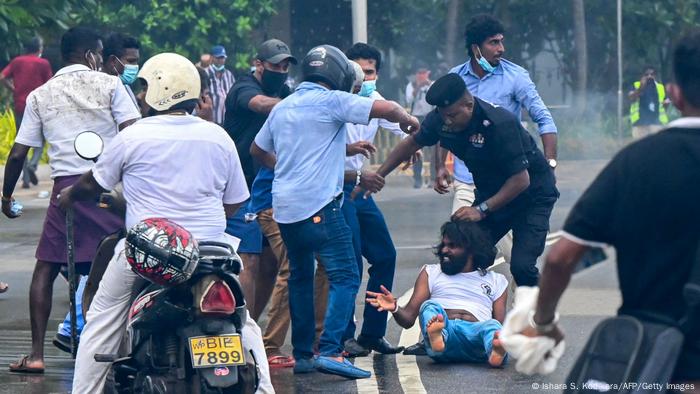 As a result of the economic crisis, it came in early May in Serious civil unrest in Sri Lanka
At least that's what Suraj Girijashanker, a specialist in international refugee law and assistant professor at the Jindal Global Law School, says in an interview with DW. He points out that the Sri Lankan Tamils ​​are feeling the economic hardship more than they are Majority society – also because the economic development of their settlement areas was neglected by the government in Colombo for decades.
More than 90,000 Tamils ​​live in India
It is not the first time that Tamils ​​have fled Sri Lanka to India, just 30 to 50 kilometers away; Since the beginning of the civil war in 1983, there have been repeated refugee movements. According to the Indian Ministry of the Interior, around 93,000 Sri Lankan Tamils ​​were living in Tamil Nadu in 2021.
However, India is not a signatory to the 1951 Refugee Convention or the 1967 Protocol relating to the Status of Refugees. Nor does New Delhi have any domestic legislation governing the entry and residence of asylum seekers. It treats all who come to the country seeking refugee status as illegal migrants under the Aliens Act of 1946.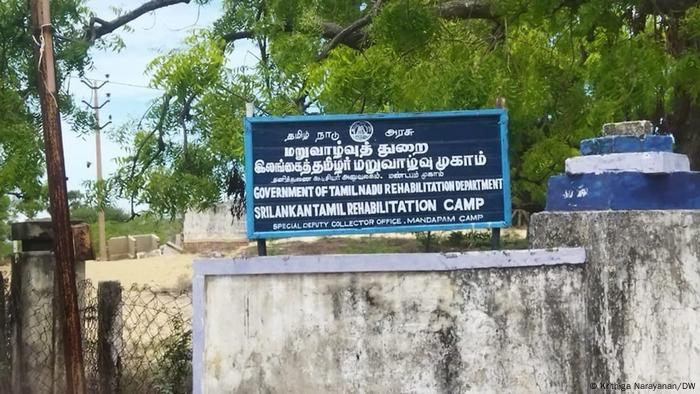 The Mandapam refugee camp is the temporary terminus for the Tamils ​​who have fled from Sri Lanka
The United Nations High Commissioner for Refugees (UNHCR) is responsible for processing the applications of such individuals and determining their status in India. Until then, refugees will receive a UN document allowing them to stay in the country. However, this is largely rejected by the Indian authorities. However, without the support of the Indian government, asylum seekers and migrants find it very difficult to rent housing or find work.
Trapped in refugee camp
Indian authorities have transferred the newly arrived people from Sri Lanka to Mandapam refugee camp in Rameswaram city. Rani and her family have also been here for over a month." "My daughter-in-law is six months pregnant," she says. how we will cope after the baby is born."
26-year-old Mani also arrived in India in March with his wife. He doesn't want to give his real name either and only reveals that he used to work as a painter in Sri Lanka. "Because of the economic crisis, we couldn't do anything in Sri Lanka anymore," he says. "But if I If I had known that we would be held in a refugee camp like this for over a month, I would not have come at all," he says. "We don't know what will happen to us," complains Mani. "If we get the necessary documents from India, we can work and take care of our families ourselves. That's all we ask."
Adapted from English by Thomas Latschan.