In the 2020 election campaign, Svetlana Tichanovskaya, Maria Kolesnikova and Veronika Zepkalo ran against ruler Alexander Lukashenko – and thus changed Belarus. Now they will receive the Charlemagne Prize in Aachen.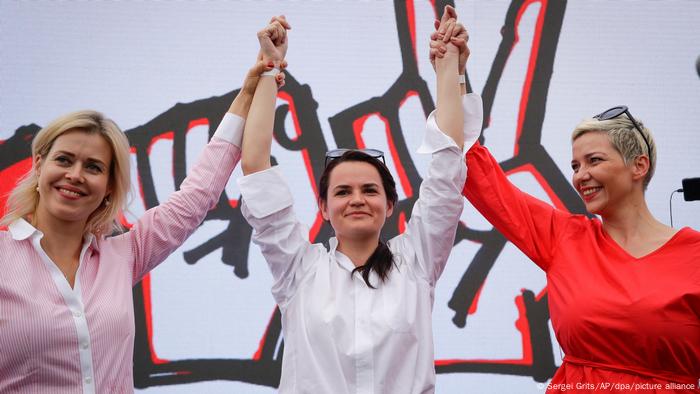 The recipients of the Charlemagne Prize 2022: Veronika Zepkalo, Svetlana Tichanovskaya and Maria Kolesnikova
The Board of Directors of the Charlemagne Prize sees the trio as a "unique role model against dictatorship, oppression and an unjust state". The women receive the award for their "courageous commitment to freedom, to democracy, to upholding human rights and thus European values".
Symbol for the fight for democracy
Their campaign rallies drew thousands of people across the country. Hopefuls Svetlana Tikhanovskaya, Maria Kolesnikova and Veronika Tsepkalo became a symbol of the struggle for democracy in Belarus and around the world. But that also made them the most important opponents of ruler Alexander Lukashenko.
At the beginning of 2020, it seemed clear that Lukashenko, who had already ruled Belarus for 26 years, would continue to rule for a sixth term after the August 2020 elections. But in January the corona pandemic began, the dangers of which he demonstratively ignored, and dissatisfaction with his politics increased.
Finally, in May 2020, banker Viktor Babariko, blogger and entrepreneur Sergei Tikhanovsky and Valeriy Tsepkalo, former head of a high-tech park, announced their intention to run for president. But none of them were allowed to compete. Babariko and Tichanovsky were arrested and sentenced to long prison terms. Zepkalo was still able to leave the country. Three women took the place of the three men: Maria Kolesnikova, an employee of Babariko, and Svetlana Tichanovskaya and Veronika Zepkalo for their husbands. From then on, the trio worked for Svetlana Tichanovskaya's presidential candidacy with the aim of bringing about democratic change in Belarus.
Repression instead of freedom
At election events, Svetlana Tichanovskaya promised the release of political prisoners and fair new elections. Kolesnikova stressed the need for democratic change, speaking from the heart of thousands of her supporters.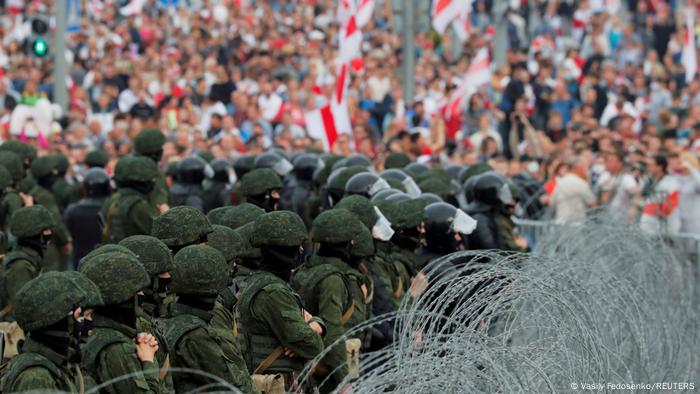 Police and protesters in Minsk in August 2020
When the electoral commission declared on the evening of August 9, 2020 that Lukashenko had 80 percent of the vote and Tichanovskaya only ten percent, Belarusians took to the streets in many cities. It was the largest rallies in the country's history. For three months, people demanded Lukashenko's resignation and protested against violence and election fraud. But the rulers brutally suppressed the protests and the repression continues to this day. There are now over 1,200 political prisoners. More than 300 NGOs were liquidated. Independent media can only continue their work from abroad.
Tichanovskaya: "I'm not a politician and I don't need power"
As of 2020, Svetlana Tikhanovskaya was not a public figure and was a self-declared apolitical. After completing her studies at the Pedagogical University in Mosyr in south-east Belarus, the 39-year-old worked as an English translator and raised two children. Family was always the most important thing to her, she once said.
When her husband was arrested, she decided to support him by running for president herself. To her own surprise, she was accepted as a candidate. "I'm not a politician and I don't need power. But my husband is behind bars. I had to keep our children safe and I gave up a quiet life for all of us," she said in front of more than 60,000 people in Minsk in July 2020 .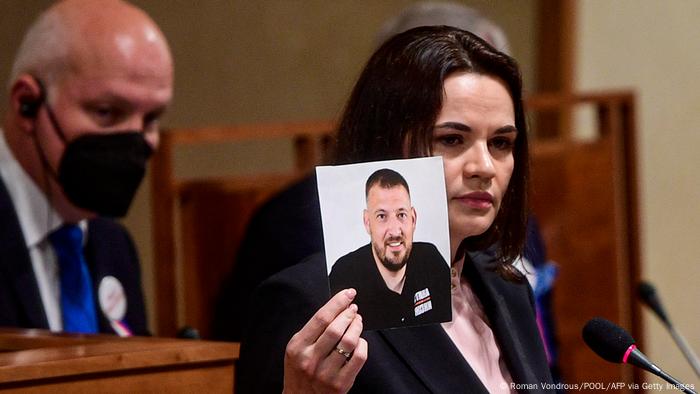 Svetlana Tichanovskaya holds up a photo of her husband during a speech in June 2021 in front of the Czech Parliament< /p>
After the elections in August 2020, however, she had to leave the country under pressure from the Belarusian secret service. Since then she has lived in the Lithuanian capital Vilnius, from where she continues the fight against the Lukashenko regime. Today she is considered the leader of democratic forces in Belarus.
Kolesnikova: Torn passport to stay in Belarus
Maria Kolesnikova is a professional flautist. In 2007 she went to Stuttgart, where she continued her music studies. Ten years later she returned to Belarus. In Minsk she worked for a cultural center created with the support of Viktor Babariko. In 2020 she headed his campaign headquarters.
But Babariko was also prevented as a candidate and Kolesnikova decided to support Svetlana Tichanovskaya. Within a few months the musician and cultural manager transformed into a charismatic politician. In September 2020, she was abducted by unknown persons in the middle of Minsk and the next day she appeared at the Belarusian-Ukrainian border. Like Tichanovskaya, Kolesnikova was forced to leave the country. But in order to stay, she tore up her passport at the border, got out of the car and went back to the Belarusian side. She was arrested and a year later sentenced to eleven years in prison.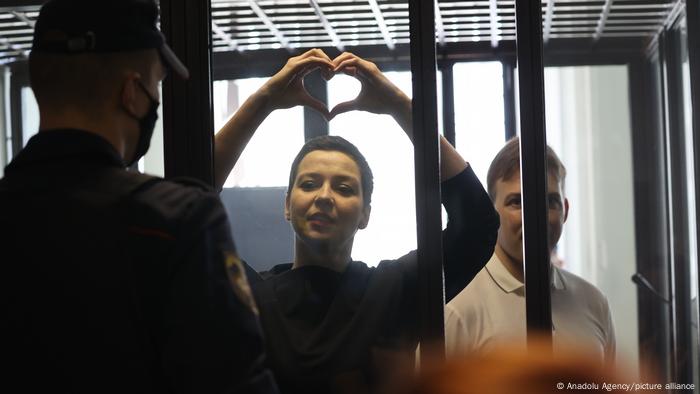 Maria Kolesnikova during the Minsk court trial in August 2021
She doesn't regret her decision. "It is an honor for me to walk this path to freedom and change with my people," emphasized the 40-year-old in a written interview with DW from prison. On May 24, the Belarusian secret service KGB put Kolesnikova on the so-called "terrorist list". A year earlier, Tichanovskaya was classified as a "person involved in terrorist activities" in her home country.
Zepkalo: From IT to politics
Before the events of 2020, Veronika Zepkalo was the manager of an international IT company and was responsible for its work in the CIS countries. After her husband announced that he wanted to be president, she accompanied him on trips and at press conferences. When he was also prevented from running as a candidate, she decided to support Svetlana Tichanovskaya on behalf of her husband.
"It was a very happy day when we joined forces," Veronika Zepkalo told Radio Liberty. In her opinion, this was an example of how, despite differing ideas about the country's future, you can put your own ambitions aside in order to work together on changes in Belarus. Today she works again as an IT manager and is involved in the Belarus Women's Foundation.
Prominent predecessors
The Charlemagne Prize has been awarded since 1950 for services to the unification of Europe. Winston Churchill and Konrad Adenauer were among the first winners. Over the years, well-known politicians and public figures have received it: Vaclav Havel, Angela Merkel, Emmanuel Macron, Pope Francis and others.
Svetlana Tichanovskaya and Veronika Zepkalo, who live in exile, come to Aachen, to receive the prize. Maria Kolesnikova, who is in custody, will be represented at the ceremony by her sister Tatjana Chomitsch.
Adaptation from Russian: Markian Ostaptschuk