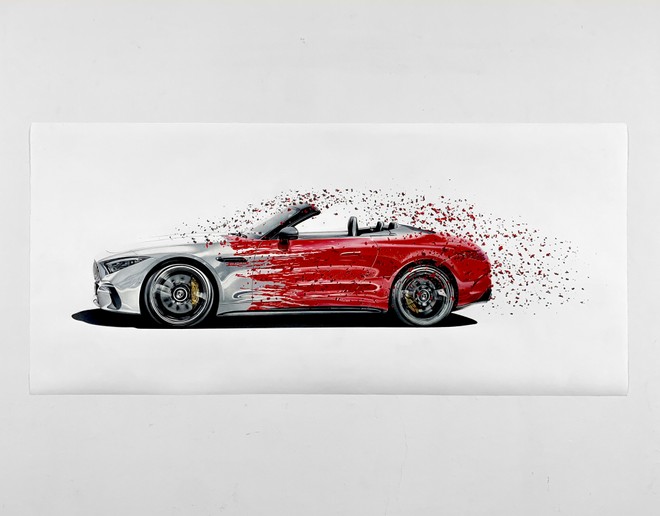 The fashion of collecting & ldquo; digital & rdquo; launched with NFTs (the famous & ldquo; Non Fungible Token & rdquo;) involves more and more; the world of the automobile as well as that of art, in some cases putting them together as did Mercedes who, in collaboration with the artist Alessandro Paglia, gave life to a very special tribute to his latest roadster, the Mercedes- AMG SL 63 .
A BEAUTIFUL PLAY OF COLORS
Presented on the occasion of the AMG Performance Day last May 20 in Imola, the work faithfully reproduces the profile of the 2-seater developed for the first time entirely by AMG, with a striking & ldquo; color change & rdquo; which pays homage to past and present through two iconic shades such as the gray/silver of the historic Mercedes 8 racing cars and in general a little bit; all the German ones) and the modern one at Rosso Patagonia Bright Manufaktur. It took the artist over 150 hours to achieve the dynamic effect and the right shades on the canvas, resulting in a hyper-realistic painting of great impact for both art lovers and car lovers, of course.
170 CERTIFIED COPIES
The original work has a development of 150×70 cm and 170 copies have been obtained in reduced format to 60×30 printed on cotton paper using special inks. Each of these & egrave; numbered and certified and associated with a specific NFT which seals its value and uniqueness; and allows the confidential display of the digital image on the owner's wallet.
Xiaomi small and light? Xiaomi Mi 11 Lite, buy it at the best price from Euronics at 300 euros .